Comparative Essay

How to Write a Comparative Essay – A Complete Guide
10 min read
Published on: Jan 28, 2020
Last updated on: Nov 21, 2023
People also read
Get Better at Math: Solving Math Problems Quick and Easy
Learn How to Write an Editorial on Any Topic
Best Tips on How to Avoid Plagiarism
How to Write a Movie Review - Guide & Examples
A Complete Guide on How to Write a Summary for Students
Write Opinion Essay Like a Pro: A Detailed Guide
Evaluation Essay - Definition, Examples, and Writing Tips
How to Write a Thematic Statement - Tips & Examples
How to Write a Bio - Quick Tips, Structure & Examples
How to Write a Synopsis – A Simple Format & Guide
Visual Analysis Essay - A Writing Guide with Format & Sample
List of Common Social Issues Around the World
Writing Character Analysis - Outline, Steps, and Examples
11 Common Types of Plagiarism Explained Through Examples
Article Review Writing: A Complete Step-by-Step Guide with Examples
A Detailed Guide on How to Write a Poem Step by Step
Detailed Guide on Appendix Writing: With Tips and Examples
Share this article
Comparative essay is a common assignment for school and college students. Many students are not aware of the complexities of crafting a strong comparative essay.
If you too are struggling with this, don't worry!
In this blog, you will get a complete writing guide for comparative essay writing. From structuring formats to creative topics, this guide has it all.
So, keep reading!
On This Page On This Page -->
What is a Comparative Essay?
A comparative essay is a type of essay in which an essay writer compares at least two or more items. The author compares two subjects with the same relation in terms of similarities and differences depending on the assignment.
The main purpose of the comparative essay is to:
Highlight the similarities and differences in a systematic manner.
Provide great clarity of the subject to the readers.
Analyze two things and describe their advantages and drawbacks.
A comparative essay is also known as compare and contrast essay or a comparison essay. It analyzes two subjects by either comparing them, contrasting them, or both. The Venn diagram is the best tool for writing a paper about the comparison between two subjects.
Moreover, a comparative analysis essay discusses the similarities and differences of themes, items, events, views, places, concepts, etc. For example, you can compare two different novels (e.g., The Adventures of Huckleberry Finn and The Red Badge of Courage).
However, a comparative essay is not limited to specific topics. It covers almost every topic or subject with some relation.
Comparative Essay Structure
A good comparative essay is based on how well you structure your essay. It helps the reader to understand your essay better.
The structure is more important than what you write. This is because it is necessary to organize your essay so that the reader can easily go through the comparisons made in an essay.
The following are the two main methods in which you can organize your comparative essay.
Point-by-Point Method
The point-by-point or alternating method provides a detailed overview of the items that you are comparing. In this method, organize items in terms of similarities and differences.
This method makes the writing phase easy for the writer to handle two completely different essay subjects. It is highly recommended where some depth and detail are required.
Below given is the structure of the point-by-point method.
Block Method
The block method is the easiest as compared to the point-by-point method. In this method, you divide the information in terms of parameters. It means that the first paragraph compares the first subject and all their items, then the second one compares the second, and so on.
However, make sure that you write the subject in the same order. This method is best for lengthy essays and complicated subjects.
Here is the structure of the block method.
Therefore, keep these methods in mind and choose the one according to the chosen subject.
Mixed Paragraphs Method
In this method, one paragraph explains one aspect of the subject. As a writer, you will handle one point at a time and one by one. This method is quite beneficial as it allows you to give equal weightage to each subject and help the readers identify the point of comparison easily.
How to Start a Comparative Essay?
Here, we have gathered some steps that you should follow to start a well-written comparative essay.
Choose a Topic
The foremost step in writing a comparative essay is to choose a suitable topic.
Choose a topic or theme that is interesting to write about and appeals to the reader.
An interesting essay topic motivates the reader to know about the subject. Also, try to avoid complicated topics for your comparative essay.
Develop a List of Similarities and Differences
Create a list of similarities and differences between two subjects that you want to include in the essay. Moreover, this list helps you decide the basis of your comparison by constructing your initial plan.
Evaluate the list and establish your argument and thesis statement .
Establish the Basis for Comparison
The basis for comparison is the ground for you to compare the subjects. In most cases, it is assigned to you, so check your assignment or prompt.
Furthermore, the main goal of the comparison essay is to inform the reader of something interesting. It means that your subject must be unique to make your argument interesting.
Do the Research
In this step, you have to gather information for your subject. If your comparative essay is about social issues, historical events, or science-related topics, you must do in-depth research.
However, make sure that you gather data from credible sources and cite them properly in the essay.
Create an Outline
An essay outline serves as a roadmap for your essay, organizing key elements into a structured format.
With your topic, list of comparisons, basis for comparison, and research in hand, the next step is to create a comprehensive outline.
Here is a standard comparative essay outline:
How to Write a Comparative Essay?
Now that you have the basic information organized in an outline, you can get started on the writing process.
Here are the essential parts of a comparative essay:
Comparative Essay Introduction
Start off by grabbing your reader's attention in the introduction . Use something catchy, like a quote, question, or interesting fact about your subjects.
Then, give a quick background so your reader knows what's going on.
The most important part is your thesis statement, where you state the main argument , the basis for comparison, and why the comparison is significant.
This is what a typical thesis statement for a comparative essay looks like:
Comparative Essay Body Paragraphs
The body paragraphs are where you really get into the details of your subjects. Each paragraph should focus on one thing you're comparing.
Start by talking about the first point of comparison. Then, go on to the next points. Make sure to talk about two to three differences to give a good picture.
After that, switch gears and talk about the things they have in common. Just like you discussed three differences, try to cover three similarities.
This way, your essay stays balanced and fair. This approach helps your reader understand both the ways your subjects are different and the ways they are similar. Keep it simple and clear for a strong essay.
Comparative Essay Conclusion
In your conclusion , bring together the key insights from your analysis to create a strong and impactful closing.
Consider the broader context or implications of the subjects' differences and similarities. What do these insights reveal about the broader themes or ideas you're exploring?
Discuss the broader implications of these findings and restate your thesis. Avoid introducing new information and end with a thought-provoking statement that leaves a lasting impression.
Below is the detailed comparative essay template format for you to understand better.
Comparative Essay Format
Comparative Essay Examples
Have a look at these comparative essay examples pdf to get an idea of the perfect essay.
Comparative Essay on Summer and Winter
Comparative Essay on Books vs. Movies
Comparative Essay Sample
Comparative Essay Thesis Example
Comparative Essay on Football vs Cricket
Comparative Essay on Pet and Wild Animals
Comparative Essay Topics
Comparative essay topics are not very difficult or complex. Check this list of essay topics and pick the one that you want to write about.
How do education and employment compare?
Living in a big city or staying in a village.
The school principal or college dean.
New Year vs. Christmas celebration.
Dried Fruit vs. Fresh. Which is better?
Similarities between philosophy and religion.
British colonization and Spanish colonization.
Nuclear power for peace or war?
Bacteria or viruses.
Fast food vs. homemade food.
Tips for Writing A Good Comparative Essay
Writing a compelling comparative essay requires thoughtful consideration and strategic planning. Here are some valuable tips to enhance the quality of your comparative essay:
Clearly define what you're comparing, like themes or characters.
Plan your essay structure using methods like point-by-point or block paragraphs.
Craft an introduction that introduces subjects and states your purpose.
Ensure an equal discussion of both similarities and differences.
Use linking words for seamless transitions between paragraphs.
Gather credible information for depth and authenticity.
Use clear and simple language, avoiding unnecessary jargon.
Dedicate each paragraph to a specific point of comparison.
Summarize key points, restate the thesis, and emphasize significance.
Thoroughly check for clarity, coherence, and correct any errors.
Transition Words For Comparative Essays
Transition words are crucial for guiding your reader through the comparative analysis. They help establish connections between ideas and ensure a smooth flow in your essay.
Here are some transition words and phrases to improve the flow of your comparative essay:
Transition Words for Similarities
Correspondingly
In the same vein
In like manner
In a similar fashion
In tandem with
Transition Words for Differences
On the contrary
In contrast
Nevertheless
In spite of
Notwithstanding
On the flip side
In contradistinction
Check out this blog listing more transition words that you can use to enhance your essay's coherence!
In conclusion, now that you have the important steps and helpful tips to write a good comparative essay, you can start working on your own essay.
However, if you find it tough to begin, you can always hire our professional essay writing service .
Our skilled writers can handle any type of essay or assignment you need. So, don't wait—place your order now and make your academic journey easier!
Frequently Asked Question
How long is a comparative essay.
A comparative essay is 4-5 pages long, but it depends on your chosen idea and topic.
How do you end a comparative essay?
Here are some tips that will help you to end the comparative essay.
Restate the thesis statement
Wrap up the entire essay
Highlight the main points
Barbara P (Literature, Marketing)
Dr. Barbara is a highly experienced writer and author who holds a Ph.D. degree in public health from an Ivy League school. She has worked in the medical field for many years, conducting extensive research on various health topics. Her writing has been featured in several top-tier publications.
Paper Due? Why Suffer? That's our Job!
Keep reading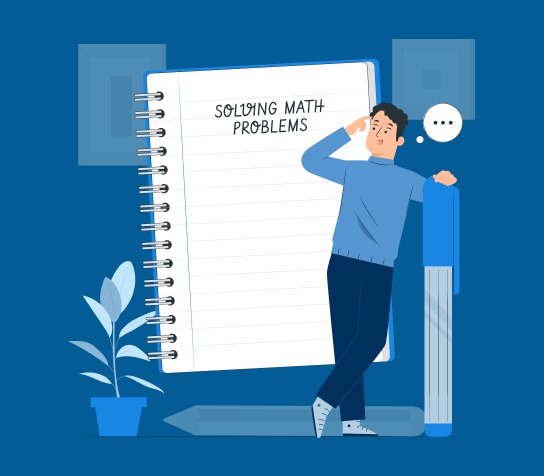 We value your privacy
We use cookies to improve your experience and give you personalized content. Do you agree to our cookie policy?
Website Data Collection
We use data collected by cookies and JavaScript libraries.
Are you sure you want to cancel?
Your preferences have not been saved.
Advertising
Applications
Assessments
Certificates
Announcement
Invitations
Newsletters
Questionnaires
Food & Beverages
Recruitment
Marketing Examples
Transportation
10+ Comparative Essay Samples
Comparative Essay Plan Template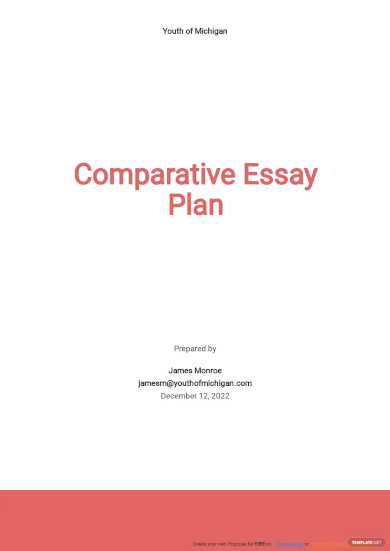 Compare and Contrast Sample Essay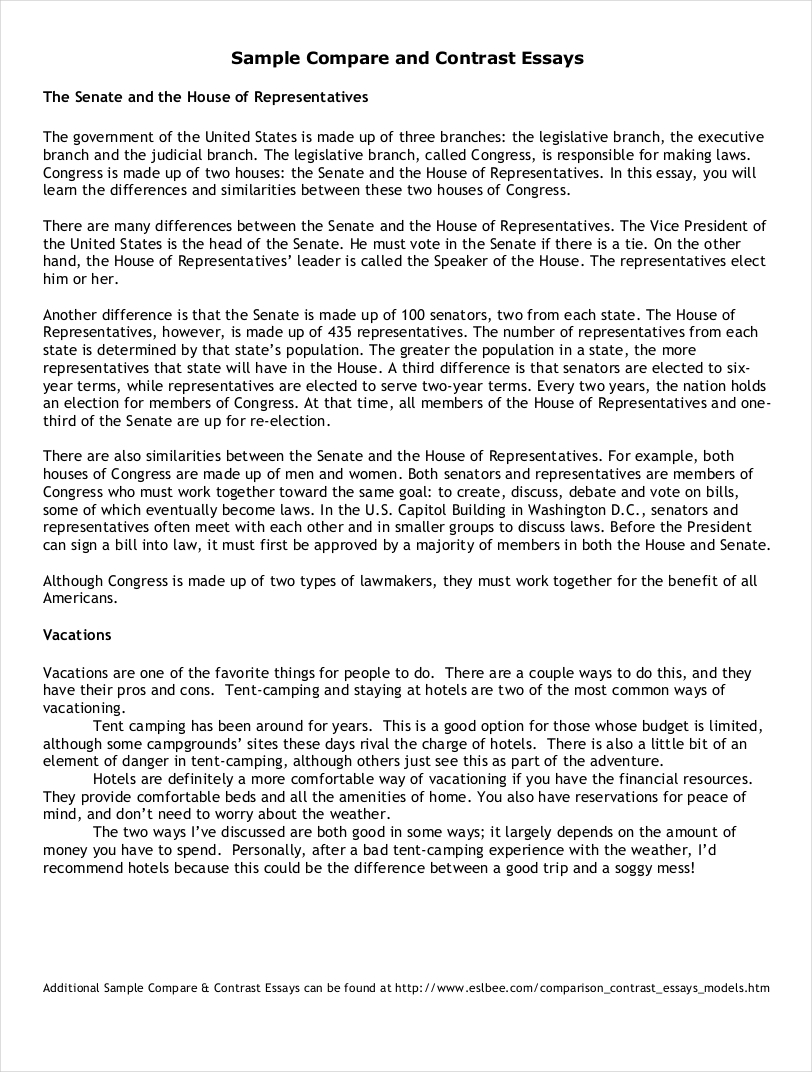 Sample Comparative Essay Format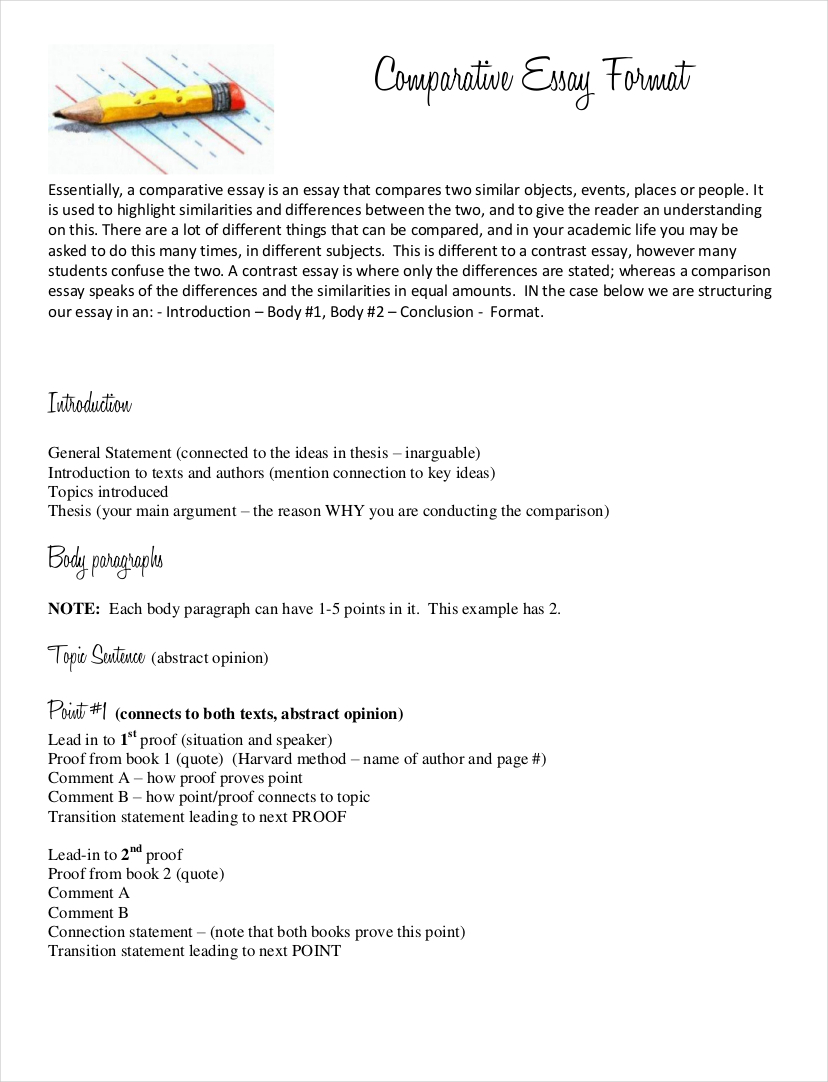 The Concept of Comparative Essays
A comparative essay is an academic essay that requires students to create a comprehensive and precise comparative report about two things.
A comparative essay is an organized written material that is meant to provide a comparison that should be easily understood by the target readers. It is set to impress people by providing them the information that they need to be aware of about two subjects and how they differ and/or compare with each other.
A comparative essay can be written if you have two objects or subjects that can be compared in a level where their similarities and/or differences are relevant or meaningful for a specific purpose.
A comparative essay can be used in formal writing assignments and it can also be the basis for various research assessments.
A comparative essay is created through pertaining precise points of comparison. These points should be backed by actual researchers, factual information, and other reliable evidence.
Block Comparative Essay Example
Student Comparative Essay Sample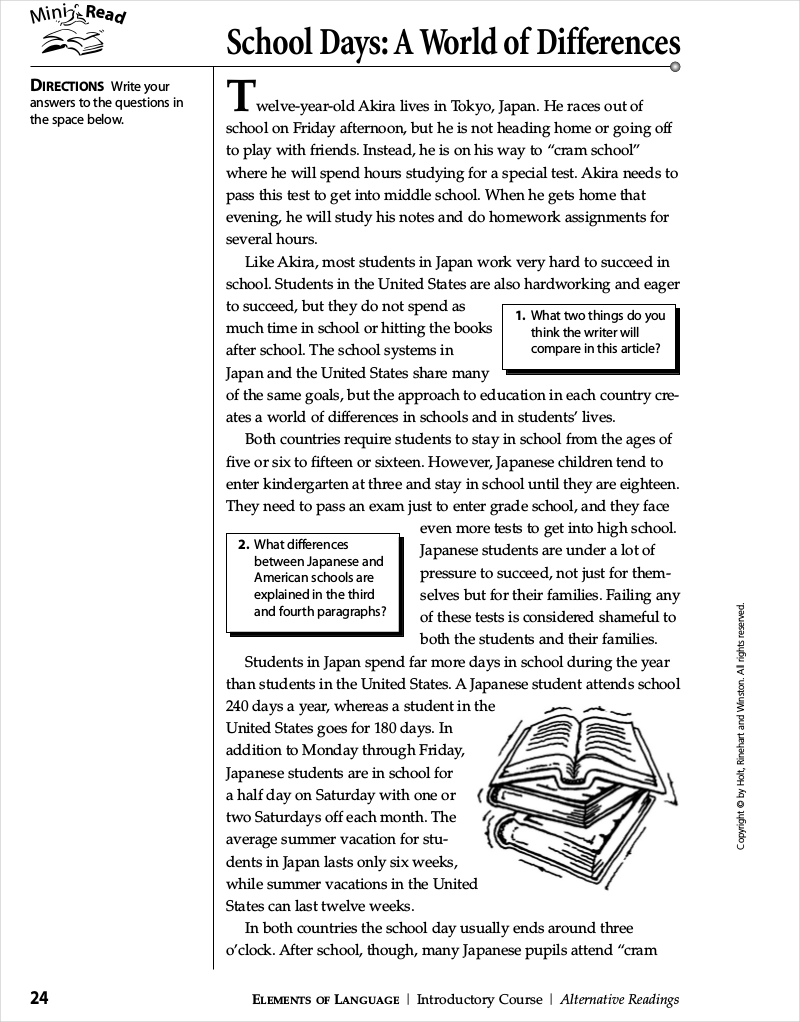 How to Develop the Content of Your Comparative Essay
The first thing that you need to do is to be aware of the question that you need to answer. You need to be aware of the essay prompt so you can address the needs of your readers. It is essential for you to be fully knowledgeable of the essence of the question so you can interpret it accordingly. The content that you will write will only be effective if it is related to the question and if it matches the purpose on why the essay is necessary to be written.
Know whether there are limits for your discussion . Always identify whether you need to know the similarities or the differences between your subjects. Also, you need to know whether the scope of your essay assignment requires you to do any of these or both.
Select the ideas that you would like to compare. It is important for you to have an in-depth understanding of the kind of comparison that you will write. The framework of your essay should be based on an actual evaluation that can point out how you were able to perceive the similarities or differences of the subject.
Assess whether you already have sufficient points for comparison. Your ability to present as many valid points as possible can make a lot of clarifications about the unanswered questions that you can enlighten your readers with.
Once the points of your comparison are already specified, list down whether they are under the similarities or differences of the two subjects. This step can help you be organized throughout the writing process. With easy access to how subjects are compared, you can be guided on how to use them in your content development.
Evaluate your list. Your list is only your initial view about the subjects being reviewed or assessed. Hence, further evaluation is necessary. Make sure that you will read through the entire list so you can rank them based on their impact and weight of thesis.
Chronologically arrange your list based on your basis of comparison . Make sure that you will follow a metric when examining the items that you will place in your actual comparative essay.
Know the approach that you will use when developing your essay content. Will you be theoretical? Will you focus on answering questions for comparison? It is essential for you to be aware of your basis so your approach can provide you with maximum benefits within the entirety of the content development process.
Research further about your subjects so you can verify whether your claims and initial claims are correct. This can help you create more topics and gather more evidence that can support your comparison.
Create a thesis statement where your discussion can set its foundation. This will enable you to start writing the comparative essay that you would like to achieve.
Comparative Contrast Essay Template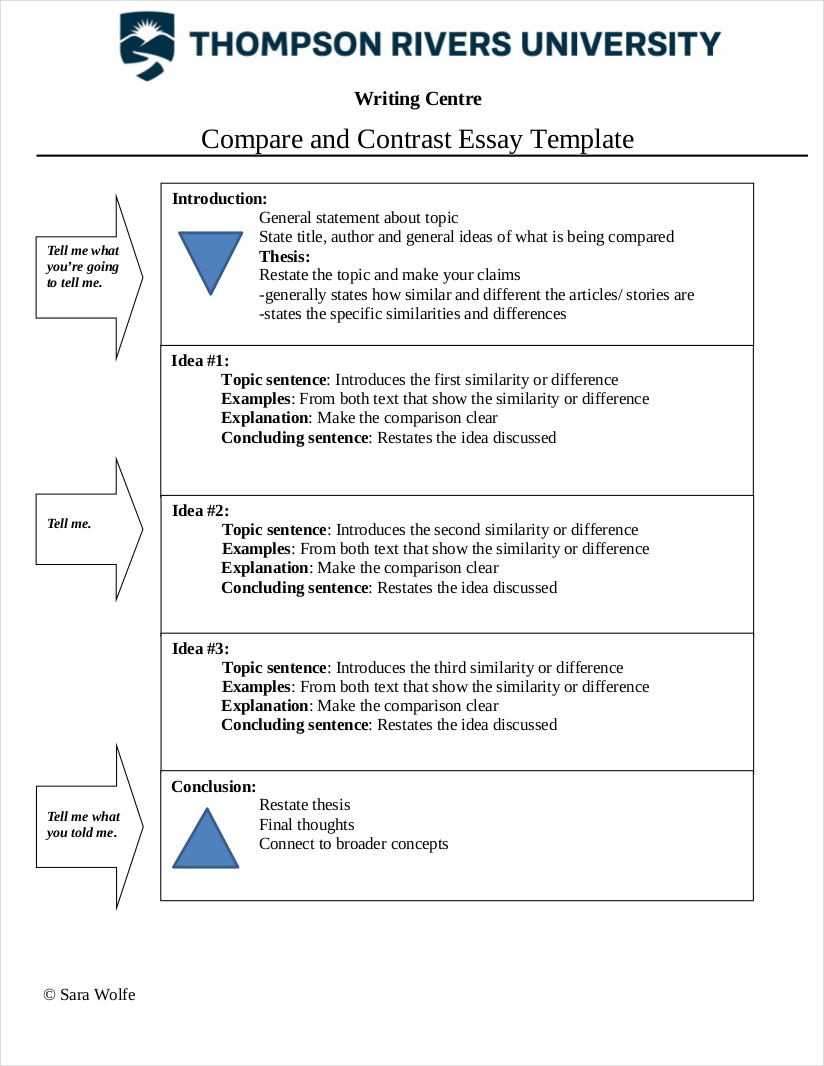 Printable Comparative Essay Sample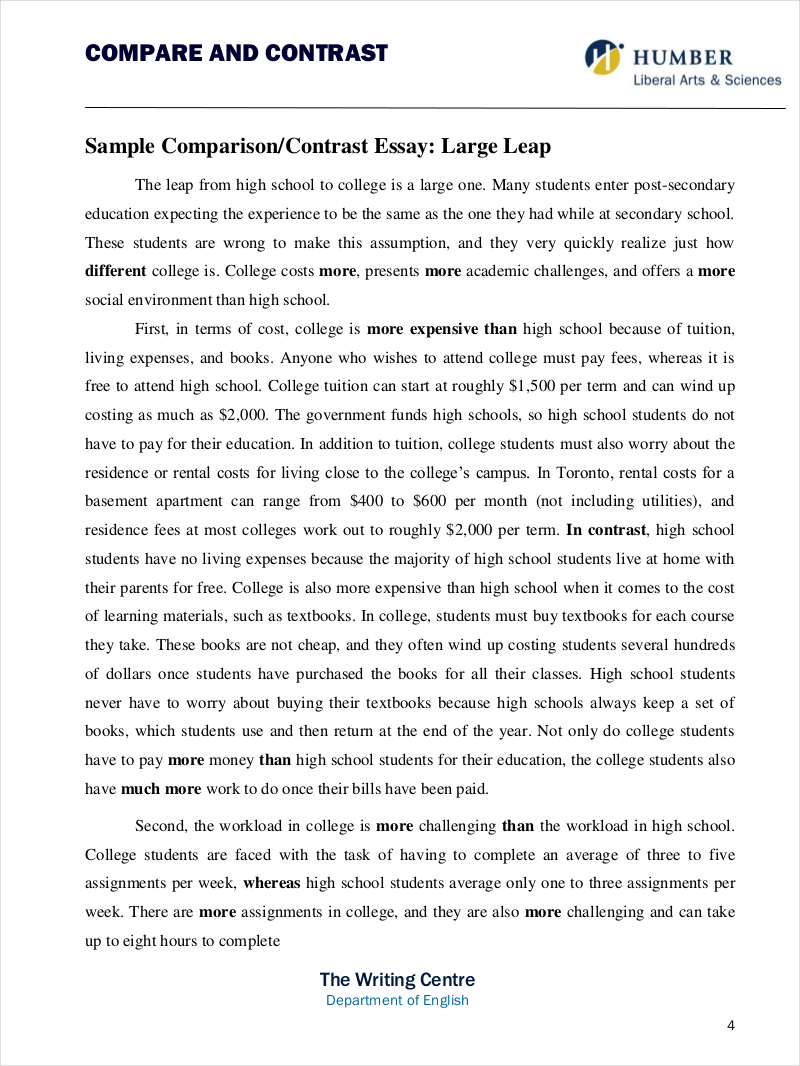 Steps in Organizing Your Comparative Essay Discussion
Refer to the outline of your comparisons. This is where the items that we have discussed above can be helpful. If you are already guided by your comparisons, then you can easily rank their relevance to the essay that you will write. Referencing your comparisons can make it easier for you to have a thesis statement that you can further discuss.
Organize your writing strategies. The strategies that you will incorporate into your discussion can make it easier for readers to relate to your point. You need to make sure that your strategies are aligned with your type of comparison and the subjects that you are comparing.
Properly address your comparisons.  For your comparative essay to be highly-usable, you need to make sure that you will implement simplicity within your discussion. Do not make it complicated. The content of your comparative essay should be as simple as possible so that it can be furthermore understood.
Organize your paragraph structure.  The way that you create your paragraph listing can be one of the factors that can either improve or destroy your comparative essay. You should create a draft that can specifically state the items that you will discuss per paragraph. Create statements that can address specific comparisons and divide them per paragraph. Each of your paragraphs should be talking about one subject so you can give focus per comparison aspect.
Evaluate whether your writing guide is already organized enough. It is essential for you to not overlap subjects of discussion. When organizing your statements, make sure to cover one subject at a time. This will help you create a comparative essay that contains a list of carefully arranged and curated evidence which are further discussed and broken down into relevant specification pieces.
Simple Essay of Comparison Sample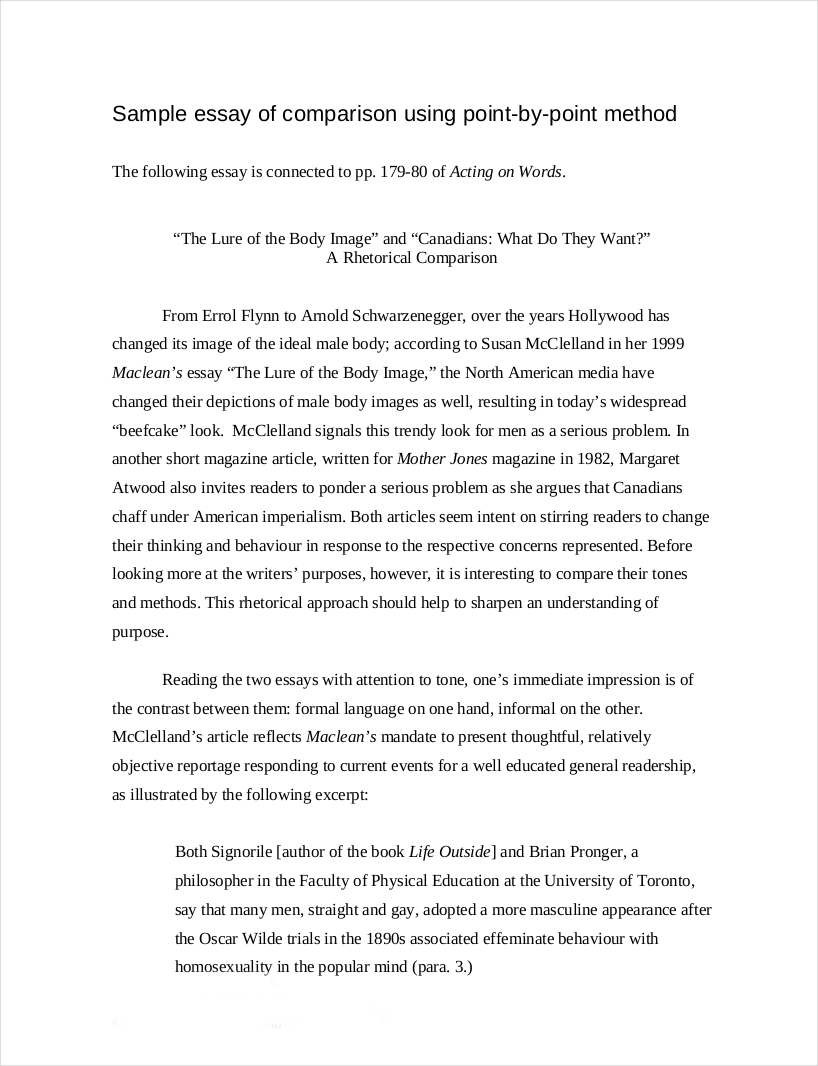 Sample Comparative Essay in PDF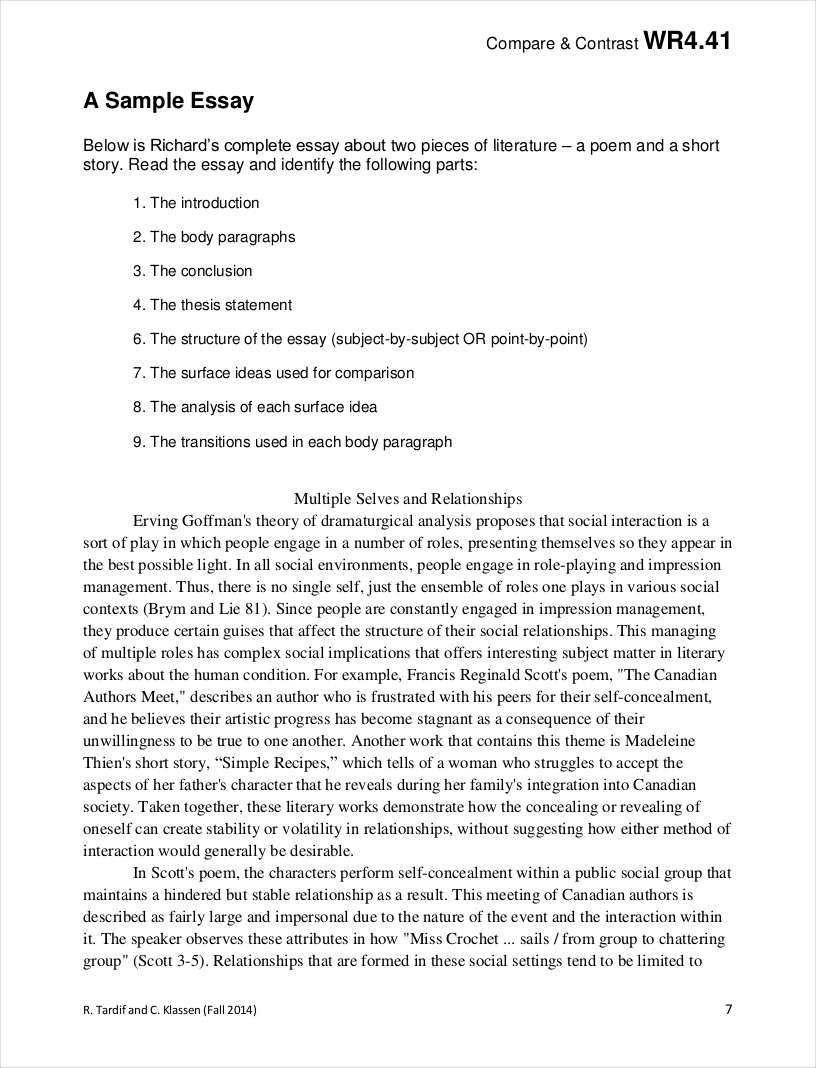 Writing Guide in Creating the Actual Comparative Essay
Create an introduction to the topic. Your thesis statement should contain the subjects that you will talk about. You also need to create an initial discussion of what your readers can expect to the reader within the content of your comparative essay. A strong validation of your comparison can make your readers more interested to browse through the entire essay document.
Develop your next paragraphs for discussion. As mentioned above, work per paragraph. Arrange your topics of discussion in a way that each paragraph can specifically state one comparison topic per time. You have to create an interesting discussion so you need to ensure that all your paragraphs are organized and well-written.
Finalize your comparative essay with a conclusion. Your last paragraph should contain the information about your final thoughts with regards the comparison. How different or similar are the two subjects from one another? How sure are you that your basis is factual and relevant? Create a great impact by having a conclusion that can put together all your points of discussion.
Compare Contrast Essay Sample
Sample Comparative Essay Guide
Factors to Consider When Writing a Comparative Essay
Your discussion's organization.  Within the entirety of the comparative essay creation, it is very evident that organization is key to success. As a writer, you need to ensure that you have a skeletal plan that can create your discussion more polished and coherent. The discussion of your organization can greatly affect the impression of your readers with regards your knowledge about your topic as well as your level of understanding with what you are talking about.
Your thesis statement.  When creating a comparative essay, you need to stick with an argument that can provide you the framework for the effective dissemination of information. Your thesis statement should be based on the results of your frame of references. You need to analyze your subjects properly so that you can create a stand on how you perceive them in levels of similarities and/or differences.
Your claims or grounds for comparison.  You should always be aware of your selection processes. At the end of the writing activity, you need to validate the importance of comparing two subjects. Always have your grounds of comparison ready so you can ensure your readers that you have followed a particular set of criteria that can enable the objectivity between the selection of two items for comparison. The rationale that you have behind your subject selection can make your comparative essay more appealing.
Your reference frame.  A comparative essay's frame of reference deals with the way that the writer has created the groupings for the comparison. May it be talking about the similarities, differences, or both of these factors; a comparative essay should be able to have a reference that can identify how the characteristics of ideas, themes, theories or even problems are arranged.
More Design
27+ financial analyses examples, samples, 6+ critical analysis examples, samples, 35+ chart examples in word, 32+ examples of sales reports, 10+ process analysis examples, samples, 23+ speech examples in pdf, 8+ activity analysis examples, samples, 7+ diet chart examples, samples, 15 must-have social media marketing tools for 2017.

Related Articles
id; ?>)" rel="noopener" role="button" tabindex="0" aria-label="postclick">22+ Free Essay Examples
id; ?>)" rel="noopener" role="button" tabindex="0" aria-label="postclick">26+ Examples of Essay Outlines
Comparison Essay Example 2
Choose a sign-in option, citation and embed code, sao paulo and new york.
Two of the biggest, most famous cities in the world are Sao Paulo, Brazil and New York, New York. They are busy cities with cultural, and historical importance. They are also business centers in their respective countries. They differ from each other in many ways. These cities are on opposite hemispheres and have different languages, food, and culltures. Their climates and economies are also very distinct from one another. With all of these obvious differences, you may be surprised that there are also many similarities that these two large cities share. Both cities have a lot of immigration, attract many tourists, and have a high cost of living.
One similarity between Sao Paulo and New York is that they both have many immigrants. There are various reasons why both New York and Sao Paulo receive many immigrants. The first reason many immigrants go to these cities is to find more work opportunities. Since Sao Paulo and New York both have large, international companies that require many employees, it is easier to get a job in these cities than in smaller cities or rural areas. It is also easier to get a job there because in large cities with large populations, there are many people who need to go shopping, go to restaurants, travel, and so forth. Each of these businesses needs many employees to meet the needs of the population. The second reason that immigrants go to these cities is for education. Schools are easier to access in large cities that host universities and job training programs. For these reasons, immigrants go to Sao Paulo and New York.
Another similarity between the two cities is their tourism. New York and Sao Paulo have both attracted many tourists from all parts of the world. When visiting these cities, people can choose from many fun activities to do with friends or as a family. They can go shopping, visit famous museums, attend cultural entertainment events, and so forth. Tourists in New York often want to experience famous places like Broadway, Times Square, The Rockefeller Center, and the Statue of Liberty. People plan trips and vacations around these places because they are so famous. Tourists in Sao Paulo also have many famous sites they can visit, like the Sao Paulo Museum of Art, Paulista Avenue, and Ibirapuera Park. These fascinating places encourage many tourists to visit Sao Paulo. Both cities are home to aquariums, zoos, and restaurants that encourage trouism within these countries as well. With all of the notable attractions in both cities, it is easy to see that they are similar in tourism.
The high cost of living is a final way that these two cities are similar. Because many people want to live in these cities, there is a lot of competition for housing and food, which increases the cost of living there. It can be more expensive to rent a tiny apartment in New York than it is to rent an entire house in a suburb away from the city. Shopping in Sao Paulo makes it very apparent that there are many people in competition for the commodities there. Even though the cost of living is so high, salaries do not always match this increased cost because there are so many people willing to work in these cities that companies can pay their employees less. Many workers in both cities have to work multiple jobs to earn enough money to support their families. The high cost of living is very comparable between Sao Paulo and New York.
Due to the high cost of living, the tourism, and immigration, Sao Paulo and New York are two cities that are very similar to each other. There are differences that are easy to identify, but these cities are more similar than people might think initially. A visitor to one city may be able to feel that she has already experienced the other city because they share so many traits, even though the people in each city are speaking a different language, eating different food, and are used to different weather.
Exercise 1: Analyze an essay
Read one of the two Process Example Essays on the following pages to complete this exercise.
Label the introduction paragraph, the body paragraphs, and the conclusion paragraph.
Circle the hook.
What is the general topic of the essay?
Underline the thesis.
Underline each of the topic sentences.
Do each of the topic sentences support the thesis?
Does the conclusion paragraph start by restating the thesis?
This content is provided to you freely by EdTech Books.
Access it online or download it at https://edtechbooks.org/academic_a_writing/comparison_essay_exaw .
How to Write a Comparison Essay
Introduction
Essay Outline
Expressions For Comparison Essays
Sample Comparison 1
Sample Comparison 2
Guides & Handouts Home
Writing Centre Home
A comparison essay compares and contrasts two things. That is, it points out the similarities and differences (mostly focusing on the differences) of those two things. The two things usually belong to the same class (ex. two cities, two politicians, two sports, etc.). Relatively equal attention is given to the two subjects being compared. The essay may treat the two things objectively and impartially. Or it may be partial, favoring one thing over the other (ex. "American football is a sissy's game compared to rugby").
The important thing in any comparison essay is that the criteria for comparison should remain the same; that is, the same attributes should be compared . For example, if you are comparing an electric bulb lamp with a gas lamp, compare them both according to their physical characteristics, their history of development, and their operation.
Narrow Your Focus (in this essay, as in any essay). For example, if you compare two religions, focus on one particular aspect which you can discuss in depth and detail, e.g., sin in Buddhism vs. sin in Christianity, or salvation in two religions. Or if your topic is political, you might compare the Conservative attitude to old growth logging vs. the Green Party's attitude to old growth logging, or the Conservative attitude to the Persian Gulf War vs. the NDP attitude to the same war.
Each paragraph should deal with only one idea and deal with it thoroughly . Give adequate explanation and specific examples to support each idea. The first paragraph introduces the topic, captures the reader's attention, and provides a definite summary of the essay. It may be wise to end the first paragraph with a thesis statement that summarizes the main points of difference (or similarity). For example, "Submarines and warships differ not only in construction, but in their style of weapons and method of attack." This gives the reader a brief outline of your essay, allowing him to anticipate what's to come. Each middle paragraph should begin with a topic sentence that summarizes the main idea of that paragraph (ex. "The musical styles of Van Halen and Steely Dan are as differing in texture as are broken glass and clear water"). An opening sentence like this that uses a metaphor or simile not only summarizes the paragraph but captures the reader's attention, making him want to read on. Avoid a topic sentence that is too dull and too broad (ex. "There are many differences in the musical styles of Van Halen and Steely Dan").
VARY THE STRUCTURE
The structure of the comparison essay may vary. You may use simultaneous comparison structure in which the two things are compared together, feature by feature, point by point. For example, "The electric light bulb lasts 80 hours, while the gas lamp lasts only 20 hours . . . ." Or as in this example (comparing two American presidents):
Consider how perfectly Harding met the requirements for president. Wilson was a visionary who liked to identify himself with "forward-looking men"; Harding was as old-fashioned as those wooden Indians which used to stand in front of cigar stores, "a flower of the period before safety razors." Harding believed that statemanship had come to its apogee in the days of McKinley and Foraker. Wilson was cold. Harding was an affable small-town man, at ease with "folks"; he was an ideal companion to play poker with all Saturday night. Wilson had always been difficult of access; Harding was accessible to the last degree. etc.
Don't use simultaneous structure all the way through the essay, however. It becomes monotonous. Use it sparingly. For most of the essay, use parallel order structure .
In parallel order structure you compare the two things separately but take up the same points in the same order. For example, you may spend half a paragraph on "thing A" and the other half of the paragraph on the corresponding characteristics of "thing B." Or, if you have enough material, devote one paragraph to the physical characteristics of an electric bulb lamp, and the next paragraph to the physical characteristics of the gas lamp.
Or say everything there is to say about the electric bulb lamp (its physical characteristics, history of development and operation), followed by everything there is to say about the gas lamp.
For the sake of variety you may switch to simultaneous comparison at one point in the essay, and then switch back to parallel order structure for the rest of the essay. In fact, there are many ways to structure a comparison essay; use whichever organization works best for your particular paper. Here are a few sample organizational methods. "A" stands for "thing A" (ex. electric lamp) and "B" stands for "thing B" (ex. gas lamp). Each number (1,2,3, etc.) stands for a different aspect of that thing (ex. physical characteristics, operation, history of development).
Next: Essay Outline >>
Last Updated: Aug 19, 2019 3:34 PM
URL: https://langara.libguides.com/writing-centre/comparison-essay

How to Write a Comparative Essay: Structure & Tips
A comparative essay may be something you are unfamiliar with in your schooling journey so far, the structure of the essay as a whole should be quite familiar to you. As you already know, having the correct structure and practices when writing is vital to having a good end product. This article will build on what you already know and teach you some new skills in how to write a comparative essay. 
What Is a Comparative Essay?
A comparative essay is an essay that contains an introduction, body paragraphs, and a conclusion. What makes a comparative essay different to other essays is that it compares and contrasts two different texts. 
A comparative essay is usually completed by students in years 10, 11, and 12 undertaking General English. However, students in other English subjects and younger grades can also be asked to write comparative essays, or students may have similar assessments in other subjects, such as writing a history essay.
Comparative Essay Structure
In a comparative essay, much like other essays, there is your introduction, body paragraphs, and conclusion. There are a few different ways you can structure your essay, but these elements stay the same. 
Introduction: In the introduction of a comparative essay, you should include; an overview and brief synopsis of the texts you are comparing, your thesis statement, and an outline of your arguments.
Body paragraphs: The body paragraphs of your comparative essay contain all of your evidence and arguments, this is by far the longest part of your essay. This is where you actually compare and analyse the texts.
Conclusion: Your conclusion should not introduce any new information, but rather summarise your arguments and restate your thesis. 
How to Write a Comparative Essay Introduction
As mentioned above, your introduction should include: an overview and brief synopsis of the texts you are comparing, your thesis statement, and an outline of your arguments. A good practice to see if your introduction is long enough is to have your introduction be 10% of your total word count – so an 800-word essay would have an 80 word introduction. 
Your introduction is the first thing people are going to read, so make sure it addresses the overall question clearly and succinctly. The easiest way to do this is in your thesis statement. 
How to Write a Body Paragraph for a Comparative Essay
In the body of your essay you should have around two to four paragraphs. Each of your paragraphs should only surround one argument or idea that supports your thesis. 
There are two different ways you can structure the body of your essay, you can either: 
Compare and contrast both texts in the same paragraph for each idea, or, 
Dedicate paragraphs to each text individually. 
Both of these methods are perfectly acceptable, but there are limitations to both. For option one, it is important to remember you should be evenly analysing both texts, not favouring one over the other. It is also essential to remember for this option, to analyse in enough depth to support your argument. For option two, it is crucial that you are still comparing both texts. An easy way to do this is to us comparative language such as: however, conversely, in contrast, similarly. This is to ensure you are still meeting the requirements of the genre and task. 
How to Write a Comparative Essay Conclusion
As mentioned above, your conclusion should not bring up any new arguments but should summarise everything you have said up to that point. This includes restating your thesis and arguments. Much like your introduction, it is good practice to have your conclusion be approximately 10% of your overall word count. 
Comparative Essay Writing Tips
Create an outline : A well-structured outline helps you stay focused and ensures that your arguments flow logically from one point to the next.
Always link back to your thesis statement.
Reference as you go , do not leave it to the last minute.  
Emphasise differences and similarities : Make sure to clearly highlight the differences and similarities between the two subjects.
Use specific examples : Use concrete examples to illustrate your points and make your writing more persuasive.
On the contrary
Furthermore
In the same way
Compared to
In contrast
On the one hand … on the other hand.
Work with others to edit and refine your work , this may be using the support of an English tutor,  or joining a study group. 
The best way to work towards getting an A in English is drafting! Write a first draft as soon as possible – it is easier to edit than a blank piece of paper!
Proofread and edit : Finally, make sure to proofread and edit your essay for grammar, spelling, and clarity.
Excel in Your Comparative Essay Writing!
The best way to improve your writing, whether it be comparative essays or any kind of essay, is to use the resources available to you. You can ask your teacher for help, form a study group with your friends and help each other, or you can get a tutor to help you!
Need a helping hand writing a comparative essay? A Team Tuition is here to help. With our tried and true tutoring methods, we can help you write impressive essays with our at-home and online tutoring. Find a tutor near you today!
Recent Posts
Goal Setting and Time Management for Students: Why It Matters
9 Meaningful Parent-Teacher Interview Questions
Why Consistency is Key in School: The Importance of Consistency in Learning
Visual Learning Style Essentials: 5 Visual Learner Study Tips
5 Study Tips for Year 11: How to Prepare & Get the Most Out of It
Advice For Parents
Foundations of Learning
How to Succeed
Neurodivergent Learning
ATAR for University Admissions
Career Paths
High School Programs and Classes
Transformation Stories
Privacy Overview
Writing Home
Writing Advice Home
The Comparative Essay
Printable PDF Version
Fair-Use Policy
What is a comparative essay?
A comparative essay asks that you compare at least two (possibly more) items. These items will differ depending on the assignment. You might be asked to compare
positions on an issue (e.g., responses to midwifery in Canada and the United States)
theories (e.g., capitalism and communism)
figures (e.g., GDP in the United States and Britain)
texts (e.g., Shakespeare's Hamlet and Macbeth )
events (e.g., the Great Depression and the global financial crisis of 2008–9)
Although the assignment may say "compare," the assumption is that you will consider both the similarities and differences; in other words, you will compare and contrast.
Make sure you know the basis for comparison
The assignment sheet may say exactly what you need to compare, or it may ask you to come up with a basis for comparison yourself.
Provided by the essay question: The essay question may ask that you consider the figure of the gentleman in Charles Dickens's Great Expectations and Anne Brontë's The Tenant of Wildfell Hall . The basis for comparison will be the figure of the gentleman.
Developed by you: The question may simply ask that you compare the two novels. If so, you will need to develop a basis for comparison, that is, a theme, concern, or device common to both works from which you can draw similarities and differences.
Develop a list of similarities and differences
Once you know your basis for comparison, think critically about the similarities and differences between the items you are comparing, and compile a list of them.
For example, you might decide that in Great Expectations , being a true gentleman is not a matter of manners or position but morality, whereas in The Tenant of Wildfell Hall , being a true gentleman is not about luxury and self-indulgence but hard work and productivity.
The list you have generated is not yet your outline for the essay, but it should provide you with enough similarities and differences to construct an initial plan.
Develop a thesis based on the relative weight of similarities and differences
Once you have listed similarities and differences, decide whether the similarities on the whole outweigh the differences or vice versa. Create a thesis statement that reflects their relative weights. A more complex thesis will usually include both similarities and differences. Here are examples of the two main cases:
While Callaghan's "All the Years of Her Life" and Mistry's "Of White Hairs and Cricket" both follow the conventions of the coming-of-age narrative, Callaghan's story adheres more closely to these conventions by allowing its central protagonist to mature. In Mistry's story, by contrast, no real growth occurs.
Although Darwin and Lamarck came to different conclusions about whether acquired traits can be inherited, they shared the key distinction of recognizing that species evolve over time.
Come up with a structure for your essay
Note that the French and Russian revolutions (A and B) may be dissimilar rather than similar in the way they affected innovation in any of the three areas of technology, military strategy, and administration. To use the alternating method, you just need to have something noteworthy to say about both A and B in each area. Finally, you may certainly include more than three pairs of alternating points: allow the subject matter to determine the number of points you choose to develop in the body of your essay.
When do I use the block method? The block method is particularly useful in the following cases:
You are unable to find points about A and B that are closely related to each other.
Your ideas about B build upon or extend your ideas about A.
You are comparing three or more subjects as opposed to the traditional two.
Comparative essays
Printable version of Comparative Essays (PDF) .
Writing a comparison usually requires that you assess the similarities and differences between two or more theories , procedures , or processes . You explain to your reader what insights can be gained from the comparison, or judge whether one thing is better than another according to established criteria.  
Helpful tip: When you are asked to write a comparative essay, remember that, unless you are instructed otherwise, you are usually being asked to assess both similarities and differences . Such essays may be called comparative essays , comparison essays , or compare-and-contrast essays .  
How to write a comparative essay
Establish a basis of comparison A basis of comparison represents the main idea , category , or theme you will investigate. You will have to do some preliminary reading , likely using your course materials, to get an idea of what kind of criteria you will use to assess whatever you are comparing. A basis of comparison must apply to all items you are comparing, but the details will be different. For example, if you are asked to "compare neoclassical architecture and gothic architecture," you could compare the influence of social context on the two styles.  
Gather the details of whatever you are comparing   Once you have decided what theme or idea you are investigating, you will need to gather details of whatever you are comparing, especially in terms of similarities and differences . Doing so allows you to see which criteria you should use in your comparison, if not specified by your professor or instructor.
Helpful tip: Organize your criteria in columns or a Venn diagram ; using visual methods to map your pre-writing work can help you to stay on track and more clearly get a sense of how the essay will be structured.
Based on the information in the above table, you could focus on how ornamentation and design principles reveal prevailing intellectual thought about architecture in the respective eras and societies.
Develop a thesis statement After brainstorming, try to develop a thesis statement that identifies the results of your comparison. Here is an example of a fairly common thesis statement structure: e.g., Although neoclassical architecture and gothic architecture have [similar characteristics A and B], they reveal profound differences in their interpretation of [C, D, and E].
Helpful tip: Avoid a thesis statement that simply states your obvious purpose. e.g., The aim of this essay is to compare [A and B] with reference to [X, Y, and Z].  
Organize your comparison You have a choice of two basic methods for organizing a comparative essay: the point-by-point method or the block method. The point-by-point method examines one aspect of comparison in each paragraph and usually alternates back and forth between the two objects, texts, or ideas being compared. This method allows you to emphasize points of similarity and of difference as you proceed. In the block method , however, you say everything you need to say about one thing, then do the same thing with the other. This method works best if you want readers to understand and agree with the advantages of something you are proposing, such as introducing a new process or theory by showing how it compares to something more traditional.
Sample outlines for comparative essays on neoclassical and gothic architecture
Building a point-by-point essay.
Using the point-by-point method in a comparative essay allows you to draw direct comparisons and produce a more tightly integrated essay.  
Helpful tip: Note that you can have more than three points of comparison , especially in longer essays. The points can be either similarities or differences. Overall, in order to use this method, you must be able to apply criteria to every item, text, or idea you are comparing.  
Introductory material
Thesis: Although neoclassical and gothic architecture are both western European forms that are exemplified in civic buildings and churches, they nonetheless reveal, through different structural design and ornamentation, the different intellectual principles of the two societies that created them.
Why this comparison is important and what it tells readers
Building a block method essay
Using the block method in a comparative essay can help ensure that the ideas in the second block build upon or extend ideas presented in the first block. It works well if you have three or more major areas of comparison instead of two (for example, if you added in a third or fourth style of architecture, the block method would be easier to organize).
Thesis: The neoclassical style of architecture was a conscious rejection of the gothic style that had dominated in France at the end of the middle ages; it represented a desire to return to the classical ideals of Greece and Rome.
Text 1: History and development
Text 2: Change from earlier form; social context of new form
Synthesis and analysis: What does the comparison reveal about architectural development?
Back to Writing Centre resources .
Words with Friends Cheat
Wordle Solver
Word Unscrambler
Scrabble Dictionary
Anagram Solver
Wordscapes Answers
Make Our Dictionary Yours
Sign up for our weekly newsletters and get:
Grammar and writing tips
Fun language articles
#WordOfTheDay and quizzes
By signing in, you agree to our Terms and Conditions and Privacy Policy .
We'll see you in your inbox soon.
What Is a Compare and Contrast Essay? Simple Examples To Guide You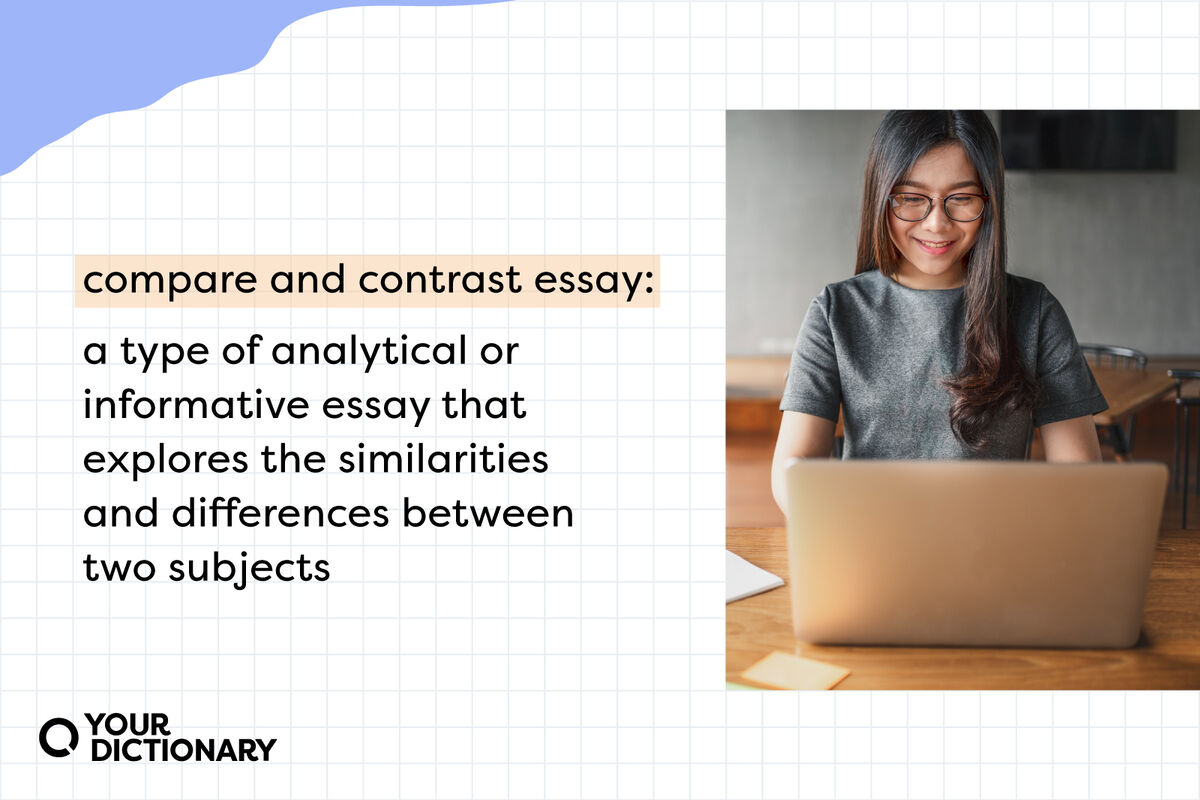 DESCRIPTION young woman using laptop with compare and contrast essay definition
SOURCE TravelCouples / Moment / Getty Images / via Getty created by YourDictionary
PERMISSION Used under Getty Images license
If you've ever gone clothes shopping and wondered at the merits of a warm yak wool sweater compared to a cool and breezy denim jacket, you've already gone through phase one of a compare and contrast essay. With just a document and some extra research, you could have a fully built essay about outerwear. But what is a compare and contrast essay, and how do you write a good one?
What Is a Compare and Contrast Essay?
A compare and contrast essay is a type of analytical or informative essay that explores the similarities and differences between two subjects, hopefully leading to some larger insight about the two.
That can seem pretty basic, but the real key is to make connections between the subjects that aren't obvious. Greater insight in compare and contrast essays comes from looking at subtle, nuanced, or surprising similarities and differences.
Unlike argumentative or critical essays , compare and contrast essays aren't really intended for you to make some sort of argument or state an opinion. That's not to say you can't state a claim about what you hope a reader should learn from comparing the two subjects, but this is very much about analyzing the subjects, not criticizing them.
Compare and Contrast Essay Template: General Format and Structure
The structure of a compare and contrast essay will depend largely on your subjects and the amount of space and time that you have, which might not always fit a five-paragraph essay assignment .
In its most basic form, a compare and contrast essay could look like:
An introduction that provides background context and a thesis stating what you're comparing and why
A body paragraph discussing the similarities between the two subjects
A body paragraph discussing the differences between the two subjects
A conclusion that restates the thesis and looks at further potential questions for consideration
The biggest variation here will come in the body paragraphs. Aside from the above general structure, you could approach the similarities and differences using the block method, wherein you discuss all the information about one subject before discussing all the information about the second subject.
You can also use the point-by-point method. This involves dedicating one paragraph to each point of comparison. For example, you can spend one paragraph talking about how both the yak wool sweater and denim jacket will keep you warm, though to different degrees.
Examples of Compare and Contrast Essay Topics
Coming up with what to actually compare and contrast is half the battle, partly because you can potentially compare and contrast nearly anything. Use your brainstorming skills, figure out what interests you, and otherwise have fun with it.
If you need to get the cogs turning in your noggin, it doesn't hurt to look at some example topics.
American English vs. British English : What's the Difference?
Android vs. iPhone: Which Has the Best Bang for Your Buck?
Aphrodite or Hercules: Which Greek God Possessed More Power?
Border Collies vs. Labrador Retrievers: Which Breed Is Better for Young Families?
Coffee vs. Tea: Which One Is Healthier?
Commuting or Dorming: What's the Best Way to Enjoy College?
Facebook or Instagram: Which Will Help Your Business Grow?
Irish and Scottish Mythology: What Themes Do They Share?
Liberal Arts or the Sciences: Which Degree Program Offers More Job Prospects?
Music and Poetry: Which Is More Personal?
Music from the 1950s and the 1970s: Who Rocked It Out Better?
PC vs. Mac: Which Computer Lasts Longer?
The Bible vs. the Quran: What's the Difference?
Compare and Contrast Essay Example
You have a pretty solid idea of how to write a compare and contrast essay , but it doesn't hurt to see what a compare and contrast essay could look like. We can't write your essay for you because you might have some amazing, nuanced, and surprising insights on similarities and differences that we just won't notice. Besides, we wouldn't want to take that opportunity away from you anyway.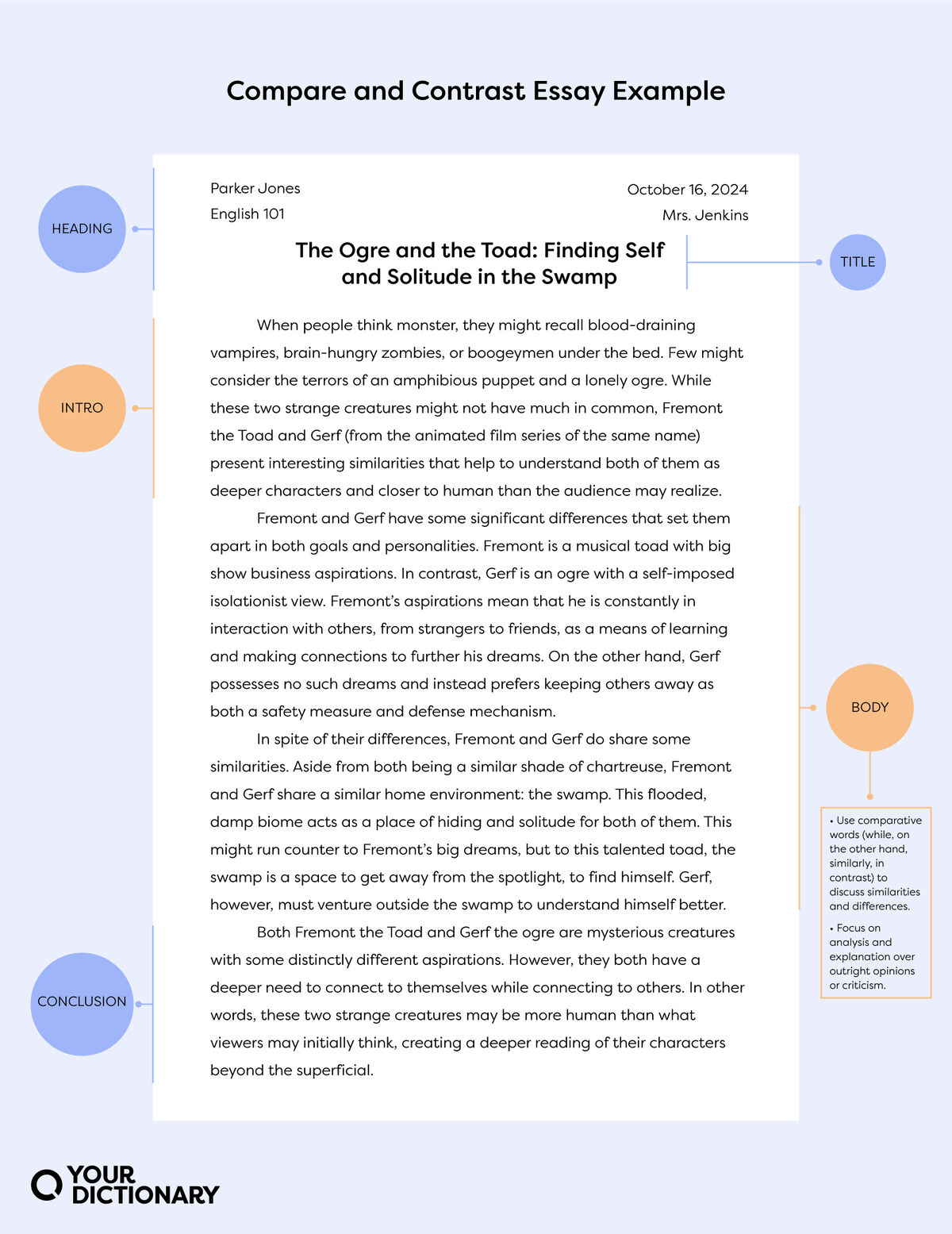 DESCRIPTION compare and contrast essay full example with labels
SOURCE Created by Karina Goto for YourDictionary
PERMISSION Owned by YourDictionary, Copyright YourDictionary 
Sample Compare and Contrast Essay Introduction
A compare and contrast essay's introduction doesn't have much variance from intros in other essays, so don't skimp on the details here. Include a good hook and some basic background context. End with a thesis statement that discusses what you're comparing and why the comparison even matters.
When people think monster , they might recall blood-draining vampires, brain-hungry zombies, or boogeymen under the bed. Few might consider the terrors of an amphibious puppet and a lonely ogre. While these two strange creatures might not have much in common, Fremont the Toad and Gerf (from the animated film series of the same name) present interesting similarities that help to understand both of them as deeper characters and closer to human than the audience may realize.
Compare and Contrast Essay Body Paragraph Examples
Body paragraphs for compare and contrast essays will see a lot of variance, maybe more so than any other essay type. This comes down to how you frame your comparison, what you want to focus on with your subjects, and countless other factors. In general, you'll be highlighting the similarities and why they matter and highlighting the differences and why they matter.
Fremont and Gerf have some significant differences that set them apart in both goals and personalities. Fremont is a musical toad with big show business aspirations. In contrast, Gerf is an ogre with a self-imposed isolationist view. Fremont's aspirations mean that he is constantly in interaction with others, from strangers to friends, as a means of learning and making connections to further his dreams. On the other hand, Gerf possesses no such dreams and instead prefers keeping others away as both a safety measure and defense mechanism. In spite of their differences, Fremont and Gerf do share some similarities. Aside from both being a similar shade of chartreuse, Fremont and Gerf share a similar home environment: the swamp. This flooded, damp biome acts as a place of hiding and solitude for both of them. This might run counter to Fremont's big dreams, but to this talented toad, the swamp is a space to get away from the spotlight, to find himself. Gerf, however, must venture outside the swamp to understand himself better.
Compare and Contrast Essay Conclusion Example
You should always make your conclusions matter. It's your opportunity to get a little cheesy, draw on other questions, and consider the "why" of your entire essay. Even if it's the "last part" of your essay, your conclusion can inform the rest of your essay, so give it some extra thought.
Both Fremont the Toad and Gerf the ogre are mysterious creatures with some distinctly different aspirations. However, they both have a deeper need to connect to themselves while connecting to others. In other words, these two strange creatures may be more human than what viewers initially think, creating a deeper reading of their characters beyond the superficial.