How to Write a Good English Literature Essay
Interesting little-known tips for how to write a better English Literature essay from Dr Oliver Tearle (Loughborough University)
How do you write a good English Literature essay? Although to an extent this depends on the particular subject you're writing about, and on the nature of the question your essay is attempting to answer, there are a few general guidelines for how to write a convincing essay – just as there are a few guidelines for writing well in any field.
We at Interesting Literature  call them 'guidelines' because we hesitate to use the word 'rules', which seems too programmatic. And as the writing habits of successful authors demonstrate, there is no  one way to become a good writer – of essays, novels, poems, or whatever it is you're setting out to write. The French writer Colette liked to begin her writing day by picking the fleas off her cat.
Edith Sitwell, by all accounts, liked to lie in an open coffin before she began her day's writing. Friedrich von Schiller kept rotten apples in his desk, claiming he needed the scent of their decay to help him write. (For most student essay-writers, such an aroma is probably allowed to arise in the writing-room more organically, over time.)
We will address our suggestions for successful essay-writing to the average student of English Literature, whether at university or school level. There are many ways to approach the task of essay-writing, and these are just a few pointers for how to write a better English essay – and some of these pointers may also work for other disciplines and subjects, too.
Of course, these guidelines are designed to be of interest to the non-essay-writer too – people who have an interest in the craft of writing in general. If this describes you, we hope you enjoy the list as well. Remember, though, everyone can find writing difficult: as Thomas Mann memorably put it, 'A writer is someone for whom writing is more difficult than it is for other people.' Nora Ephron was briefer: 'I think the hardest thing about writing is writing.' So, the guidelines for successful essay-writing:
1. Planning is important, but don't spend too long perfecting a structure that might end up changing.
This may seem like odd advice to kick off with, but the truth is that different approaches work for different students and essayists. You need to find out which method works best for you.
It's not a bad idea, regardless of whether you're a big planner or not, to sketch out perhaps a few points on a sheet of paper before you start, but don't be surprised if you end up moving away from it slightly – or considerably – when you start to write.
Often the most extensively planned essays are the most mechanistic and dull in execution, precisely because the writer has drawn up a plan and refused to deviate from it. What  is a more valuable skill is to be able to sense when your argument may be starting to go off-topic, or your point is getting out of hand,  as you write . (For help on this, see point 5 below.)
We might even say that when it comes to knowing how to write a good English Literature essay,  practising  is more important than planning.
2. Make room for close analysis of the text, or texts.
Whilst it's true that some first-class or A-grade essays will be impressive without containing any close reading as such, most of the highest-scoring and most sophisticated essays tend to zoom in on the text and examine its language and imagery closely in the course of the argument. (Close reading of literary texts arises from theology and the analysis of holy scripture, but really became a 'thing' in literary criticism in the early twentieth century, when T. S. Eliot, F. R. Leavis, William Empson, and other influential essayists started to subject the poem or novel to close scrutiny.)
Close reading has two distinct advantages: it increases the specificity of your argument (so you can't be so easily accused of generalising a point), and it improves your chances of pointing up something about the text which none of the other essays your marker is reading will have said. For instance, take In Memoriam  (1850), which is a long Victorian poem by the poet Alfred, Lord Tennyson about his grief following the death of his close friend, Arthur Hallam, in the early 1830s.
When answering a question about the representation of religious faith in Tennyson's poem  In Memoriam  (1850), how might you write a particularly brilliant essay about this theme? Anyone can make a general point about the poet's crisis of faith; but to look closely at the language used gives you the chance to show  how the poet portrays this.
For instance, consider this stanza, which conveys the poet's doubt:
A solid and perfectly competent essay might cite this stanza in support of the claim that Tennyson is finding it increasingly difficult to have faith in God (following the untimely and senseless death of his friend, Arthur Hallam). But there are several ways of then doing something more with it. For instance, you might get close to the poem's imagery, and show how Tennyson conveys this idea, through the image of the 'altar-stairs' associated with religious worship and the idea of the stairs leading 'thro' darkness' towards God.
In other words, Tennyson sees faith as a matter of groping through the darkness, trusting in God without having evidence that he is there. If you like, it's a matter of 'blind faith'. That would be a good reading. Now, here's how to make a good English essay on this subject even better: one might look at how the word 'falter' – which encapsulates Tennyson's stumbling faith – disperses into 'falling' and 'altar' in the succeeding lines. The word 'falter', we might say, itself falters or falls apart.
That is doing more than just interpreting the words: it's being a highly careful reader of the poetry and showing how attentive to the language of the poetry you can be – all the while answering the question, about how the poem portrays the idea of faith. So, read and then reread the text you're writing about – and be sensitive to such nuances of language and style.
The best way to  become attuned to such nuances is revealed in point 5. We might summarise this point as follows: when it comes to knowing how to write a persuasive English Literature essay, it's one thing to have a broad and overarching argument, but don't be afraid to use the  microscope as well as the telescope.
3. Provide several pieces of evidence where possible.
Many essays have a point to make and make it, tacking on a single piece of evidence from the text (or from beyond the text, e.g. a critical, historical, or biographical source) in the hope that this will be enough to make the point convincing.
'State, quote, explain' is the Holy Trinity of the Paragraph for many. What's wrong with it? For one thing, this approach is too formulaic and basic for many arguments. Is one quotation enough to support a point? It's often a matter of degree, and although one piece of evidence is better than none, two or three pieces will be even more persuasive.
After all, in a court of law a single eyewitness account won't be enough to convict the accused of the crime, and even a confession from the accused would carry more weight if it comes supported by other, objective evidence (e.g. DNA, fingerprints, and so on).
Let's go back to the example about Tennyson's faith in his poem  In Memoriam  mentioned above. Perhaps you don't find the end of the poem convincing – when the poet claims to have rediscovered his Christian faith and to have overcome his grief at the loss of his friend.
You can find examples from the end of the poem to suggest your reading of the poet's insincerity may have validity, but looking at sources beyond the poem – e.g. a good edition of the text, which will contain biographical and critical information – may help you to find a clinching piece of evidence to support your reading.
And, sure enough, Tennyson is reported to have said of  In Memoriam : 'It's too hopeful, this poem, more than I am myself.' And there we have it: much more convincing than simply positing your reading of the poem with a few ambiguous quotations from the poem itself.
Of course, this rule also works in reverse: if you want to argue, for instance, that T. S. Eliot's  The Waste Land is overwhelmingly inspired by the poet's unhappy marriage to his first wife, then using a decent biographical source makes sense – but if you didn't show evidence for this idea from the poem itself (see point 2), all you've got is a vague, general link between the poet's life and his work.
Show  how the poet's marriage is reflected in the work, e.g. through men and women's relationships throughout the poem being shown as empty, soulless, and unhappy. In other words, when setting out to write a good English essay about any text, don't be afraid to  pile on  the evidence – though be sensible, a handful of quotations or examples should be more than enough to make your point convincing.
4. Avoid tentative or speculative phrasing.
Many essays tend to suffer from the above problem of a lack of evidence, so the point fails to convince. This has a knock-on effect: often the student making the point doesn't sound especially convinced by it either. This leaks out in the telling use of, and reliance on, certain uncertain  phrases: 'Tennyson might have' or 'perhaps Harper Lee wrote this to portray' or 'it can be argued that'.
An English university professor used to write in the margins of an essay which used this last phrase, 'What  can't be argued?'
This is a fair criticism: anything can be argued (badly), but it depends on what evidence you can bring to bear on it (point 3) as to whether it will be a persuasive argument. (Arguing that the plays of Shakespeare were written by a Martian who came down to Earth and ingratiated himself with the world of Elizabethan theatre is a theory that can be argued, though few would take it seriously. We wish we could say 'none', but that's a story for another day.)
Many essay-writers, because they're aware that texts are often open-ended and invite multiple interpretations (as almost all great works of literature invariably do), think that writing 'it can be argued' acknowledges the text's rich layering of meaning and is therefore valid.
Whilst this is certainly a fact – texts are open-ended and can be read in wildly different ways – the phrase 'it can be argued' is best used sparingly if at all. It should be taken as true that your interpretation is, at bottom, probably unprovable. What would it mean to 'prove' a reading as correct, anyway? Because you found evidence that the author intended the same thing as you've argued of their text? Tennyson wrote in a letter, 'I wrote In Memoriam  because…'?
But the author might have lied about it (e.g. in an attempt to dissuade people from looking too much into their private life), or they might have changed their mind (to go back to the example of  The Waste Land : T. S. Eliot championed the idea of poetic impersonality in an essay of 1919, but years later he described  The Waste Land as 'only the relief of a personal and wholly insignificant grouse against life' – hardly impersonal, then).
Texts – and their writers – can often be contradictory, or cagey about their meaning. But we as critics have to act responsibly when writing about literary texts in any good English essay or exam answer. We need to argue honestly, and sincerely – and not use what Wikipedia calls 'weasel words' or hedging expressions.
So, if nothing is utterly provable, all that remains is to make the strongest possible case you can with the evidence available. You do this, not only through marshalling the evidence in an effective way, but by writing in a confident voice when making your case. Fundamentally, 'There is evidence to suggest that' says more or less the same thing as 'It can be argued', but it foregrounds the  evidence rather than the argument, so is preferable as a phrase.
This point might be summarised by saying: the best way to write a good English Literature essay is to be honest about the reading you're putting forward, so you can be confident in your interpretation and use clear, bold language. ('Bold' is good, but don't get too cocky, of course…)
5. Read the work of other critics.
This might be viewed as the Holy Grail of good essay-writing tips, since it is perhaps the single most effective way to improve your own writing. Even if you're writing an essay as part of school coursework rather than a university degree, and don't need to research other critics for your essay, it's worth finding a good writer of literary criticism and reading their work. Why is this worth doing?
Published criticism has at least one thing in its favour, at least if it's published by an academic press or has appeared in an academic journal, and that is that it's most probably been peer-reviewed, meaning that other academics have read it, closely studied its argument, checked it for errors or inaccuracies, and helped to ensure that it is expressed in a fluent, clear, and effective way.
If you're serious about finding out how to write a better English essay, then you need to study how successful writers in the genre do it. And essay-writing is a genre, the same as novel-writing or poetry. But why will reading criticism help you? Because the critics you read can show you how to do all of the above: how to present a close reading of a poem, how to advance an argument that is not speculative or tentative yet not over-confident, how to use evidence from the text to make your argument more persuasive.
And, the more you read of other critics – a page a night, say, over a few months – the better you'll get. It's like textual osmosis: a little bit of their style will rub off on you, and every writer learns by the examples of other writers.
As T. S. Eliot himself said, 'The poem which is absolutely original is absolutely bad.' Don't get precious about your own distinctive writing style and become afraid you'll lose it. You can't  gain a truly original style before you've looked at other people's and worked out what you like and what you can 'steal' for your own ends.
We say 'steal', but this is not the same as saying that plagiarism is okay, of course. But consider this example. You read an accessible book on Shakespeare's language and the author makes a point about rhymes in Shakespeare. When you're working on your essay on the poetry of Christina Rossetti, you notice a similar use of rhyme, and remember the point made by the Shakespeare critic.
This is not plagiarising a point but applying it independently to another writer. It shows independent interpretive skills and an ability to understand and apply what you have read. This is another of the advantages of reading critics, so this would be our final piece of advice for learning how to write a good English essay: find a critic whose style you like, and study their craft.
If you're looking for suggestions, we can recommend a few favourites: Christopher Ricks, whose  The Force of Poetry is a tour de force; Jonathan Bate, whose  The Genius of Shakespeare , although written for a general rather than academic audience, is written by a leading Shakespeare scholar and academic; and Helen Gardner, whose  The Art of T. S. Eliot , whilst dated (it came out in 1949), is a wonderfully lucid and articulate analysis of Eliot's poetry.
James Wood's How Fiction Works  is also a fine example of lucid prose and how to close-read literary texts. Doubtless readers of  Interesting Literature will have their own favourites to suggest in the comments, so do check those out, as these are just three personal favourites. What's your favourite work of literary scholarship/criticism? Suggestions please.
Much of all this may strike you as common sense, but even the most commonsensical advice can go out of your mind when you have a piece of coursework to write, or an exam to revise for. We hope these suggestions help to remind you of some of the key tenets of good essay-writing practice – though remember, these aren't so much commandments as recommendations. No one can 'tell' you how to write a good English Literature essay as such.
But it can be learned. And remember, be interesting – find the things in the poems or plays or novels which really ignite your enthusiasm. As John Mortimer said, 'The only rule I have found to have any validity in writing is not to bore yourself.'
Finally, good luck – and happy writing!
And if you enjoyed these tips for how to write a persuasive English essay, check out our advice for how to remember things for exams  and our tips for becoming a better close reader of poetry .
Share this:
30 thoughts on "How to Write a Good English Literature Essay"
You must have taken AP Literature. I'm always saying these same points to my students.
I also think a crucial part of excellent essay writing that too many students do not realize is that not every point or interpretation needs to be addressed. When offered the chance to write your interpretation of a work of literature, it is important to note that there of course are many but your essay should choose one and focus evidence on this one view rather than attempting to include all views and evidence to back up each view.
Reblogged this on SocioTech'nowledge .
Not a bad effort…not at all! (Did you intend "subject" instead of "object" in numbered paragraph two, line seven?"
Oops! I did indeed – many thanks for spotting. Duly corrected ;)
That's what comes of writing about philosophy and the subject/object for another post at the same time!
Reblogged this on Scribing English .
Pingback: Recommended Resource: Interesting Literature.com & how to write an essay | Write Out Loud
Great post on essay writing! I've shared a post about this and about the blog site in general which you can look at here: http://writeoutloudblog.com/2015/01/13/recommended-resource-interesting-literature-com-how-to-write-an-essay/
All of these are very good points – especially I like 2 and 5. I'd like to read the essay on the Martian who wrote Shakespeare's plays).
Reblogged this on Uniqely Mustered and commented: Dedicate this to all upcoming writers and lovers of Writing!
I shall take this as my New Year boost in Writing Essays. Please try to visit often for corrections,advise and criticisms.
Reblogged this on Blue Banana Bread .
Reblogged this on worldsinthenet .
All very good points, but numbers 2 and 4 are especially interesting.
Pingback: Weekly Digest | Alpha Female, Mainstream Cat
Reblogged this on rainniewu .
Reblogged this on pixcdrinks .
Pingback: How to Write a Good English Essay? Interesting Literature | EngLL.Com
Great post. Interesting infographic how to write an argumentative essay http://www.essay-profy.com/blog/how-to-write-an-essay-writing-an-argumentative-essay/
Reblogged this on DISTINCT CHARACTER and commented: Good Tips
Reblogged this on quirkywritingcorner and commented: This could be applied to novel or short story writing as well.
Reblogged this on rosetech67 and commented: Useful, albeit maybe a bit late for me :-)
Pingback: How to Write a Good English Essay | georg28ang
such a nice pieace of content you shared in this write up about "How to Write a Good English Essay" going to share on another useful resource that is
Pingback: Mark Twain's Rules for Good Writing | Interesting Literature
Pingback: How to Remember Things for Exams | Interesting Literature
Pingback: Michael Moorcock: How to Write a Novel in 3 Days | Interesting Literature
Pingback: Shakespeare and the Essay | Interesting Literature
A well rounded summary on all steps to keep in mind while starting on writing. There are many new avenues available though. Benefit from the writing options of the 21st century from here, i loved it! http://authenticwritingservices.com
Pingback: Mark Twain's Rules for Good Writing | Peacejusticelove's Blog
Leave a Reply Cancel reply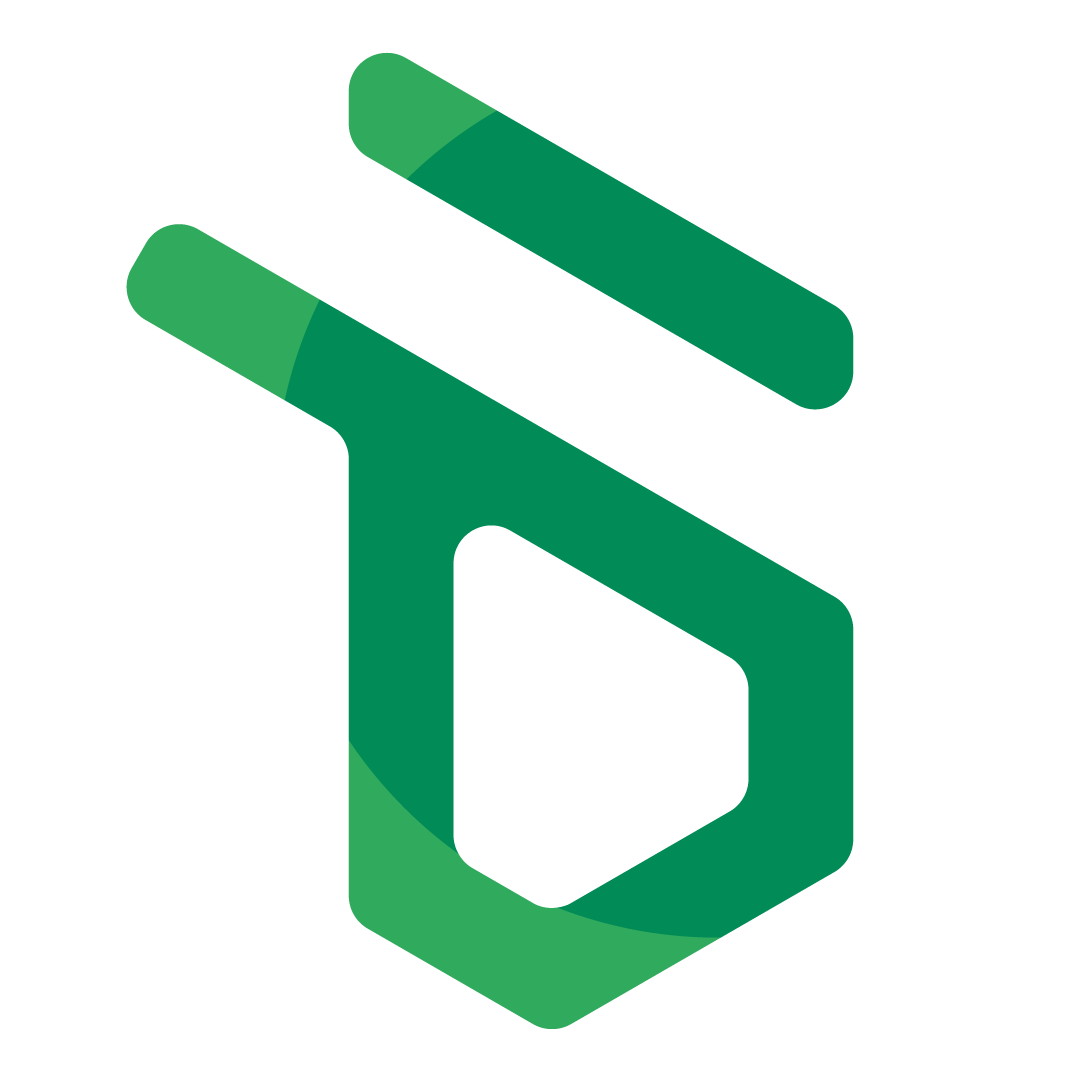 How to Write an English Literature Essay?
In A-Level , GCSE by Think Student Editor August 26, 2022 Leave a Comment
Writing an English literature essay can be very stressful, especially if you have never had to write an essay for this subject before. The many steps and parts can be hard to understand, making the whole process feel overwhelming before you even start. As an English literature student, I have written many essays before, and remember how hard it felt at the start. However, I can assure you that this gets far easier with practice, and it even becomes fun! In this article, I will give you tips and tricks to write the best essay you can. As well as a simple step-by-step guide to writing one that will simplify the process.
Writing an English literature essay has 3 main parts: planning, writing and editing. Planning is the most important, as it allows you to clearly structure your essay so that it makes logical sense. After you have planned, write the essay, including an introduction, 3-4 main points/paragraphs, and a conclusion. Then check through the spelling and grammar of your essay to ensure it is readable and has hit all of your assessment objectives.
While this short explanation of the process should have given you an idea of how to write your essay, for key tips and tricks specific to English literature please read on!
Table of Contents
How to plan an English literature essay?
The most important thing in any English essay is the structure. The best way to get a logical and clear structure which flows throughout the essay is to plan before you start . A plan should include your thesis statement, 3-4 main paragraph points, key context and quotes to relate to.
A common way of structuring a plan is in the TIPE method. This involves planning each of your main points and sections on a few lines, in the structure of the main essay, making it easy to write out. Always highlight the key word in the question before you start planning, then also annotate any given extracts for ideas. If you have an extract, the main focus of your essay should be on that.
Planning should take around 10-15 minutes of your exam time for essay questions. This sounds like a lot, but it saves you time later on in writing, making it well worth the effort at the start of an exam.
Start each plan with a mind map of your key moments, quotes, context and ideas about the exam question theme, character, or statement. This helps you get all of your ideas down and figure out which are best. It also creates a bank to come back to later if you have extra time and want to write more.
Once you have created your mind map, find a thesis statement related to the question that you have 3-4 main points to support. It can be tempting to write lots of points, but remember, quality is always better than quantity in English Literature essays.
A useful method to help you plan is by creating a TIPE plan. With the following bullet points, you can now begin your own TIPE plan.
Introduction
Points – you should have 3-4 key paragraphs in your essay, including relevant quotes with analysis (and techniques the author is using) and context for each point
Ending – conclusion
How to write an English literature essay introduction?
Depending on what level of literature essay you are writing, you will need different parts and depths of content . However, one thing that stays fairly consistent is the introduction. Introductions should hook the reader , literally "introducing" them to your essay and writing style, while also keeping them interested in reading on.
Some people find it difficult to write introductions, often because they have not already got into the feeling of the essay. For this, leaving space at the top of the page to write the introduction after you finish the rest of the essay is a great way to ensure your introduction is top quality. Writing essays out of order is ok, as long as you can still make them flow in a logical way.
The first line of any introduction should provide the focus for the whole essay. This is called a thesis statement and defines to the examiner exactly what you will "prove" throughout your essay, using quotes and other evidence. This thesis statement should always include the focus word from the question, linked to the view you will be arguing.
For example, "Throughout Macbeth, Power is presented by Shakespeare as a dangerously addictive quality." This statement includes the play (or book/poem) title, the theme (or other element, such as the name of a character) stated in the question, and the focus (addiction to power). These qualities clearly show the examiner what to expect, as well as helping you structure your essay.
The rest of the introduction should include a brief note on some context related to the theme or character in question, as well as a very brief summary of your main paragraph points, of which there should be 3-4. This is unique to each essay and text and should be brief points that you elaborate on later.
How to structure an English literature essay?
As already discussed, the plan is the most important part of writing an English literature essay. However, once you start writing, the structure of your essay is key to a succinct and successful argument.
All essays should have an introduction with a thesis statement, 3-4 main points, and a conclusion.
The main part of your essay, and the most important, is the 3-4 main points you use to support your thesis. These should each form one paragraph, with an opening and a conclusion, almost like a mini essay within the main one. These paragraphs can be hard to structure, so many students choose to use the PETAL method.
PETAL paragraphs involve all of the key elements you need to get top marks in any English literature essay: Point, Evidence, Techniques, Analysis and Link.
The point should be the opening of the paragraph, stating what you are looking at within that section, related to your thesis, for example, "Shakespeare uses metaphors to show how the pursuit of power makes Macbeth obsessive and tyrannical". Then, use a key moment in the play to illustrate the point, with a quote.
Choosing quotes is hard, but remember, quotes that are short and directly related to your thesis are best. Once you have chosen a quote, analyse it in relation to your point, then link to the question. You should also include some context and, at A-Level, different viewpoints or critics.
After these points, you should always include a conclusion. Restate your thesis, introduction and each point, but do not introduce new ideas. Explain and link these points by summarising them, then give your overall idea on the question.
If you have time, including a final sentence about wider social impacts or an overarching moral from the book is a good way to show a deep and relevant understanding of the text, impressing the examiner.
How to write an English literature essay for GCSE?
Marking for GCSE English Literature essays is done based on 4 assessment objectives. These are outlined in the table below. These are the same across all exam boards.
If you follow the structure outlined above, you should easily hit all of these AOs. The first two are the most important, and carry the most points in exams, however the others are what will bring your grade up to the best you can, so remember to include them too.
Context, or AO3, should be used whenever it is relevant to your argument. However, it is always better to include less context points on this than to try and add random bits everywhere, as this will break the flow of your essay, removing AO1 marks. For more information about the assessment objectives for GCSE English Literature, check out this governmental guide .
For more information on GCSEs, and whether you have to take English literature, please read this Think Student guide.
How do you write an English literature essay for A-Level?
Similarly, to GCSE, all A-Level papers are marked on a set of assessment objectives which are also set by Ofqual, so are the same for all exam boards. There are more than at GCSE, as A-Level essays must be in greater depth, and as such have more criteria to mark on. The table below shows the assessment objectives.
AO1 and AO2 are very similar to GCSE, however the writing needed to achieve top marks in them is much harder to reach. It must be very detailed and have a clear, distinct style to reach high marks. These skills are developed through practice, so writing lots of essays over your course will help you to gain the highest marks you can here.
AO3 and AO4 often go together, as literary and historical contexts. AO3 is again similar to GCSE, but in more depth. However, AO4 is new, and involves wider reading around your texts. Links to texts from the same author, time period, or genre make good comparisons, and you only need to make one or two to get the marks in this section.
AO5 is also one of the harder sections, which involves considering interpretations of the text that may not have been your first thought, and that you may not agree with. This can elevate your essay to much higher marks if you can achieve them.
One of the best ways to get AO5 marks is to look at critics of the book you are studying. These are academic views, and to remember quotes from them to put in when they are relevant. For more information about the assessment objectives for A-Level English Literature, check out this guide by AQA.
Which GCSE and A-Level English Literature papers have essay questions?
All GCSE and A-Level English Literature papers will have at least one essay question. Essay questions are usually the longest answers in the paper. However, sometimes other questions may require an essay style format but shorter. The exact structure of the exam paper and where essay questions are will depend on which exam board your GCSE or A-Level qualification is with .
GCSE English Literature paper 1 usually requires 2 essays . Each question in this paper is an essay, and each has an extract to be based around, so focussing your analysis on that extract is the easiest way to get marks.
The marks for these essays vary depending on exam board . However, as they are assessed on the objectives above, you don't need to think too much about the marks, as it does not work in the same way as other subjects with a mark per point made. Instead, essays are marked cumulatively based on the general level of discussion achieved.
GCSE English Literature paper 2 usually requires 3 essays , one in each section. Sections A and B are an essay each, without an extract, then section C involves a shorter essay on unseen poetry and a short answer question. This type of question is harder, as you have to really know the book you are studying in order to get a good mark and include enough quotes.
A-Level English Literature is based entirely on essay questions. The questions are based on poetry, novels and plays, some seen and some unseen. About half of the essays have an accompanying extract, however you are expected to have very good knowledge of your texts even for extract questions, so do not rely on extracts for quotes and marks.
The information above is mainly based of the AQA exam papers, which you can find the specifications to for GCSE and A-Level by clicking here and here respectively. While this is mainly based of AQA, the exam boards all have rather similar structures and so you will still be able to use this information to get a rough idea.
Top tips for writing the best essay you can in English literature
This section will provide you with some tips to help you with your English literature essay writing. I recommend you also check out this Think Student article on how to revise for English literature. Now without further hesitation, lets jump into them.
Focus on the structure of your English literature essay
A logical and clear structure is key to allowing your essay to stand out to an examiner. They read hundreds of essays, so a good structure will let your creative analysis shine in a way that makes sense and is clear, as well as not confusing them.
The arguments you make in the essay should be coherent, directly linked to the question, and to each other. The easiest way to do this is to ensure you properly plan before you start writing , and to use the acronyms above to make the process as easy as possible in the exam.
Always use examples and quotes in your English literature essay
For every paragraph you need to have at least 1, if not more quotes and references to sections of the text . Ensure that every example you use is directly relevant to your point and to the question. For example, if you have a question about a character in the play, you should use quotes from or about them, rather than quotes about other things.
These quotes should always be analysed in detail, however, so do not use more than you can really look at within the time limit. Always aim for quality over quantity.
Leave time to edit and re-read your English literature essay
After you are finished writing, go back and re-read your essay from start to finish as many times as you can within the exam time limit. Focus first on grammar and spelling mistakes, then on general flow and coherency. If you notice that you have gone off topic, remove the sentence if you can, or edit it to be relevant.
Remember, the most important thing in the exam is that your text makes sense to the reader , so use concise, subject specific terminology, but not unnecessarily. You do not need to memorise big technical words to get good marks, as long as you can say what you mean.
Read other people's English literature essays
One of the least understood tips for getting good marks at GCSE, A-Level and beyond is to read other people's essays . Some students feel like reading exemplar essays or essays their classmates have written is cheating, or that it would be stealing their ideas to read their essay. However, this is not the case.
Reading someone else's essay is a great way to begin to evaluate your own writing. By marking essays or reading others and making mental notes about them, you can begin to apply the same principals to your own essays, as well as improving your writing overall.
Look at how they use quotes, their structure, their main points and their thesis, and compare them to how you write, and to the assessment objectives. Look at their analysis and whether their writing makes sense. This sort of analysis does not involve stealing ideas, but instead learning how best to structure your writing and create an individual style , learning from both good and bad essays.
You should also read widely around your texts in general. Read as much as you can, both texts related and unrelated to the ones you read in class, to gain a wide picture of literature. This will help you in unseen prose, but also widen your vocabulary overall, which in turn will improve your essays.
For more information on why reading is so important for students, please read this Think Student guide.
What is Essay? Definition, Usage, and Literary Examples
Essay definition.
An essay (ES-ey) is a nonfiction composition that explores a concept, argument, idea, or opinion from the personal perspective of the writer. Essays are usually a few pages, but they can also be book-length. Unlike other forms of nonfiction writing, like textbooks or biographies, an essay doesn't inherently require research. Literary essayists are conveying ideas in a more informal way.
The word essay comes from the Late Latin exigere , meaning "ascertain or weigh," which later became essayer in Old French. The late-15th-century version came to mean "test the quality of." It's this latter derivation that French philosopher Michel de Montaigne first used to describe a composition.
History of the Essay
Michel de Montaigne first coined the term essayer to describe Plutarch's Oeuvres Morales , which is now widely considered to be a collection of essays. Under the new term, Montaigne wrote the first official collection of essays, Essais , in 1580. Montaigne's goal was to pen his personal ideas in prose . In 1597, a collection of Francis Bacon's work appeared as the first essay collection written in English. The term essayist was first used by English playwright Ben Jonson in 1609.
Types of Essays
There are many ways to categorize essays. Aldous Huxley, a leading essayist, determined that there are three major groups: personal and autobiographical, objective and factual, and abstract and universal. Within these groups, several other types can exist, including the following:
Academic Essays : Educators frequently assign essays to encourage students to think deeply about a given subject and to assess the student's knowledge. As such, an academic essay employs a formal language and tone, and it may include references and a bibliography. It's objective and factual, and it typically uses a five-paragraph model of an introduction, two or more body paragraphs, and a conclusion. Several other essay types, like descriptive, argumentative, and expository, can fall under the umbrella of an academic essay.
Analytical Essays : An analytical essay breaks down and interprets something, like an event, piece of literature, or artwork. This type of essay combines abstraction and personal viewpoints. Professional reviews of movies, TV shows, and albums are likely the most common form of analytical essays that people encounter in everyday life.
Argumentative/Persuasive Essays : In an argumentative or persuasive essay, the essayist offers their opinion on a debatable topic and refutes opposing views. Their goal is to get the reader to agree with them. Argumentative/persuasive essays can be personal, factual, and even both at the same time. They can also be humorous or satirical; Jonathan Swift's A Modest Proposal is a satirical essay arguing that the best way for Irish people to get out of poverty is to sell their children to rich people as a food source.
Descriptive Essays : In a descriptive essay, the essayist describes something, someone, or an event in great detail. The essay's subject can be something concrete, meaning it can be experienced with any or all of the five senses, or abstract, meaning it can't be interacted with in a physical sense.
Expository Essay : An expository essay is a factual piece of writing that explains a particular concept or issue. Investigative journalists often write expository essays in their beat, and things like manuals or how-to guides are also written in an expository style.
Narrative/Personal : In a narrative or personal essay, the essayist tells a story, which is usually a recounting of a personal event. Narrative and personal essays may attempt to support a moral or lesson. People are often most familiar with this category as many writers and celebrities frequently publish essay collections.
Notable Essayists
James Baldwin, " Notes of a Native Son "
Joan Didion, " Goodbye To All That "
George Orwell, " Shooting an Elephant "
Ralph Waldo Emerson, " Self-Reliance "
Virginia Woolf, " Three Guineas "
Examples of Literary Essays
1. Michel De Montaigne, "Of Presumption"
De Montaigne's essay explores multiple topics, including his reasons for writing essays, his dissatisfaction with contemporary education, and his own victories and failings. As the father of the essay, Montaigne details characteristics of what he thinks an essay should be. His writing has a stream-of-consciousness organization that doesn't follow a structure, and he expresses the importance of looking inward at oneself, pointing to the essay's personal nature.
2. Virginia Woolf, "A Room of One's Own"
Woolf's feminist essay, written from the perspective of an unknown, fictional woman, argues that sexism keeps women from fully realizing their potential. Woolf posits that a woman needs only an income and a room of her own to express her creativity. The fictional persona Woolf uses is meant to teach the reader a greater truth: making both literal and metaphorical space for women in the world is integral to their success and wellbeing.
3. James Baldwin, "Everybody's Protest Novel"
In this essay, Baldwin argues that Harriet Beecher Stowe's novel Uncle Tom's Cabin doesn't serve the black community the way his contemporaries thought it did. He points out that it equates "goodness" with how well-assimilated the black characters are in white culture:
Uncle Tom's Cabin is a very bad novel, having, in its self-righteous, virtuous sentimentality, much in common with Little Women. Sentimentality […] is the mark of dishonesty, the inability to feel; […] and it is always, therefore, the signal of secret and violent inhumanity, the mask of cruelty.
This essay is both analytical and argumentative. Baldwin analyzes the novel and argues against those who champion it.
Further Resources on Essays
Top Writing Tips offers an in-depth history of the essay.
The Harvard Writing Center offers tips on outlining an essay.
We at SuperSummary have an excellent essay writing resource guide .
Related Terms
Academic Essay
Argumentative Essay
Expository Essay
Narrative Essay
Persuasive Essay
Have a language expert improve your writing
Run a free plagiarism check in 10 minutes, generate accurate citations for free.
Knowledge Base
Example of a great essay | Explanations, tips & tricks
Example of a Great Essay | Explanations, Tips & Tricks
Published on February 9, 2015 by Shane Bryson . Revised on July 23, 2023 by Shona McCombes.
This example guides you through the structure of an essay. It shows how to build an effective introduction , focused paragraphs , clear transitions between ideas, and a strong conclusion .
Each paragraph addresses a single central point, introduced by a topic sentence , and each point is directly related to the thesis statement .
As you read, hover over the highlighted parts to learn what they do and why they work.
Table of contents
Other interesting articles, frequently asked questions about writing an essay, an appeal to the senses: the development of the braille system in nineteenth-century france.
The invention of Braille was a major turning point in the history of disability. The writing system of raised dots used by visually impaired people was developed by Louis Braille in nineteenth-century France. In a society that did not value disabled people in general, blindness was particularly stigmatized, and lack of access to reading and writing was a significant barrier to social participation. The idea of tactile reading was not entirely new, but existing methods based on sighted systems were difficult to learn and use. As the first writing system designed for blind people's needs, Braille was a groundbreaking new accessibility tool. It not only provided practical benefits, but also helped change the cultural status of blindness. This essay begins by discussing the situation of blind people in nineteenth-century Europe. It then describes the invention of Braille and the gradual process of its acceptance within blind education. Subsequently, it explores the wide-ranging effects of this invention on blind people's social and cultural lives.
Lack of access to reading and writing put blind people at a serious disadvantage in nineteenth-century society. Text was one of the primary methods through which people engaged with culture, communicated with others, and accessed information; without a well-developed reading system that did not rely on sight, blind people were excluded from social participation (Weygand, 2009). While disabled people in general suffered from discrimination, blindness was widely viewed as the worst disability, and it was commonly believed that blind people were incapable of pursuing a profession or improving themselves through culture (Weygand, 2009). This demonstrates the importance of reading and writing to social status at the time: without access to text, it was considered impossible to fully participate in society. Blind people were excluded from the sighted world, but also entirely dependent on sighted people for information and education.
In France, debates about how to deal with disability led to the adoption of different strategies over time. While people with temporary difficulties were able to access public welfare, the most common response to people with long-term disabilities, such as hearing or vision loss, was to group them together in institutions (Tombs, 1996). At first, a joint institute for the blind and deaf was created, and although the partnership was motivated more by financial considerations than by the well-being of the residents, the institute aimed to help people develop skills valuable to society (Weygand, 2009). Eventually blind institutions were separated from deaf institutions, and the focus shifted towards education of the blind, as was the case for the Royal Institute for Blind Youth, which Louis Braille attended (Jimenez et al, 2009). The growing acknowledgement of the uniqueness of different disabilities led to more targeted education strategies, fostering an environment in which the benefits of a specifically blind education could be more widely recognized.
Several different systems of tactile reading can be seen as forerunners to the method Louis Braille developed, but these systems were all developed based on the sighted system. The Royal Institute for Blind Youth in Paris taught the students to read embossed roman letters, a method created by the school's founder, Valentin Hauy (Jimenez et al., 2009). Reading this way proved to be a rather arduous task, as the letters were difficult to distinguish by touch. The embossed letter method was based on the reading system of sighted people, with minimal adaptation for those with vision loss. As a result, this method did not gain significant success among blind students.
Louis Braille was bound to be influenced by his school's founder, but the most influential pre-Braille tactile reading system was Charles Barbier's night writing. A soldier in Napoleon's army, Barbier developed a system in 1819 that used 12 dots with a five line musical staff (Kersten, 1997). His intention was to develop a system that would allow the military to communicate at night without the need for light (Herron, 2009). The code developed by Barbier was phonetic (Jimenez et al., 2009); in other words, the code was designed for sighted people and was based on the sounds of words, not on an actual alphabet. Barbier discovered that variants of raised dots within a square were the easiest method of reading by touch (Jimenez et al., 2009). This system proved effective for the transmission of short messages between military personnel, but the symbols were too large for the fingertip, greatly reducing the speed at which a message could be read (Herron, 2009). For this reason, it was unsuitable for daily use and was not widely adopted in the blind community.
Nevertheless, Barbier's military dot system was more efficient than Hauy's embossed letters, and it provided the framework within which Louis Braille developed his method. Barbier's system, with its dashes and dots, could form over 4000 combinations (Jimenez et al., 2009). Compared to the 26 letters of the Latin alphabet, this was an absurdly high number. Braille kept the raised dot form, but developed a more manageable system that would reflect the sighted alphabet. He replaced Barbier's dashes and dots with just six dots in a rectangular configuration (Jimenez et al., 2009). The result was that the blind population in France had a tactile reading system using dots (like Barbier's) that was based on the structure of the sighted alphabet (like Hauy's); crucially, this system was the first developed specifically for the purposes of the blind.
While the Braille system gained immediate popularity with the blind students at the Institute in Paris, it had to gain acceptance among the sighted before its adoption throughout France. This support was necessary because sighted teachers and leaders had ultimate control over the propagation of Braille resources. Many of the teachers at the Royal Institute for Blind Youth resisted learning Braille's system because they found the tactile method of reading difficult to learn (Bullock & Galst, 2009). This resistance was symptomatic of the prevalent attitude that the blind population had to adapt to the sighted world rather than develop their own tools and methods. Over time, however, with the increasing impetus to make social contribution possible for all, teachers began to appreciate the usefulness of Braille's system (Bullock & Galst, 2009), realizing that access to reading could help improve the productivity and integration of people with vision loss. It took approximately 30 years, but the French government eventually approved the Braille system, and it was established throughout the country (Bullock & Galst, 2009).
Although Blind people remained marginalized throughout the nineteenth century, the Braille system granted them growing opportunities for social participation. Most obviously, Braille allowed people with vision loss to read the same alphabet used by sighted people (Bullock & Galst, 2009), allowing them to participate in certain cultural experiences previously unavailable to them. Written works, such as books and poetry, had previously been inaccessible to the blind population without the aid of a reader, limiting their autonomy. As books began to be distributed in Braille, this barrier was reduced, enabling people with vision loss to access information autonomously. The closing of the gap between the abilities of blind and the sighted contributed to a gradual shift in blind people's status, lessening the cultural perception of the blind as essentially different and facilitating greater social integration.
The Braille system also had important cultural effects beyond the sphere of written culture. Its invention later led to the development of a music notation system for the blind, although Louis Braille did not develop this system himself (Jimenez, et al., 2009). This development helped remove a cultural obstacle that had been introduced by the popularization of written musical notation in the early 1500s. While music had previously been an arena in which the blind could participate on equal footing, the transition from memory-based performance to notation-based performance meant that blind musicians were no longer able to compete with sighted musicians (Kersten, 1997). As a result, a tactile musical notation system became necessary for professional equality between blind and sighted musicians (Kersten, 1997).
Braille paved the way for dramatic cultural changes in the way blind people were treated and the opportunities available to them. Louis Braille's innovation was to reimagine existing reading systems from a blind perspective, and the success of this invention required sighted teachers to adapt to their students' reality instead of the other way around. In this sense, Braille helped drive broader social changes in the status of blindness. New accessibility tools provide practical advantages to those who need them, but they can also change the perspectives and attitudes of those who do not.
Bullock, J. D., & Galst, J. M. (2009). The Story of Louis Braille. Archives of Ophthalmology , 127(11), 1532. https://​doi.org/10.1001/​archophthalmol.2009.286.
Herron, M. (2009, May 6). Blind visionary. Retrieved from https://​eandt.theiet.org/​content/​articles/2009/05/​blind-visionary/.
Jiménez, J., Olea, J., Torres, J., Alonso, I., Harder, D., & Fischer, K. (2009). Biography of Louis Braille and Invention of the Braille Alphabet. Survey of Ophthalmology , 54(1), 142–149. https://​doi.org/10.1016/​j.survophthal.2008.10.006.
Kersten, F.G. (1997). The history and development of Braille music methodology. The Bulletin of Historical Research in Music Education , 18(2). Retrieved from https://​www.jstor.org/​stable/40214926.
Mellor, C.M. (2006). Louis Braille: A touch of genius . Boston: National Braille Press.
Tombs, R. (1996). France: 1814-1914 . London: Pearson Education Ltd.
Weygand, Z. (2009). The blind in French society from the Middle Ages to the century of Louis Braille . Stanford: Stanford University Press.
If you want to know more about AI tools , college essays , or fallacies make sure to check out some of our other articles with explanations and examples or go directly to our tools!
Ad hominem fallacy
Post hoc fallacy
Appeal to authority fallacy
False cause fallacy
Sunk cost fallacy
College essays
Choosing Essay Topic
Write a College Essay
Write a Diversity Essay
College Essay Format & Structure
Comparing and Contrasting in an Essay
 (AI) Tools
Grammar Checker
Paraphrasing Tool
Text Summarizer
AI Detector
Plagiarism Checker
Citation Generator
Receive feedback on language, structure, and formatting
Professional editors proofread and edit your paper by focusing on:
Academic style
Vague sentences
Style consistency
See an example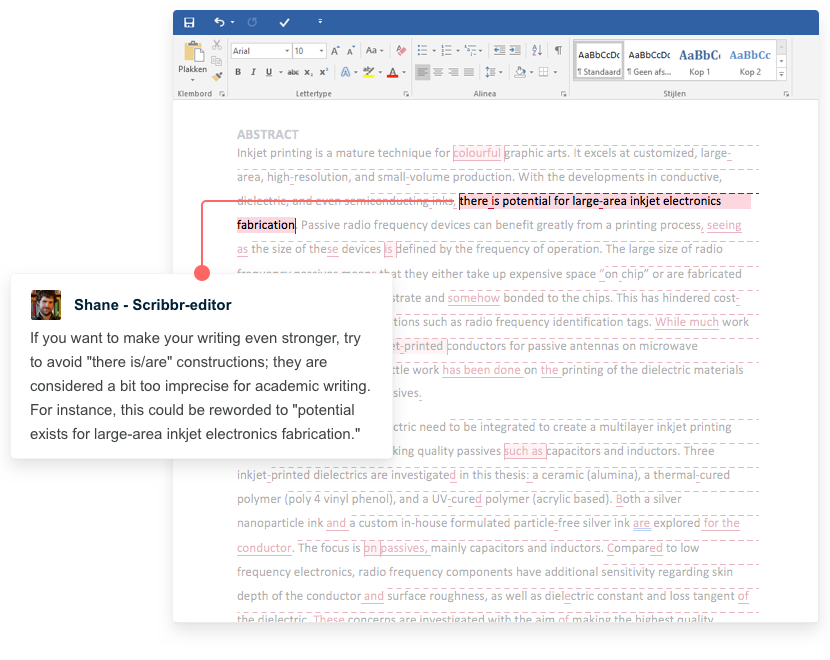 An essay is a focused piece of writing that explains, argues, describes, or narrates.
In high school, you may have to write many different types of essays to develop your writing skills.
Academic essays at college level are usually argumentative : you develop a clear thesis about your topic and make a case for your position using evidence, analysis and interpretation.
The structure of an essay is divided into an introduction that presents your topic and thesis statement , a body containing your in-depth analysis and arguments, and a conclusion wrapping up your ideas.
The structure of the body is flexible, but you should always spend some time thinking about how you can organize your essay to best serve your ideas.
Your essay introduction should include three main things, in this order:
An opening hook to catch the reader's attention.
Relevant background information that the reader needs to know.
A thesis statement that presents your main point or argument.
The length of each part depends on the length and complexity of your essay .
A thesis statement is a sentence that sums up the central point of your paper or essay . Everything else you write should relate to this key idea.
A topic sentence is a sentence that expresses the main point of a paragraph . Everything else in the paragraph should relate to the topic sentence.
At college level, you must properly cite your sources in all essays , research papers , and other academic texts (except exams and in-class exercises).
Add a citation whenever you quote , paraphrase , or summarize information or ideas from a source. You should also give full source details in a bibliography or reference list at the end of your text.
The exact format of your citations depends on which citation style you are instructed to use. The most common styles are APA , MLA , and Chicago .
Cite this Scribbr article
If you want to cite this source, you can copy and paste the citation or click the "Cite this Scribbr article" button to automatically add the citation to our free Citation Generator.
Bryson, S. (2023, July 23). Example of a Great Essay | Explanations, Tips & Tricks. Scribbr. Retrieved November 13, 2023, from https://www.scribbr.com/academic-essay/example-essay-structure/
Is this article helpful?
Shane Bryson
Shane finished his master's degree in English literature in 2013 and has been working as a writing tutor and editor since 2009. He began proofreading and editing essays with Scribbr in early summer, 2014.
Other students also liked
How to write an essay introduction | 4 steps & examples, academic paragraph structure | step-by-step guide & examples, how to write topic sentences | 4 steps, examples & purpose, what is your plagiarism score.
This website works best with JavaScript switched on. Please enable JavaScript
Centre Services
Associate Extranet
All About Maths
Specifications that use this resource:
AS and A-level English Literature A 7711; 7712
Example student response and examiner commentary
Below you will find an exemplar student response to a Section B question in the specimen assessment materials, followed by an examiner commentary on the response.
Sample question
'Women characters are presented primarily as those who suffer and endure.'
By comparing two prose texts, explore the extent to which you agree with this statement.
Band 4 response
Stereotypically, women are portrayed as the weaker sex in pre-1900 literature and they often suffer and endure unhappy marriages because of the inequality of the sexes. In post-1900 literature, however, women are shown as more equal and so writers don't focus on their suffering alone but also on the suffering of male characters in relationships. This is true of The Great Gatsby and The Rotters' Club where women do suffer and endure but arguably men are presented as suffering even more.
The Great Gatsby focuses on the main character of Jay Gatsby and his unrequited love for Daisy whereas The Rotters' Club includes many relationships. There are, however, similarities between Gatsby's suffering and that of Benjamin Trotter and Sam Chase, although the outcomes are different, and so this essay will focus on those male characters.
Gatsby's suffering is emphasised by Fitzgerald because he withholds it from the reader to begin with. Fitzgerald suggests Gatsby is successful and popular before we meet him through his house parties where 'champagne was served in glasses bigger than finger bowls' so his lovesickness is a surprise to the reader. We learn, that 'Gatsby bought that house so that Daisy would be just across the bay' and Fitzgerald uses the symbolism of the green light Gatsby can see at the bottom of Daisy's land to show how he is pining for her: 'he stretched out his arms toward the dark water…I could have sworn he was trembling.'
Having loved Daisy from afar for five years, Gatsby engineers afternoon tea at Nick's to reacquaint himself with her and Fitzgerald presents Gatsby as so desperate to impress her that he becomes very nervous with 'trembling fingers' and 'a strained counterfeit of perfect ease'. In the same way, Benjamin is presented as 'anxious' to know whether Cicely still loved him after her stay in America and his 'yearning' and 'nervousness' is 'transparent.' Where we see Gatsby's lovesickness through Nick's narration, Coe gives Benjamin a 36-page sentence to narrate his and his rambling style emphasises how he has suffered through loving Cicely from afar: 'I had tried not to doubt her during that time, but once or twice, it's inevitable I suppose, you find yourself wondering, not about other men, I was never worried about that, but feelings fade, it happens all the time, or so I'm told, or so I've read.'
Having been reunited with their loves, Gatsby and Benjamin are unable to relax and believe that everything will be alright. Although 'consumed with wonder at her presence' in his house, Gatsby is presented as 'running down like an over-wound clock' because 'he had been full of the idea so long, dreamed it right through to the end, waited with his teeth set…at an inconceivable pitch of intensity.' Where Gatsby is obsessed with turning back time to recapture the five years they lost, Benjamin has a 'fear of the past, fear of how the past might have turned out, because we came within a whisker, Cicely and I, of missing each other altogether…and the thought of that, the thought that we might never have reached this point at all, oh, it was almost unbearable, unsupportable.'
The outcomes for Gatsby and Benjamin are, however, very different. By the end of the novel, Cicely and Benjamin are together and Coe effectively expresses Benjamin's relief and joy: 'suddenly it's as if everything refers to me and Cicely, everything is a metaphor for the way we feel, somehow the entire city has become nothing less than a life-size diagram of our hearts'. Gatsby's dream, however, crumbles, Firstly Daisy doesn't enjoy Gatsby's party, which he believed would impress her, and this leads to 'his unutterable depression' where he stops the parties and sack his servants 'so the whole caravansary had fallen in like a card house at the disapproval of her eyes.' Undeterred, however, Gatsby continues to pursue Daisy to the point of humiliation. When Daisy admits to having loved Tom, 'the words seemed to bite physically into Gatsby' but he still takes the blame for Myrtle's death to protect Daisy and then pitifully sits outside Daisy's house until 4 a.m. in a misguided belief he is protecting her from Tom when he is 'watching over nothing.'
Like Gatsby, Sam Chase is humiliated in The Rotter's Club but by his wife's affair with their son's art teacher, Miles Plumb, who seduces Barbara with his academic language. As with Gatsby, this could be seen as a class issue where Plumb is educated and Sam believes he needs to enlarge his vocabulary to win his wife back. Coe amusingly sets Barbara's reading of Plumb's love note against Sam's attempts and failure to master the 'quick and easy crossword.' Barbara is struggling to understand Plumb's compliments such as ''callipygic enchantress, apogee of all that is pulchritudinous in this misbegotten, maculate world'. At the same time, Sam makes mistakes such as: 'It's not exactly Doctor Chicago is it?' and makes such a mess of the crossword that Barbara asks: 'Giving up again?' and 'with just a hint of a taunt in her voice.'
Unlike Gatsby, who loses his confrontation with Tom and so loses Daisy, Sam wins Barbara back after a humorous phone call to Miles Plumb. Coe shows the absurdity of the situation where, feeling that 'he had to meet this man on his own terms,' Sam practises insults to use such as 'you are a temerarious poltroon, a rebarbative mooncalf, a pixilated dunderhead' but when it comes to it Sam can't get the words out. Humiliated and angry with himself, he 'screwed his eyes tight shut, and instinctively, without thinking about it, blew the longest and loudest raspberry he had ever blown in his life', which had the desired effect on Miles Plum.
For Gatsby, however, the ending is more tragic not only because of his death but also because right before he is shot he still hopes he can win Daisy: 'I suppose Daisy'll call too. He looked at me anxiously, as if he hoped I'd corroborate this.' In the end, 'he must have felt that he had…paid a high price for living too long with a single dream'.
Examiner commentary
This is a logical and thorough argument where ideas are presented coherently. There is appropriate use of concepts and terminology and expression is accurate.
The candidate shows a thorough understanding of a range of ways in which meanings are shaped although analysis is often implicit rather than explicit. Discussion is supported purposefully with relevant textual evidence.
The candidate makes the literary presentation of women characters as the primary sufferers relevant to the period in which these texts were written; the focus instead on the suffering of male characters is supported by well-chosen examples.
The candidate makes a number of logical comparisons between the texts and shows an awareness of the wider presentation of characters as suffering and enduring for love.
The candidate engages thoroughly with the debate set up in the question in the focus on the suffering of male characters in these texts and in the discussion of different forms of suffering.
Overall: Coherent and thorough: this response seems to fit the Band 4 descriptors.
This resource is part of the Love through the ages resource package .
Document URL https://www.aqa.org.uk/resources/english/as-and-a-level/english-literature-a/teach/love-through-the-ages-example-answer-and-commentary-3-as-b2
Last updated 16 Dec 2022
Advertising
Applications
Assessments
Certificates
Announcement
Invitations
Newsletters
Questionnaires
Food & Beverages
Recruitment
Marketing Examples
Transportation
7+ Literary Essay Examples & Samples in PDF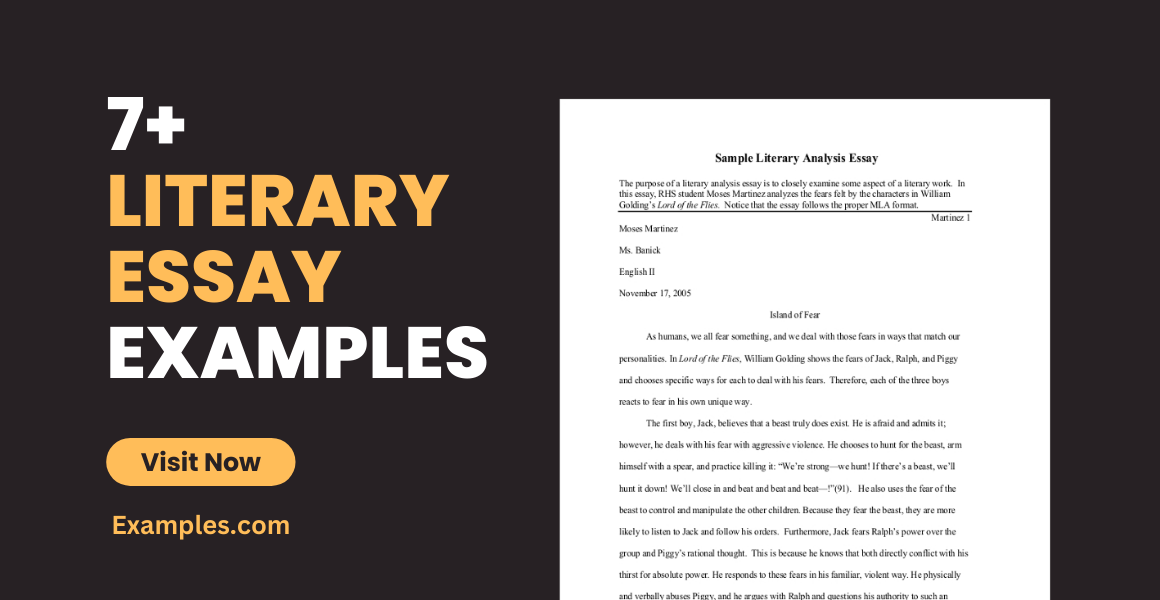 Literary Analysis Essay Outline Template
Student Literary Sample
Literary Analysis Example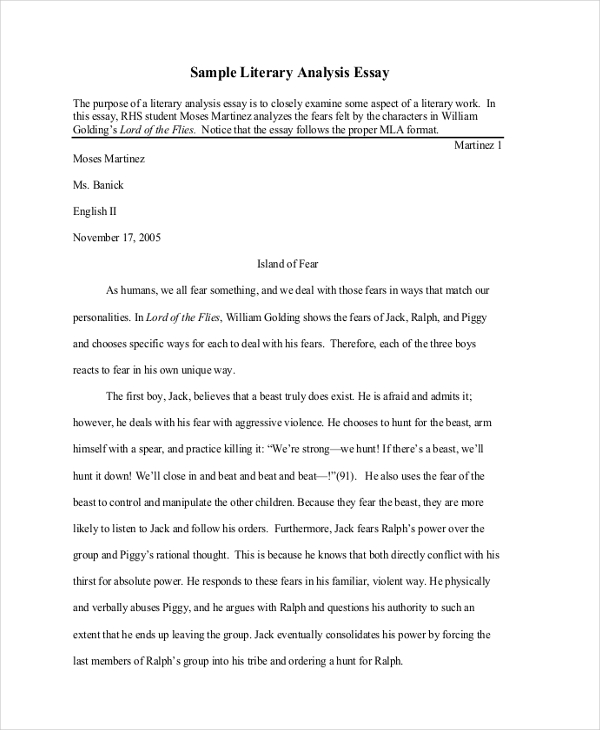 Formal Literary Sample
How to Write a Literary Essay
Make sure you read and understand the plot of the chosen material which includes the characters involved.
Take note of sections in the material and write down reactions
Draw a character map or sequential events of the story.
Review the notes indicated and decide what question you want an answer to regarding the material you have read.
What Is the Format for a Literary Essay?
The introduction states the main point of your essay
The body cites examples that support your thesis
Conclusion is a summary of main points in relation to your thesis
Persuasive Essay Example
Research Literary
Short Literary Sample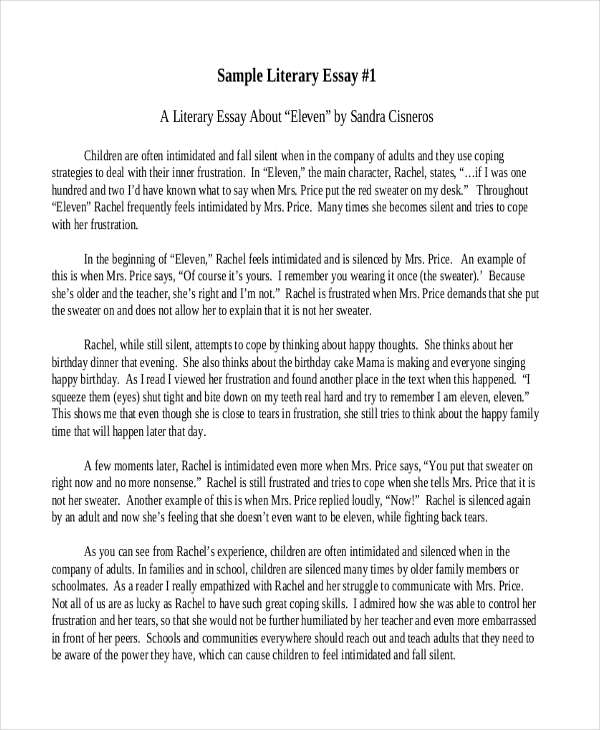 Free Literary Essay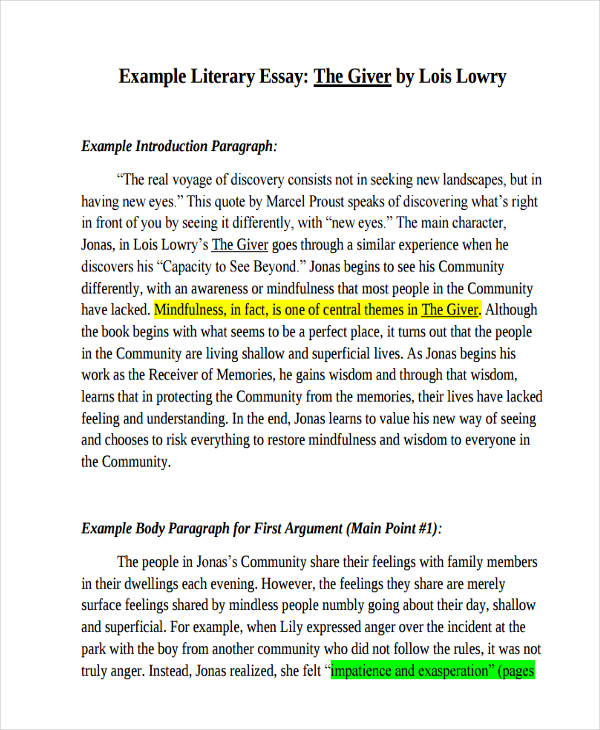 What Is the Purpose of a Literary Essay?
Guidelines for a literary essay.
Brainstorm all ideas and write them on a piece of paper and choose which will be best as your topic.
Develop a sequence to your ideas. Numbering them helps you decide on the order.
Make a flow chart in connection to the sequence of ideas starting with the introduction, body, and conclusion.
Arrange each idea in an order which you want to take place in the essay.
Ensure sequences support the flow of the essay and make the whole link with each other.
Develop a conclusion which answers the introduction of your essay.
More Design
11+ writing examples in pdf, 27+ analysis examples in excel, 6+ critical analysis examples, samples, 8+ examples of objective statements, 7+ opening statement examples, samples, 4+ consulting invoice examples, samples, 30+ free agenda examples, 17+ schedule examples in excel.

Related Articles
id; ?>)" rel="noopener" role="button" tabindex="0" aria-label="postclick">5+ Literary Analysis Examples, Sampels
id; ?>)" rel="noopener" role="button" tabindex="0" aria-label="postclick">9+ High School Essay Examples, Samples
Supporting Disadvantaged Learners
Book Us For Your Event
Sports Academies
Virtual Schools
Access Home Learning
Login to your classroom
How to structure a GCSE English Literature essay
26th July 2021
Learning how to improve your structure when writing essays can make a big difference to your grade. Your GCSE English essay structure will not only help your examiner read and understand your essay with ease, it can also help your flow of writing when taking the exam.
We've listed out our top writing tips to help you with the structure of essay writing in English Literature.
And if you need a bit more help, we've got you covered: sign up for a free trial of Your Favourite Teacher to access 16 English Language and 14 English Literature courses.
1. Understand the assessment objectives
Before you even get into the exam hall, it is crucial to understand what is expected of you for each English Lit essay. You might have already come across the AO's (Assessment Objectives). These are universal across all exam boards, and they are used by examiners to mark your essay.
Below are all the Assessment Objectives that your essay will be marked against. It is important to note that you will not be expected to have an equal amount of each AO in your essay, however evidence of each must be present to avoid losing marks.
2. Spend 10-15 minutes highlighting, annotating and planning
Read the question carefully.
Now that you know what you'll have to include in your essay, you can tackle the question and begin essay planning. The first thing you should do when faced with the question is to read it a few times to ensure you've fully understood it.
Highlight and annotate
A top tip is to highlight the important words in the question. You can then start to annotate your paper. You might have an extract or poem, and even if you know what quotes or points you will make, it is best to read it through and annotate. You'll likely find that more ideas float into your head whilst doing so, and it will help you when you write out your plan.
Plan your essay structure and ideas
It might be tempting to jump straight into writing your essay. Whilst you may have a clear idea of what you'll write, it is always a better idea to write out a plan. This will ensure your essay flows and has a clear structure, and will also prevent your mind from going blank halfway through your exam.
Every student has a different way of writing a plan; you might like to create tables, whilst others prefer mind maps. But every plan should have the following:
A brief outline of your introduction
3 main points/arguments
Quotes to back up your arguments (and a note of the technique the writer is using)
Relevant contextual points for each point
A brief outline of your conclusion
This might look like a lot, but a detailed plan will actually save you time in the exam. Imagine how much longer you would spend searching for quotes or trying to come up with ideas! You should spend around 10-15 minutes in total reading the question, highlighting, annotating and planning.
3. Start with the introd uction
Now that you know how to plan, what content should you actually write in each section of your essay? The best place to start with any essay is an introduction. This is a short summative paragraph that will let your examiner know what you will be writing about, also known as a thesis statement.
The first thing you'll need to do is address the question. Think about your overriding point or argument, or the bigger picture of your essay. This doesn't have to be an elaborate, complex idea, but as long as your examiner has a clear understanding of your overall argument, then you're good to go!
Top tip : Why not weave some context into your introduction? If you can think of a relevant point to back up your overall argument, it will really show off your understanding of the text.
4. Write the main body
While every essay will look different, you should generally aim to include three main points in the main body. You can structure this however you please, but keep in mind that you should use body paragraphs correctly.
Each paragraph should explain how the writer makes his or her point. For example, "Shakespeare uses metaphors to depict Macbeth's deterioration into an obsessive tyrant". Then, you should give evidence to support your point in the form of a quote.
After giving your evidence, you are free to analyse the quote. For top marks, you'll really want to pick apart the quote, but your analysis should always be relevant to the point you have made. You might also explore alternative interpretations to really elevate your point, as it shows you have a wider understanding of the text.
By now, you will have included AO1, AO2 and AO4. Context (AO3) should be weaved in wherever relevant to your argument. However, wherever you decide to add context, always ensure it is relevant to your point. It is better to include fewer contextual points that actually back up your argument, than trying to add too much random context.
Top tip : If you struggle with structuring the main body of your essay, use the PETAL paragraphs:
5. Finish with the conclusion
The conclusion is the least important part of your essay, but you still need to always include one. It is a great way to summarise your points and explain your overall stance on the question. If you don't have time to make it the best that you can, don't worry.
The best way to do this is by writing a summative sentence for each of your main points. It is great if you can weave in some context too, but again, make sure it is relevant to what you're writing.
You should also include a concluding sentence that might explore a wider social question or a wider point. To put it simply, you should try and make a point about the writer's overarching intention, and perhaps how it might have impacted society.
To put these tips into practice, download our GCSE English Literature essay plan worksheet.
Study For GCSE English Literature with Your Favourite Teacher
Now that you're a pro at structuring your English Literature essays, you can learn and revise your novels, poems and plays!
At Your Favourite Teacher, we have 14 English Literature courses that cover everything you'll need to know to ace your GCSE English Literature essay. Each course is made up of multiple lessons that cover everything from context to character analysis and key themes. And each lesson comes with videos, quizzes, worksheets and more to make sure you're fully prepared.
Summary: How to Structure a GCSE English Literature Essay
Understand the assessment objectives
Spend 10-15 minutes highlighting, annotating and planning
Start with the introduction
Write the main body
Finish with the conclusion
What are you waiting for? Sign up for a free trial to start learning today.
Plagiarism checker
Writing help, paraphrasing tool, english literature - list of free essay examples and topic ideas, comparative and contrast english literature essay.
Two kinds and Borders Two Kinds and Borders are two texts that explain about commitment. There are chances for everyone to develop and get what they want in life. Many people have done the right things and have achieved greatness in America while others who are not willing to do their best could not get the privilege. People have become famous as young as nine. For people to achieve greatness, it does not require anyone to have a talent or […]
Irony in Pride and Prejudice
One line that highlights Jane Austen's wit is primarily the first line of the novel ""It is a truth universally acknowledged, that a single man in possession of good fortune must be in want of a wife."" Austen uses verbal irony here, almost sarcasm since it means quite the opposite. The main purpose in life of underprivileged women in Austen's era is to marry a well-off husband and not vice versa. This is because if a young woman did not […]
The Function of Surroundings in Jane Eyre
The word "surroundings" is a quite the umbrella term as it could refer to a plethora of different definitions. You could be referencing your immediate landscape, or an intangible, spiritual environment. So, here's the question, to what purpose does Bronte use her description of environment in Jane Eyre? According to Delia Da Sousa Correa, we are made aware of the "intense relationship between the description of external descriptions and the portrayal of individual thoughts and feelings." Which helps each external […]
Half Breed Maria Campbell
Halfbreed by Maria Campbell explores the hardships faced by Maria and her family for being Metis. The book outlines Canadian multicultural community manner of thinking regarding ethnic identity. Maria's family faced humiliation, institutional violence, and social oppression especially after the death of her mother. Earlier, Maria had internalized hatred and shame when she tells her parents that, "all of you no good Halfbreeds" (50) as the eldest sibling, Maria gives an account of the hardships she faced trying to provide […]
Three Different Views of Marriage in "Pride and Prejudice"
In Pride and Prejudice Austen distinctly shows three different views of marriage, Neoclassical view, Romantic view, and Middle ground. Austen has the novel revolving around the idea of marriage incorporating these three ideas. You see them shown throughout two different classes. The noble class and the middle class. The idea of the fissure in the Neoclassical View shows through Charlotte, Mr.Collins, and Mrs.bennett. Neoclassical View is taking a more logical approach towards marriage. Charlotte Lucas is an example of the […]
We will write an essay sample crafted to your needs.
Women's Rights in Pride and Prejudice
Do not consider me now as an elegant female intending to plague you, but as a rational creature speaking the truth from her heart."(Austen 94). Woman's rights have been a popular and important topic for the past three centuries, and will continue to be in the future. Jane Austen is widely known and praised for her controversial ideas and opinions in her literary fiction novel,Pride and Prejudice. Much before the time of the fight for women's rights, Jane Austen brought […]
Old Man and the Sea
This being a research paper on the book written by Ernest Hemingway, the novel The Old man and the Sea. I am going to be reviewing articles on this book to come up with a comprehensive research paper that discusses the themes in this book and the characters in the book. In this research, I will use articles on this book as well as other books that talk about this book. This book gives the struggling story between old fishermen […]
Jane Eyre – Insider and Outsider in Society
Throughout Jane Eyre, by Charlotte Bronte, the reader follows the bildungsroman of Jane Eyre, a young girl turned woman who constantly challenges the ideas of what it means to be an insider and outsider in society. Jane Eyre is constantly seen as a threat to other characters because she is either different than those that surround her or because her views threaten the norm. Although Jane spends the majority of her life as an outsider, she often chooses to put […]
Chaucer's the Wife of Bath's Tale Character Analysis
Geoffrey Chaucer's poem, The Canterbury Tales, satirically chronicles thirty pilgrims and their journey to Saint Thomas Becket's shrine in Canterbury, England. Throughout the poem, Chaucer creatively utilizes the literary technique of a frame narrative, which is essentially stories within a story. The outer frame consists of the pilgrimage to Saint Thomas Becket's shrine, where each pilgrim, including Chaucer the Pilgrim, exhibits a cross-section of fourteenth century England, omitting only royalty and serfs. Before embarking on their pilgrimage, the pilgrims meet […]
Social and Cultural Contexts in "Pride and Prejudice"
Jane Austen's Pride and Prejudice written in the Georgian era is a well developed book that demonstrates the societal and cultural views of the time she was living in. The original name of the book was called ""first impressions""which incorporates with the novel's main themes such as marriage, social class, prejudice, pride and how the characters of this book can be portrayed through their point of view in this era. Throughout the book the author shows how one's judgement based […]
The Pedestrian by Ray Bradbury Analysis
In 2016, technology will become a part of our daily life, but in the future technology will become much more advanced and powerful, and not always beneficial. Ray Bradbury's story "The Pedestrian" refers to the year 2053 AD. E., And technology is taking over the world. The main character, Mr. Leonard Mead, has a daily routine that includes walking through the quiet city for hours and miles until he returns to his home at midnight. Throughout the story, Bradbury shows […]
Character Foil between Darcy and Wickham in the Novel Pride and Prejudice
In order for a reader to connect to the characters in a book and understand each of their individual qualities, authors decide to use characterization. In Jane Austen's Pride and Prejudice, she uses both direct and indirect characterization; this being, telling the reader exactly how she wants to portray a certain character, but also including characters who contrasts with other characters, most often the protagonist, in order to bring out certain qualities. This also known as character foil. One example […]
Pride and Prejudice Analysis
The Indifference of the Gentry ""Lizzy,"" cried her mother, ""remember where you are, and do not run on in the wild manner that you are suffered to do at home."" ""I did not know before,"" continued Bingley immediately, ""that you were a studier of character. It must be an amusing study."" ""Yes, but intricate characters are the most amusing. They have at least that advantage."" ""The country,"" said Darcy, ""can in general supply but a few subjects for such a […]
Hamlet Research Paper
In the play, Hamlet, by William Shakespeare, the author uses various literary devices to convey many themes and sentiments to the reader, via his characters' actions. The play's focal character - Hamlet - is one that transforms throughout the play quite drastically, yet it can be argued that it was all part of a greater plan. As Hamlet returns to the castle to hear news that his father is dead, it brings a grand amount of grief and sadness to […]
The Four Noble Truths
The Four noble truths are one of the stories covered in the book "World views: Classic and contemporary readings" by Elizabeth Hair, Mike Krist, Richard Harnett and Roger West. The four noble truths are the teaching of the Buddhist path and is a summary of the awakening path. They are the key components that helps one understand Buddhism and the teachings of Buddha. It is often defined in four interdependent and logical steps. The truths have been defined differently by […]
Expressing Feminism in Pride and Prejudice by Jane Austen
Background Information Jane Austen was an English novelist born in Hampshire, South of England on 16th December in 1775. She was very close to Cassandra, her sister. When together, the two would share a bedroom but when apart they would write to each other almost every. After Jane's death on 18th July 1817, her sister testified how the two loved each other, ""she was gilder of every pleasure, the sun of my life, and the soother of sorrow"" (Bendit 245). […]
Conflict in "Pride and Prejudice"
In order for a novel to become credited and well known, and for the authors audience to stay interested and engaged in the storyline, there needs to be a conflict of some sort, or a contrast that creates conflict. This can be achieved through a foil. A foil is a minor character who contrasts the main character so greatly, that the main character's traits are emphasized even further. A foil doesn't have to be an antagonist that plots against the […]
Wealth and Social Status in Great Expectations and Pride and Prejudice
Throughout Great Expectations by Charles Dickens and Pride and Prejudice by Jane Austin the themes of wealth and social status play a significant role, but the notions of love and friendship overcome this in both novels. The authors work of fiction show how wealth and social class influenced the characters personalities, human motives and actions. A connection can be made between the two characters Pip and Elizabeth Bennet. Even though Elizabeth is higher in class status than Pip, both characters […]
Jane Eyre Character Analysis
Although Jane Eyre contains a lot of harsh criticisms of the treatment and roles of women in society, it demonstrates that women can live their lives equally with men. One example is Jane realizes that she should be treated just as equally as Rochester. ""It is my spirit that addresses your spirit; just as if both had passed through the grave, and we stood at God's feet, equal, – as we are!"" (252). Jane is stating what she believes. Women […]
Jane Eyre Passage Analysis
Previously in the novel, Jane and Rochester are sitting under a chestnut tree when Jane confesses her love for Rochester, which leads to Rochester proposing and Jane saying yes. All of a sudden, a giant storm breaks out and they run inside, but the Chestnut tree gets split apart by lightning. Now, the night before Jane and Rochester's wedding, Jane walks to the orchard to see this tree. Jane is seeing the standing chestnut tree for the first time describing […]
King Claudius and Hamlet
Hamlet is the Prince of Denmark, the son of Queen Gertrude and late King Hamlet and nephew of King Claudius. In the story Hamlet many people are stuck between if he is actually insane or if he is faking his insanity. Some people really do believe he is and some people believe he is absolutely not. The story is very dramatic and a lot goes on. Hamlet has had to deal with a lot throughout the play. The main problems […]
The Impact of Feminist Undertones in Pride and Prejudice
During the eighteenth century, feminism was a subject that was scarcely considered in society, as it was defined the theory of the political, economic and social equality between the sexes. The aspect of feminism did not gain the comprehensive structure until the late 20th century. As not being widely known for during her time period, Jane Austen uses the concept of feminism to be portrayed in a discreet technique in her novel "Pride and Prejudice". Furthermore, she displays her perspectives […]
Hunger Games and in Real Life
The novel The Hunger Games by Suzanne Collins presents themes that are real even in today's society such as inequality. The themes make what would qualify for good writing research topic proposal. This paper presents my writing research topic proposal based on the social issues presented in The Hunger Games. My general/broad topic focusses on inequality The subtopics directly related to the broad topic include income inequality between men and women in the United States, the effects of political inequality […]
Concept of Marrying for Love in "Pride and Prejudice"
The classic literature that I have selected is Pride and Prejudice by Jane Austen and was published in 1813. I am interested in this topic to understand that the concept of marrying for love and marrying for wealth still exists even in today's society. An example from my life that relates to this story is not giving up my happiness to please my family. That if and when I choose to marry, I would marry for love and marry whom […]
Child Marriage: Legal Dilemmas and Cultural Clash
Child marriage is the marriage that an individual performs without reaching the physical and mental maturity necessary to act as an adult. Child marriage usually means the marriage of a 18-year-old child. Early marriage, these minors are from their families, friends and future; education, deprives the school of life and pushes it under very difficult responsibilities. We see such marriages more especially in developing and underdeveloped countries. In our country's legal system; According to the Turkish Civil Code, the Turkish […]
Junot Diaz's "This is how you Lose Her"
Junot Diaz's This is how you lose her is among the major collection of narratives he has written from expirience. The collection story features protagonist issues of the Dominican people who face difficulties in life plus have their eyes always revolve, as they seek true love. How you lose her, is a great book that puts the reader in a mood of sluice whereby they are placed to a situation of putting lives in the narrative, and tearing down every […]
"Pride and Prejudice" Satire
Jane Austen's Pride and Prejudice is famous for satirizing society's rules and for exaggerating the extent to which they impact people. Although Austen is parodying the class structure in society throughout the whole novel, she is also enforcing the importance of self-awareness. Austen exaggerates the interactions between high and low status people because it ridicules society's rules. She condemns characters like Mr. Collins and Lady Catherine because of their inability to reject society's norms, and rewards Elizabeth because she is […]
Jane Eyre Gender Roles
The Victorian Era was a period of time where both women and men were treated differently based on their sexuality. Men were recognized as the superior ones in a household and the ones who did all the heavy labor. Women, on the other hand, were usually housewives that were constantly told what to do. Women never really had much of an opinion towards anything that went on in their lives, everyone pretty much expected them to listen to what they […]
Feminist Critique in Pygmalion
George Bernard Shaw makes Pygmalion an excellent example of feminist criticism in a piece of literature. Throughout the play, we see male dominance over the females. He depicted how being a lady during the Victorian era changed how you were treated, and women were to act a certain way--the stereotypical lady-like way. In the play, men were dominant over Eliza. Thus, changing her and her way of living making her dependent on them. Although most readers see George Bernard Shaw's […]
Beowulf as a Hero and Leader
Hero's is a person who is admired or idealized for courage, outstanding achievements, or noble qualities. Beowulf was Epic poem about Beowulf fighting three monsters and defeating two of them. The epic poem Beowulf describes the most heroic man of the Anglo-Saxon times. Beowulf is the hero He shows that he is a great man by always doing brave things, he is a leader and courageous. He shows all of the qualities and traits that a true hero possesses. Throughout […]
Additional Example Essays
An Analysis of Imagery in Hamlet
An Analysis of Ophelia's Madness in Hamlet
Hamlet's Love for Ophelia
Character Analysis of Ophelia in Hamlet
An American Lie The American Dream
The Nurse and Friar Laurence are Responsible for Romeo and Juliets Death
Who Is to Blame for Romeo and Juliets Death?
Romeo And Juliet Gender Roles
The Theme of Fate in 'Romeo and Juliet'
The Power of Romeo and Juliet's Love
Romeo and Juliet Relationship: Transforming Limitations into Strengths
Causes of the French Revolution
1. Tell Us Your Requirements
2. Pick your perfect writer
3. Get Your Paper and Pay
Hi! I'm Amy, your personal assistant!
Don't know where to start? Give me your paper requirements and I connect you to an academic expert.
short deadlines
100% Plagiarism-Free
Certified writers
F. Scott Fitzgerald: The Great Gatsby - Sample literary analysis paper
Daisy buchanan and the lust for wealth in f. scott fitzgerald's the great gatsby - sample literary classic analysis, homer's odyssey - sample literature paper, shakespeare essay: a midsummers night's dream - sample literary analysis, shakespeare essay: hamlet - sample argumentative style report, john steinbeck: cannery row - sample literary analysis paper, oscar wilde: the picture of dorian gray - example english literature assignment, shakespeare's much ado about nothing - sample persuasive style essay, gothic fiction essay: mary shelley's frankenstein - sample literary analysis, tree imagery in toni morrison's beloved - example english literature paper, shakespeare essay: romeo and juliet - sample literary analysis report, john steinbeck: the winter of our discontent - example literary analysis essay, light and dark imagery in steinbeck's the winter of our discontent - literary analysis example paper, mark twain: huckleberry finn - free sample essay, mark twain: huckleberry finn - example literary critique essay, using books to shape a worldview : the role of literature in mark twain's the adventures of huckleberry finn - example literary critique paper, stephen crane essay: bride comes to yellow sky - example literary analysis paper, kurt vonnegut: cat's cradle - example literary criticism essay, settings and gothic villains: contrasting radcliffe, stoker, and emily bronte: sample literary analysis and comparative essay, richard cory - persuasive sample essay, captain ahab and the depths of suffering in herman melville's moby dick - sample ap english essay, joseph conrad: heart of darkness - example english literature paper, w.h. auden's the unknown citizen - example poetry analysis essay, the weeds of evil - roger chillingworth as an agent of the devil in nathaniel hawthorne's the scarlet letter, nathaniel hawthorne: the scarlet letter - sample english literature essay, jamaica kincaid's annie john - sample literary criticism essay, john knowles: a separate peace - sample literature criticism paper, memoir analysis: lynn freed's reading,writing, and leaving home - sample book review assignment, art spiegelman's graphic novel maus - example critical literary essay, ernest hemingway: the sun also rises - example english essay homework, jo ann beard's boys of my youth - creative writing craft essay, charles dickens: a tale of two cities - sample literature paper, nonfiction literary analysis: jane vandenburgh's a pocket history of sex in the 20th century - sample book review assignment, shakespeare essay: the tragedy of julius caesar - sample literary analysis paper, shakespeare's the tragedy of julius caesar : brutus, a man possessed - example literary persuasive essay, memoir literary review: jack marshall's from baghdad to brooklyn - sample book review assignment, shakespeare, kenneth branagh's hamlet - film analysis essay example, virgil's aeneid - sample literary analysis essay, nonfiction book review: rachel howard's the lost night - sample book review assignment, franz kafka's metamorphosis - example persuasive analysis paper, sophocles' oedipus the king - sample mythology analysis essay.
Definition of Essay
Essay is derived from the French word essayer , which means " to attempt ," or " to try ." An essay is a short form of literary composition based on a single subject matter, and often gives the personal opinion of the author. A famous English essayist, Aldous Huxley defines essays as, "a literary device for saying almost everything about almost anything. " The Oxford Dictionary describes it as " a short piece of writing on a particular subject. " In simple words, we can define it as a scholarly work in writing that provides the author's personal argument .
There are two forms of essay: literary and non-literary. Literary essays are of four types:
Expository Essay – In an expository essay , the writer gives an explanation of an idea, theme , or issue to the audience by giving his personal opinions. This essay is presented through examples, definitions, comparisons, and contrast .
Descriptive Essay – As it sounds, this type of essay gives a description about a particular topic, or describes the traits and characteristics of something or a person in detail. It allows artistic freedom, and creates images in the minds of readers through the use of the five senses.
Narrative Essay – Narrative essay is non- fiction , but describes a story with sensory descriptions. The writer not only tells a story, but also makes a point by giving reasons.
Persuasive Essay – In this type of essay, the writer tries to convince his readers to adopt his position or point of view on an issue, after he provides them solid reasoning in this connection. It requires a lot of research to claim and defend an idea. It is also called an argumentative essay .
Non-literary essays could also be of the same types but they could be written in any format.
Examples of Essay in Literature
Example #1: the sacred grove of oshogbo (by jeffrey tayler).
"As I passed through the gates I heard a squeaky voice . A diminutive middle-aged man came out from behind the trees — the caretaker. He worked a toothbrush-sized stick around in his mouth, digging into the crevices between algae'd stubs of teeth. He was barefoot; he wore a blue batik shirt known as a buba, baggy purple trousers, and an embroidered skullcap. I asked him if he would show me around the shrine. Motioning me to follow, he spat out the results of his stick work and set off down the trail."
This is an example of a descriptive essay , as the author has used descriptive language to paint a dramatic picture for his readers of an encounter with a stranger.
Example #2: Of Love (By Francis Bacon)
"It is impossible to love, and be wise … Love is a child of folly. … Love is ever rewarded either with the reciprocal, or with an inward and secret contempt. You may observe that amongst all the great and worthy persons…there is not one that hath been transported to the mad degree of love: which shows that great spirits and great business do keep out this weak passion…That he had preferred Helena, quitted the gifts of Juno and Pallas. For whosoever esteemeth too much of amorous affection quitted both riches and wisdom."
In this excerpt, Bacon attempts to persuade readers that people who want to be successful in this world must never fall in love. By giving an example of famous people like Paris, who chose Helen as his beloved but lost his wealth and wisdom, the author attempts to convince the audience that they can lose their mental balance by falling in love.
Example #3: The Autobiography of a Kettle (By John Russell)
" I am afraid I do not attract attention, and yet there is not a single home in which I could done without. I am only a small, black kettle but I have much to interest me, for something new happens to me every day. The kitchen is not always a cheerful place in which to live, but still I find plenty of excitement there, and I am quite happy and contented with my lot …"
In this example, the author is telling an autobiography of a kettle, and describes the whole story in chronological order. The author has described the kettle as a human being, and allows readers to feel, as he has felt.
Function of Essay
The function of an essay depends upon the subject matter, whether the writer wants to inform, persuade, explain, or entertain. In fact, the essay increases the analytical and intellectual abilities of the writer as well as readers. It evaluates and tests the writing skills of a writer, and organizes his or her thinking to respond personally or critically to an issue. Through an essay, a writer presents his argument in a more sophisticated manner. In addition, it encourages students to develop concepts and skills, such as analysis, comparison and contrast, clarity, exposition , conciseness, and persuasion .
Related posts:
Elements of an Essay
Narrative Essay
Definition Essay
Descriptive Essay
Analytical Essay
Argumentative Essay
Cause and Effect Essay
Critical Essay
Expository Essay
Persuasive Essay
Process Essay
Explicatory Essay
An Essay on Man: Epistle I
Comparison and Contrast Essay
Post navigation