Ten Lines on Eid-ul-Fitr in Urdu
Back to: Ten Lines Mazameen
(1) رمضان کے 30 روزے رکھنے کے بعد چاند دیکھ کر عید الفطر منائی جاتی ہے۔
(2) عید الفطرصحیح معنوں میں روزے رکھنے والوں کے لیے ہوتی ہے کیونکہ جو مسلمان روزہ رکھتے ہیں اسی کی خوشی میں عید منائی جاتی ہے۔
(3) عیدالفطر کی نماز صبح دس بجے کے پہلے عید گاہ اور مسجدوں میں ادا کی جاتی ہے۔
(4) عید کے دن سب کے گھروں میں سوئیاں بنتی ہیں۔
(5) نماز سے فارغ ہونے کے بعد مسلمان بھائی ایک دوسرے سے گلے لگ کر عید مبارک کہتے ہیں۔
(6) عید کے دن سب مسلمان بھائی غصہ اور نفرت بھول کر ایک دوسرے کو دل سے اپناتے ہیں۔
(7) عید کے دن سب لوگ نئے نئے کپڑے پہنتے ہیں۔
(8) عید کا جشن ہر جگہ بہت ہی ذوق و شوق سے منایا جاتا ہے۔
(9) سب جگہ میلے لگتے ہیں اور میلے میں جھولے، چاٹ کی دکانیں اور کھلونوں کی دکانیں لگی ہوتی ہیں۔
(10) عید کی خوشی میں سب بڑے لوگ اپنے سے چھوٹے لوگوں کو عیدی بھی دیتے ہیں۔
Essay On Eid
500 Words Essay On Eid
Eid is a religious festival which Muslims all over the world celebrate. It marks the end of the holy month of Ramadan . After 30 days of fasting, Eid is the first day after that month when Muslims do not fast and enjoy their day fully. Through an Essay on Eid, we will go through the festival and its celebration.
Eid Rituals
Muslims celebrate the religious festival of Eid every year. This day marks the end of Ramadan so they eat their heart out on this day. Prophet Muhammad started this tradition in Mecca first.
It is believed that the Prophet Muhammad reached Medina on this day. During Eid, people raise their spirits high and enjoy a lot. They start preparing for Eid before a month. The excitement begins at the onset of Ramadan.
Women start preparing their dresses, bangles, accessories beforehand. On the other hand, men prepare for their traditional kurta and pyjamas. When people sight the moon for Eid, they wish everyone ' Chand Mubarak' as it confirms the day of Eid.
Women and girls also apply Mehendi on their hand beautifully. Similarly, houses are painted and decorated as well. Before Eid, Muslims fast, give charity, offer prayers, and perform other good deeds during the holy month of Ramadan.
Thus, on the day of Eid, everyone enjoys their day. It is a ritual to prepare sweet vermicelli known as sewaiyyan. It is prepared with two different methods and is famous worldwide.
Similarly, other delicacies like kebabs, biryani, korma and more are prepared. It is for the guests to relish and have a hearty meal with their near and dear ones.
Get the huge list of more than 500 Essay Topics and Ideas
Eid Celebrations
When Eid arrives, everyone wakes up early in the morning. They take a bath and adorn their new attires. The women offer prayers at home while the men visit the mosque to offer prayers in the form of Namaaz.
Meanwhile, the food starts preparing at home. After the men are done offering prayers, they embrace each other and exchange Eid greetings. They wish Eid Mubarak to each other and hug three times alternately.
Then, people go over to their friends and relatives house to exchange greetings. The guests eat Sewaiyyan when they visit their dear ones. Another interesting part which youngsters love is Eidi.
Eidi is a gift they receive from the elders in the form of money. Thus, children enjoy receiving Eidi and then buy their favourite things from that money. Everyone enjoys a  lot on Eid and eat to their heart's delight.
Conclusion of Essay On Eid
Being the festival of joy and celebration, Eid brings about a lot of happiness in everyone's lives. It serves as a reward to people who fast the whole month and enjoy on Eid like it's their feast. In other words, it is a reward for all the good deeds people have done during Ramadan. Thus, it spreads joy and brotherhood.
FAQ on Essay On Eid
Question 1: What is the importance of Eid?
Answer 1: Eid ul-Fitr is a very important festival for Muslims. It is vital in the Islamic calendar and Prophet Muhammad himself started it. People refer to it as 'The Feast of Breaking the Fast' and Muslims worldwide celebrate it to mark the end of Ramadan.
Question 2: How do Muslims celebrate Eid?
Answer 2: Eid traditionally start with prayers then a short sermon follows. In some countries, the prayers occur outside, while others are hosted in mosques or large halls. After the prayers, Muslims wish everyone around them a Happy Eid. After that, they visit their relatives and friends to enjoy each other and have a feast.
Travelling Essay
Picnic Essay
Our Country Essay
My Parents Essay
Essay on Favourite Personality
Essay on Memorable Day of My Life
Essay on Knowledge is Power
Essay on Gurpurab
Essay on My Favourite Season
Essay on Types of Sports
Which class are you in?
Download the App
Play & Activities
Life Skills
Learning & Education
Play & Learning
Growth & Development
Rhymes & Songs
Preschool Locator
Essay On Eid – 10 Lines, Short And Long Essay For Children
Key Points To Remember When Writing An Essay On Eid For Lower Primary Classes
10 lines on eid for kids, a paragraph on eid for children, short essay on eid in english for kids, long essay on eid for children, what will your 1st, 2nd or 3rd grader learn from an essay on eid.
Eid is the main festival for Muslims. People gather to celebrate and share God's (Allah's) blessings on this day. Eid or Eid-Ul-Fitr is the "holiday of breaking the fast" that marks the end of Ramadan. It occurs on the first day of Shawwal, the Islamic month that follows Ramadan. The Eid celebrations are about families getting together, praying, and celebrating together. When writing essays on Eid, students will learn details of this festival. With the help of the below samples of essays on Eid for classes 1, 2, and 3, kids will be able to compose an essay on Eid in English in their own words.
Kids can gather information about Eid easily by writing on the festival. Here are some major points to remember when writing an essay on Eid for lower primary classes:
Write what Eid is and why it is celebrated.
Write briefly about the rituals of Eid.
Explain how is it celebrated.
Write on the importance of Eid.
Eid is a celebration of brotherhood and happiness. Here are a few lines on Eid that will make it easier to write an essay for students of classes 1 and 2.
Eid is a major Muslim festival.
It is celebrated in India and many other countries worldwide.
It falls on the next day after the month of Ramadan.
During Ramadan, Muslims fast for thirty days.
People don't eat or drink anything throughout the day.
The fast is broken in the evening, and everyone eats together.
On Eid day, people get together to pray at idgahs or mosques.
All mosques are decked with lights and other decorations.
After the prayers or namaaz, everyone hugs each other and wishes each other happiness and prosperity.
 Sweet vermicelli or seviyan and other delicacies are made to celebrate the festival with family and friends.
Here is a short and simple paragraph on Eid for children. Young students can easily learn to write it for their class work.
Eid is the main festival for Muslims across the world. Two types of Eid are celebrated by Muslims- Eid Ul Fitr and Eid Ul Adha. In Eid ul Adha, goats are sacrificed and consumed as part of the rituals. Eid ul Fitr is called the choti or meethi Eid as a variety of sweets are prepared for the celebrations, and it also marks the end of the holy month of Ramadan. On both Eids, all Muslims get up early, dress in new clothes and go for prayers in mosques or idgahs. After their namaaz, they hug each other to wish happiness and prosperity. Family and friends gather at each other's homes to celebrate Eid. On Eid, many Muslims also give alms to the needy.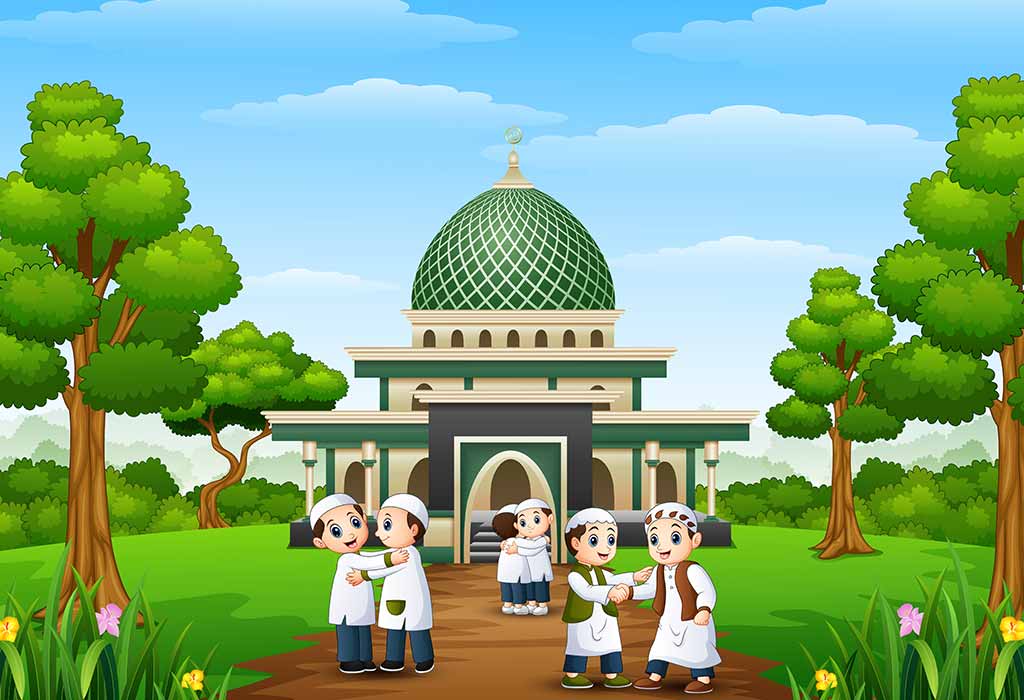 As Eid is a popular festival in India, most kids can easily write a short paragraph on it. Here is a reference to a short essay on 'My favourite festival- Eid' in English for kids:
For Muslims across the globe, Eid is the happiest day. There are two types of Eid celebrated in the Muslim calendar- Eid ul Adha and Eid ul Fitr. On Eid, Muslims celebrate with family, relatives, and friends by exchanging greetings, delicious dishes, and gifts. They also give alms to poor people to make their day happy. An important tradition of Eid is praying in the morning in mosques. After the prayers, they greet each other and return home to celebrate with family. After the namaaz, kids get Eidi, which is usually money as a token of blessings, from their elders. All mosques and other prominent religious and cultural places are decorated with lights and flowers. People also decorate their homes to show their happiness and enthusiasm. The markets are also full of people purchasing new clothes, household items, toys, and gifts. Eid is celebrated to spread peace, happiness, harmony, and brotherhood.
Through a long essay on Eid for class 3, students can understand the festival and its associated celebrations. Here is a long essay on Eid for children:
Eid is a very special day for Muslims worldwide, and it is a day of happiness and celebration. On Eid-ul-Fitr, Muslims celebrate the end of Ramadan, the holy month of fasting. Eid is a time to thank Allah for all the blessings he has given to everyone, and it is a time to come together with family and friends and celebrate.
What Is Eid And How Many Types Of Eid Are There?
Eid is the most important Muslim festival celebrated worldwide. There are two types of Eid. The first is Eid-ul-Fitr, also known as Eid, and the second is Eid-ul-Adha or Eid-ul-Azha, also known as Bakra-Eid. Eid-ul-Fitr is celebrated to commemorate the thirty days of fasting or Ramadan. Ramadan is the holy month of fasting for Muslims. In the Muslim calendar, it is the ninth month. When the new moon appears at the end of the month, the Eid celebrations officially begin.
Importance Of Eid
For Muslims, both Eid ul-Fitr and Eid-ul-Adha are holy festivals. Eid-ul-Fitr is very important in the Islamic calendar, and Prophet Muhammad himself started its celebration. It is known as 'The Feast of Breaking the Fast,' and Muslims observe it all over the world to mark the conclusion of Ramadan. Eid-ul-Adha is observed to remember the willingness of Abraham/Ibrahim to sacrifice his son for Allah.
Rituals Of Eid
Prophet Muhammad started the ritual of celebrating Eid after the holy fasting month of Ramadan. It was first started in Mecca after the Prophet Muhammed reached there on the day of Eid. Muslims fast for one month of Ramadan, and during this month, they observe complete fasting during the day. As the month of Ramadan ends, they start preparing for Eid. Both men and women get ready in new dresses. Women wear accessories and apply mehndi or henna on their hands. Men wear traditional kurta pyjamas. Homes are decorated for celebrations and welcoming relatives to visit. When the Eid moon is sighted, Eid is believed to have begun. People start their celebrations by hugging. They greet their friends, relatives, and other community members by saying Eid Mubarak and Chaand Mubarak and praying for everyone's wellness.
On the day of Eid, special prayers are offered, and charities are given. Kids receive many gifts and Eidi or money as a token of blessings from elders, an important Eid ritual. It is an important ritual to make sweet vermicelli or meethi seviyan on Eid. Along with sweet vermicelli, different kebabs, korma, biryani, etc., are also prepared and enjoyed with near and dear ones.
Celebration Of Eid
Eid is celebrated with a lot of enthusiasm and excitement. Everyone wakes up early, wears new clothes, and offers special Eid prayers. Men go to mosques to offer namaaz, whereas most women perform the namaaz at home. After the namaaz, it is customary for men to greet each other by hugging three times alternately. Special Eid food is prepared at home. People go to their relatives and friends' houses to celebrate and offer Eid greetings and gifts. The celebrations can go on for two-three days. Eid, the festival of joy and celebration, brings delight and happiness to everyone's life. Eid is the reward for all the good actions performed during Ramadan.
An Essay On Eid is a great way to teach young kids about various festivals celebrated by different communities in India. The students of classes 1, 2, and 3, when reading or writing essays on Eid, will understand its significance, importance, and reason behind celebrating it. Kids will learn the joy of giving and celebrating together.
1. Why Is Eid Celebrated?
Eid is celebrated to conclude the thirty-day fasting during the holy month of Ramadan.
2. What Does Eid Teach Us?
Eid teaches us the importance of brotherhood, peace, and harmony.
3. What Special Food Is Eaten On Eid?
Sweet vermicelli or methi seviyan is the main food of Eid. Along with this, dishes like kebabs, biryani, and kormas are also eaten.
Eid is one of the most important festivals for Muslims worldwide; they wait for this day every year. Making your little ones write about this festival will teach them the associated sentiments and enhance their cultural awareness.
Essay On Diwali for Class 1, 2 & 3 Kids How to Write An Essay On Holi for Classes 1, 2 and 3 Children Essay on Festivals of India in English for Lower Primary Classes
Essays for Class 1
Essays for Class 2
Essays for Class 3
15 Indoor Toys That Have Multiple Uses And Benefits
Best toys and books every child needs to make playtime purposeful, peter pan story for kids, leave a reply cancel reply.
Log in to leave a comment
Most Popular
5 best toys for six-month-old babies, 7 best toys for toddlers reviewed, recent comments.
FirstCry Intelli Education is an Early Learning brand, with products and services designed by educators with decades of experience, to equip children with skills that will help them succeed in the world of tomorrow.
Story Related Activities Designed to Bring the Story to Life and Create Fun Memories.
Online Preschool is the Only Way Your Child's Learning Can Continue This Year, Don't Wait Any Longer - Get Started!
©2021 All rights reserved
Privacy Policy
Terms of Use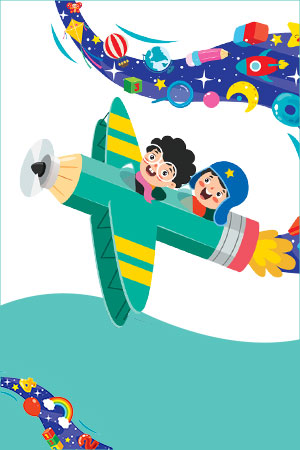 Welcome to the world of intelli!
FREE guides and worksheets coming your way on whatsapp. Subscribe Below !!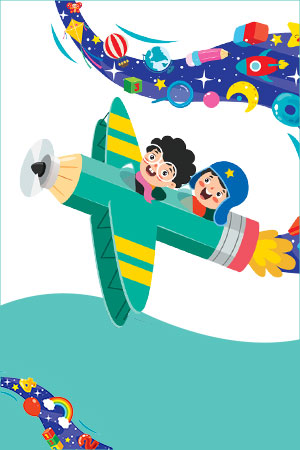 Free guides and worksheets coming you way.