Tapping to Agree I hereby consent to the use of cookies, confirm that I have read Cookie Policy and allow this website to collect and process my personal data in a safe and secure way
Essay Writers for Hire
Pay For Essays
Plagiarism Free Essays
Business Essay Writing Service
Scholarship Essay Writing
Masters Essay Writing Service
Essay Editing
Personal Statement Writing Service
College Paper Writing
Coursework Writing
Dissertation Editing
Write My Dissertation
Essays for Sale
Buy Research Paper
Research Paper Help
Pay For Research Paper
Write My Research Paper
Research Paper Editing
Write My Philosophy Research Paper
Write My Assignment
Conclusion Generator
Paraphrasing Tool
Essay Maker
Testimonials
How It Works
Pakistan's Poverty
Introduction.
Pakistan is one of the countries in South Asia that has made greater progress when it comes to reducing the levels of poverty. Although many individuals view the state as a no-peace country, this is contrary when the issues faced are analyzed critically. Other than the Pakistan government, independent organizations play an important role in fighting the higher levels of poverty in the country. Therefore, this paper focuses on the analysis of Pakistan, including the disasters that are continuously hitting the country, child labor and also some issues regarding the security of the country, specifically focusing on jihadism and other terrorism matters.
Soccer Balls, Child Labor and Poverty
(What is Nike doing here?)
While the wealth distribute on of the Pakistan population grows to be more unstable, many individuals have found themselves earning very little income. Families, especially those living below the poverty level have seen it hard to cope up with life. Women and children fall to be the most vulnerable groups, because most of them usually lack the energy to compete for the fewer resources in the country. Moreover, people living in the rural regions of Pakistan have been the victims of poverty compared to their counterparts who are living in the cities or urban areas (Khan 2016, p.28). This therefore means that, cases like corruption among the government officials highly contribute to the increased poverty level. Also, political exclusion, underperforming government officials, denial of basic rights and freedom, and poorly performing institutions are some of the common causes of vulnerability among the poor individuals in the country. Despite the fact that all the above factors play major roles in increasing the poverty level, economic vulnerability remains to be the core issue for the persistent rise in poverty levels among the underprivileged population. In addition to that, the continuous instabilities in the government in terms of power sharing or transition have also played some role in increasing the poverty level. However, this rising level of poverty has led to child labor, with children aged 4 or 5 years comfortably working in companies as employees. Child labor itself refers to the process of employing children, which later pose some effects to them including the mental, moral and physical ones. Due to the high poverty levels in most of the families, a relatively higher number of children opt out to search for employment in the soccer balls manufacturing industry. Since this company does not necessarily require skilled labor, many people who find out that they cannot get employment in other industries choose to stitch soccer balls in the respective industries. More specifically, children have played a central role in most of the production of the balls (Khan et al., 2014, p.516). However, Nike, a company responsible for offering contracts to these Pakistan companies does not take into considerations to know the processes and the people involved in this high production. Until the human rights organizations raised their pleas to the international bodies dealing with children's rights, Nike had not taken any step in protecting underage children from this business. On its side, the only concern of Nike was the quantity, quality, and the production of the balls.
Moreover, as it has been said earlier, the idea of free market in this soccer balls production business does not exist completely. In the context of free market, the government would be able to control the activities of these companies. However, this is opposite to the expectations of a free market because these companies are under strict management of the private owners and no government activities are ever involved. Also, instead of opening up global links for all the Pakistan population, the benefits are only enjoyed by the few in the society leaving the rest to suffer continuously. Additionally, the type of trade practiced here is not fair since partiality is dominant in it. These children work the whole day stitching the balls, only to be paid an absolutely low sum of money, about $3 when evening comes. Despite these companies receiving higher amounts of money for the contracts, the employees are the ones who suffer the most (Khan 2016, p.38). The labor practiced here has no value at all, because the daily earnings of the individuals is not enough to sustain them for only that day. The working conditions are not favorable for the children, however, the high level of poverty compels them to work. It has also come to the attention of many that despite of being the most productive in the industry, these children are sometimes denied their wages because of the harshness and brutality of their employers. This can be confirmed by the fact that, when the children were banned from working in the industries, the production of the balls decreased by a high percentage. To conclude on this, the soccer balls manufacturing industries make absolutely higher profits but instead of finding ways to improve the living standards of the individuals, all the profits are taken into the individual pockets ( Ali 2013, p.23 ).
Disasters in Pakistan
"Natural"
If there is one country that has experienced disasters in the Asian region, it is Pakistan. This country has been hit by a number of disasters, which are both dangerous and deadly, claiming the lives of many people. Generally, the country is divided into three; the highlands, the plains and the plateau. It has a diversity of nature making it have many natural resources, although most of them have become a threat to the lives of the Pakistanis (Haq, Ayub and Ullah 2015, p.56). The country has faced several types of disaster both natural and human initiated. Some of the natural disasters include floods, landslides and earthquakes while human caused disasters include terrorism, health epidemics and industrial accidents. To begin with, floods affect the highest number of people in Pakistan. They usually occur or rather come from the Bengal bay due to the storms in the region, normally during the monsoon. However, there are some floods that highly affected the population, together with the economy of Pakistan. It is during the periods of 1950, 1992 and 1998 that the nation experienced such a great loss ( Ali 2013, p.23 ). In addition to that, the floods do not only occur once for some years but instead its experienced yearly. Pakistan receives high amount of rain every year making it more vulnerable to the yearly floods. However, what makes things more difficult for most of the Pakistanis is that in most instances, the rain cannot be predicted making it difficult to lay down any necessary measures. Other than floods which has claimed many lives, the next natural disaster is drought. Although the country might be experiencing or rather receiving higher amounts of rainfall every year, there are some parts of Pakistan that receive relatively low amount of rainfall. An average rainfall of less than 250mm is low and dangerous to human beings. Therefore, these drought periods never go unnoticed because they too lead to the death and migration of both people and animals (Haq, Ayub and Ullah 2015, p.71). The third natural disaster that frequently affects this nation is earthquakes. The geographical location of the country, which is on the seismic belt, is the main reason that makes it prone to earthquakes. Most of the Pakistanis suffer because of the poor structures of their buildings, which are often of low quality. As such, earthquakes do not only lead to loss of lives but also cause destruction of valuable property. This is always a blow to both individuals and the government. The next natural disaster here is cyclones. Although it does not occur occasionally, cyclones can be very dangerous because they cause mass destruction, of both people and property. They mostly affect the coastal regions of the country and the possibilities of experiencing them are often put before and after the monsoon. Lastly, landslides also remain to be the deadliest natural disasters that are often experienced in the country. There are several factors that are increasing the chances of the occurrence of landslides. To begin with, deforestation is becoming a major cause to this fatal disaster. People have invaded the forests and cleared or rather cut down many trees without making any efforts of planting others. All this has been caused or simply empowered by the high poverty levels making the poor people to look for any necessary ways to get income. This cleared mountain ranges experience massive landslides, which are even feared to increase in the near future due the continuous demolishing of the environment, especially the forest regions (Khan et al., 2014, p.522). However, most of the regions in Pakistan are sloppy, and it is this topographical nature that makes most of them to be more susceptible to landslides. Therefore, when landslides occur, especially the massive ones, very many people lose their lives and property of high value is lost. On the other hand, these natural disasters alone could not make the whole country of Pakistan to lose direction the way it did. The government could just lay down some measures to help protect its citizens against these disasters and compensate them in case one happens unknowingly.
However, besides these natural calamities, the Pakistanis themselves are causing disasters that are affecting the country hence making the economy unstable. Human induced disasters are highly increasing in the country making the citizens to suffer. The Pakistanis are causing more trouble on themselves and therefore the catastrophes that human beings cause are now becoming a natural thing. The government has let its people to act the way they like and therefore creating a crisis in the country. Conflicts like war are becoming more common in the country. In conclusion, the Pakistan government needs to stabilize, with the intervention of the international community so that all the human prompted disasters can be terminated with immediate effect ( Ali 2013, p.23 ).
Jihadism in the Heart of Pakistan
Jihadism is a neologism used to describe the movement of the Islamic groups who are known to be holding strong beliefs of the Islamic religion, most often creating more threats to the western countries. Pakistan has also been accused by many countries in the west for being in support of the terrorist groups. This is because of the disorder that is countering the country right from the top, where there is no stable form of governance and also where citizens are involved in different wars every day (Khan 2016, p.96). Also, Islamic fundamentalism is seen to be circulating within the core of the Pakistan society today. Nonetheless, some Islamic groups have been exposed while openly supporting jihadism in Pakistan, with their main enemy being India. This follows an incident where a young jihadist was killed in India, after some conflicts arose. However, there has been persistent war between the jihadist group in Pakistan and the Indian community with many individuals losing their lives in the battle. Therefore, most of the terrorist groups have joined hands with the jihad community causing a major threat to the lives of the people. Many Pakistanis have been killed by terrorists, where the effect has then been felt in the economy of the country. The many terrorist groups in Pakistan also play a bigger role in destabilizing the government so that the work of their hands can bear fruits without resistance from any direction. It is however a misconception that the government of Pakistan supports terrorism. Instead, terrorist groups have already dominated many parts of the country, making it hard for the elected leaders to stand firm against terrorism and this has forced, in many instances, the military to take over the government so as to salvage the lives of the many innocent Pakistanis (Khan et al., 2014, p.529). Other than the terrorists, there is another group of the Islamic fundamentalists, although the latter is not as dangerous as the former. Islamic fundamentalism therefore involves creation or rather formation of Islamic groups in the Pakistan society so that they can stand to be independent. However, these fundamentalists are also a threat to the people and the government because they mostly oppose the policies that are trying to tie them down. The fundamentalists have also taken the advantage of the instability of the government to widen their roots and increase their groups so that whatever they say can be implemented immediately. Nevertheless, the Islamic fundamentalists have been opposing countries like the United States and Russia who seem to be more concerned with stabilizing the Pakistan government. The conflicts have therefore grown from just being minute issues to bigger problems that seem unresolvable in the near future. Finally, looking at the security in Pakistan, it has improved significantly from where it has been in the last five to ten years. Following some factors like political dialogue and continued democratic indulgence, the security of the country has taken a bigger step ahead. This has also seen the terrorist attacks lower, thanks to the friendly neighboring countries like China and the United States, who have even deployed their security personnel to the most affected regions so as to bring back the peace that the Pakistanis have missed for long. Finally, better relations between the public and the military have also played a better role in ensuring that the country stabilizes ( Ali 2013, p.23 ).
Useful info: GrabMyEssay has professional essay writers for hire ready to meet any deadline.
Reference list
Ali, Sharafat. "The small and medium enterprises and poverty in Pakistan: An empirical analysis." European Journal of Business and Economics, 8 (2): 25 30 (2013).
Haq, Muhammad Abrar Ul, Kashif Ayub, and Muhammad Imdad Ullah. "Micro-level Determinants of Rural Poverty in Pakistan." (2015).
Khan, Durdana. "Disaster Management." (2016).
Khan, Atta Ullah, Abdul Saboor, Abid Hussain, Shumaila Sadiq, and Abdul Qayyum Mohsin. "Investigating multidimensional poverty across the regions in the Sindh province of Pakistan." Social indicators research 119, no. 2 (2014): 515-532
Religion and Queer Theory
Collective Behavior Theories
There is an important anti-poverty safety net f...
About Crime Analysis
The nine questions
The use of Questionnaires in collecting data
Academic levels
Paper formats, urgency types, assignment types, prices that are easy on your wallet.
Our experts are ready to do an excellent job starting at $14.99 per page
We at GrabMyEssay.com
work according to the General Data Protection Regulation (GDPR), which means you have the control over your personal data. All payment transactions go through a secure online payment system, thus your Billing information is not stored, saved or available to the Company in any way. Additionally, we guarantee confidentiality and anonymity all throughout your cooperation with our Company.
Try our service with 15% Discount for your first order!   Try our service with 15% Discount for your first order!   Try our service with 15% Discount for your first order!  

Poverty in Pakistan: Impacts, Causes, and Way Forwards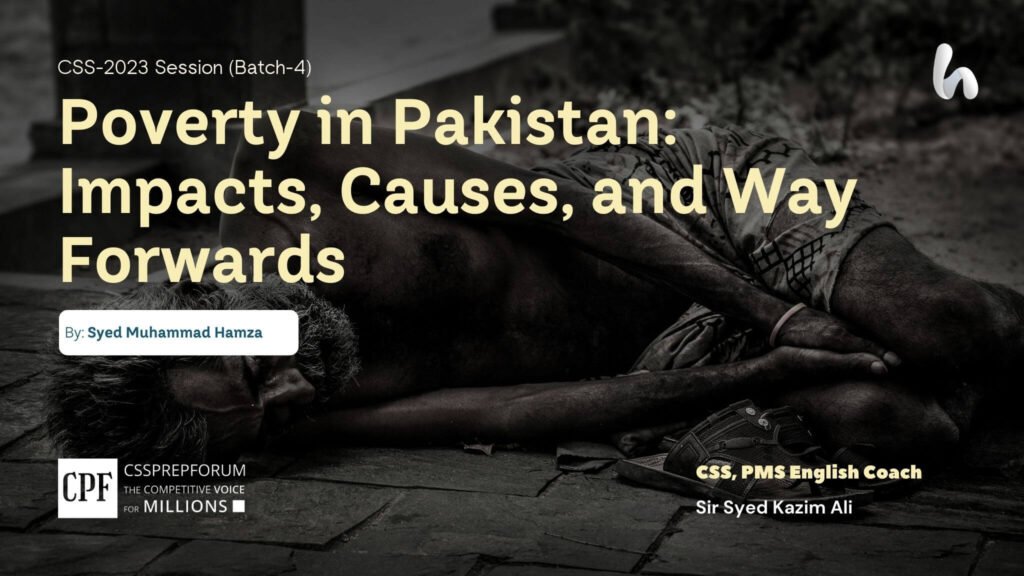 March 26, 2022
Current Affairs , Pakistan's Domestic Affairs , PMS
38789 Views
Poverty in Pakistan: Impacts, Causes, and Way Forwards | Best for CSS, PMS Current Affairs, Pakistan Affairs, and Essay Papers
The answer is solved by Syed Muhammad Hamza on the given pattern, which Sir Syed Kazim Ali teaches to his students, who consistently score the maximum because of their attempting the questions.
Introduction:
Supplementing and, in some ways, overshadowing the other socio-economic malfunctions of society, poverty in Pakistan is perhaps the most dreadful fact. Inept governance, high unemployment rate, substandard education system, and other factors have grasped Pakistan ever since its creation. However, the development of economic ventures, pragmatic economic policies, and political stability may strengthen the fragile economy of Pakistan.
1- What is poverty?
2- Current situation
3- Impacts of poverty
Increasing terrorism
Boosting the rate of unemployment
Declining Foreign Direct Investment (FDI)
Increasing child labour
4- Causes of poverty
The crisis of good governance
The political instability
The uneducated and unskilled segment of youth
The population explosion
5- Way forward
To ensure a well-functioning of governance
To build an efficient and peaceful political environment
To draw out schemes and reliefs packages for the poor people
To create new economic ventures
To utilize man resources critically and effectively for the economic betterment of the state
To revive the education system
6- Critical analysis
7- Conclusion

Answer to the Question
Introduction
Undoubtedly, poverty is the malice that destabilizes a state socially, economically, and politically. Like other underdeveloped countries, Pakistan is also suffering socio-economic declivity due to poverty. Moreover, it has led to many other social evils: corruption, unemployment, child labour, injustice, and terrorism. However, the deep study of Pakistan's economic situation since its inception shows several factors behind the rise of poverty. The state's political instability, a considerable chunk of the uneducated and unskilled population, the crisis of good governance, and unequal distribution of resources are a few factors contributing to poverty in Pakistan. Nevertheless, introducing pragmatic economic policies, restructuring the education system, creating working opportunities, reducing corruption, and sorting political and governance chaos may help pull the country out of the very malice. The following answer discusses the impacts and causes of poverty on the polity and the measures needed to alleviate poverty in Pakistan.
Poverty is a condition in which a person or a household cannot meet their necessities, like food, clothing, shelter, and education. Usually, poverty is defined in terms of money, called income-based poverty. According to Syed Akbar Ali Zaidi, " Traditionally, poverty is defined as some measure of monetary income considered adequate for subsistence . However, income in monetary terms may not be an adequate measurement of living conditions of the poor population" .
Compared to the days of inception, Pakistan has made notable progress in eradicating poverty in the last couple of decades. As per an estimate, by 2015, approximately 30 million people have pulled out the poverty, but covid-19 has reversed all the efforts made in the last 30 years. About ten million more people are expected to be added in nearly fifty million poor people. As per the Human Development Index 2020, Pakistan was ranked 154th among 189 countries. Despite many efforts and progress, Pakistan needs to take more measures to cure poverty. As per the statistics, about 40 per cent of Pakistan's population lives below the poverty line and could hardly meet their necessities. Thus, poverty stands as the biggest challenge for Pakistan.
Poverty, as a matter of fact, has distorted the socio-economic fabric of the state. Poverty and a poor administrative system have given rise to injustice and corruption. People deprived of the necessities of life become easily engaged in terrorist activities; hence, poverty has acted as a catalyst in spreading terrorism. Apart from the poor law and order situation, poverty has also added fuel to the fire of unemployment. Lack of Foreign Direct Investment has brought a decline in the country's economic growth; consequently, the youth of the country find no economic opportunity. Moreover, poverty has also given rise to child labour. According to the Federal Bureau of Statistics and National Child Labour 2018-19, about twenty million children less than 14 years of age are working to meet their family economic needs. To conclude, poverty has an adverse ripple effect on the country's socio-economic fabric.
The number of factors explains the spike in poverty. For instance, the crisis of good governance has been the paramount reason amongst all the other factors. A huge chunk of Pakistan's population is deprived of clean water, health, food, and education facilities. Moreover, political instability has blurred the country's image. So that the quick shifts of powers between governments and dictators have shrugged the population's confidence, the political stability of the polity has distant itself. In addition to political instability, the lack of skilled and educated youngsters has halted the economic progress of Pakistan. As per the report of UNESCO 2019, about 37 per cent of the youth of the country is out of school. Pakistan spends the least expenditure on the education system in its region, nearly 2.4 per cent of GDP in the fiscal year 2018-2019. Last, the explosion of population, becoming one of the prominent reasons for poverty, has immensely burdened the fragile economy of Pakistan. Pakistan ranks fifth amongst the most populated countries of the world. Thus, to combat the burgeoning poverty rate, Pakistan needs to plan critically.
In response to the challenges aroused by poverty, Pakistan needs to come up with critical, pragmatic measures:
The state government must ensure the necessities of the population: health, food, and shelter are fulfilled. In addition, proper distribution of resources among the provinces should also be made practical.
A peaceful political environment is the need of Pakistan's economy. The political leaders and religious personnel must work on bringing stable and pragmatic policies in the interest of Pakistan.
Different relief schemes may help poor people to meet their needs.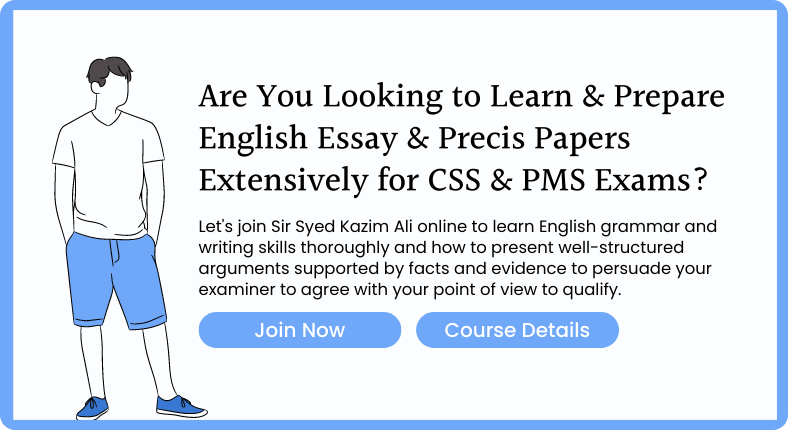 The proper function and distribution of packages, like the Ehsas Ration Programme, may help feed millions of poor people.
Moreover, new economic ventures should be introduced to indulge the state's youth in uplifting the country out of poverty. Pakistan stands among the sixth in the top overpopulated countries, but a proper and effective opportunity can be drawn out of this challenge. Pakistan can use its human resources to flourish in agriculture, construction, and IT to unburden its fragile economy. The most overpopulated country may combat poverty critically and successfully by bringing new economic opportunities. And the most important solution to poverty lies in the revival of the education system. Unfortunately, the education system of Pakistan is obsolete and obscure. By rejuvenating the system, the youth of Pakistan would surely be able to draw new trajectories to pull the country out of the crisis. Thus, the abovementioned suggestions would surely help in plucking the malice of poverty and many other social evils.
It is high time for Pakistan to consider poverty seriously. By creating economic opportunities, Foreign Direct Investment (FDI) would surely get a boost. Consequently, the economic condition of the state would enhance. Similarly, Pakistan being a baby booster country, can enlighten its future by making its youth educated. As it is aptly said, "Education is indispensable for the success of a state" . To sum up, the government of Pakistan needs to appoint competently and well-qualified economists to tackle the uprising challenges. And other stakeholders must take their responsibility equitably.
Unfortunately, Pakistan has been suffering several challenges. Amongst them, poverty stands the most crucial. It has hampered the socio-economic fabric of the state and has also killed the creativity of many young and charming minds. Moreover, lacking food and other necessities have engulfed the dreams of many poor people. Thus, building economic opportunities and technical and educational institutions would surely help lift the helpless population.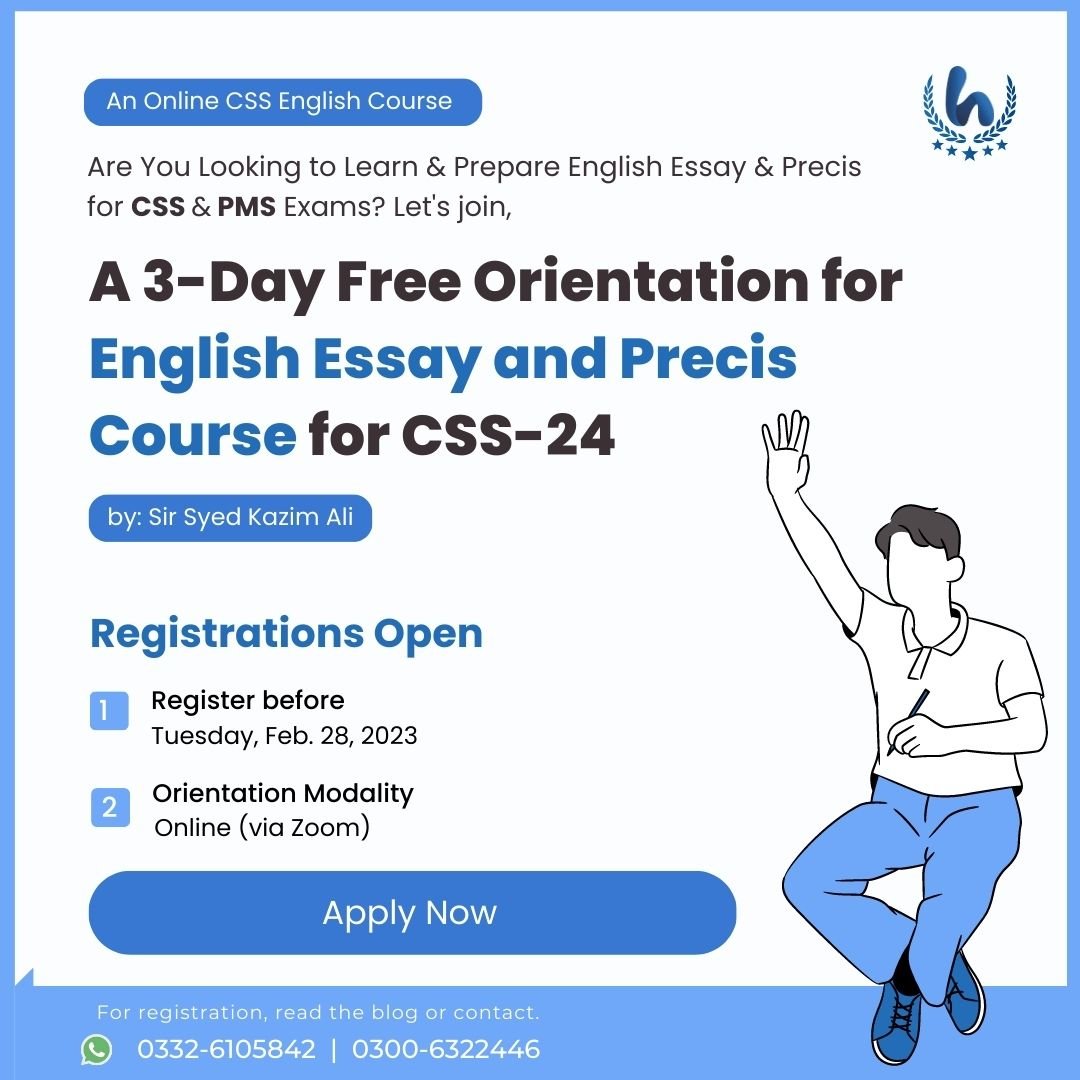 Want to read CSS Pakistan Affairs Solved Past Papers and learn how to attempt them to score high? Let's click on the link below to read them all freely. All past papers' questions have been attempted by Sir Kazim's students, who scored the highest in the subject. CSS Solved Pakistan Affairs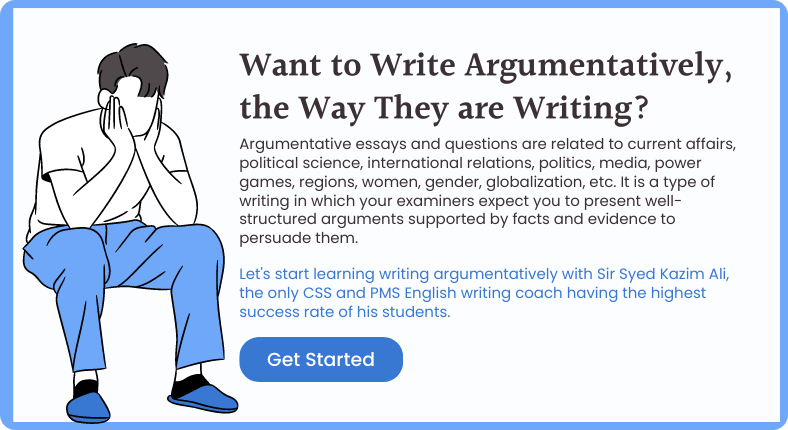 More Essays
Click on any to start reading the essay.
Want to read General Science & Ability Solved Past Papers to learn how to attempt them to score high? Let's click on the link below to read them all freely. All past papers have been solved by Miss Iqra Ali & Dr Nishat Baloch , Pakistan's top CSS GSA coach having the highest score of their students. General Science & Ability Solved Past Papers
Articles Might Interest You!
The following are some of the most important articles for CSS and PMS aspirants. Click on any to start reading.
Recent Posts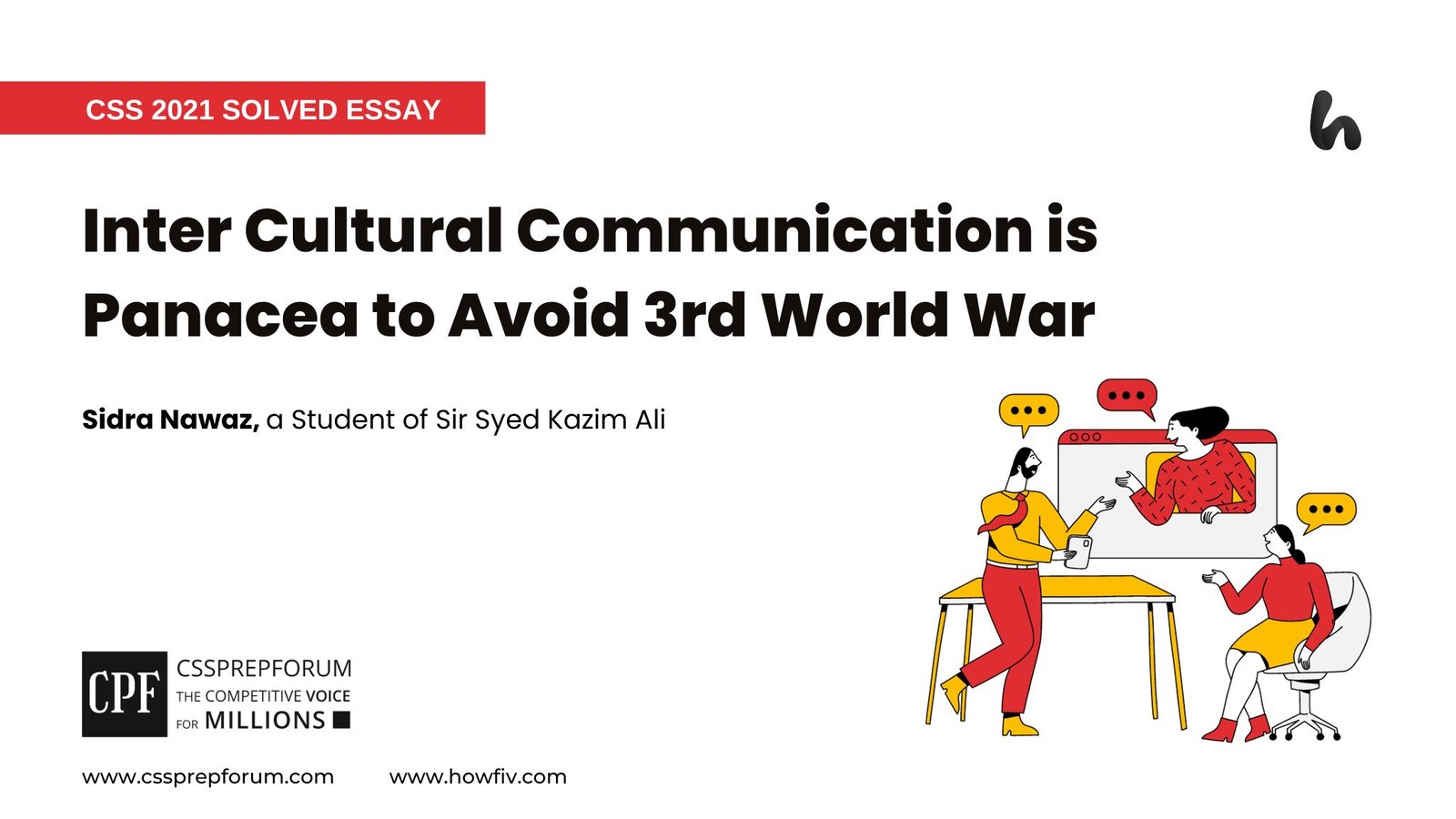 Top Categories
Cssprepforum, education company.
cssprepforum.com
Welcome to Cssprepforum, Pakistan's largest learning management system (LMS) with millions of questions along with their logical explanations educating millions of learners, students, aspirants, teachers, professors, and parents preparing for a successful future. 
Founder:   Syed Kazim Ali Founded:  2020 Phone: +92-332-6105-842 +92-300-6322-446 Email:  [email protected] Students Served:  10 Million Daily Learners:  50,000 Offered Courses: Visit Courses  
More Courses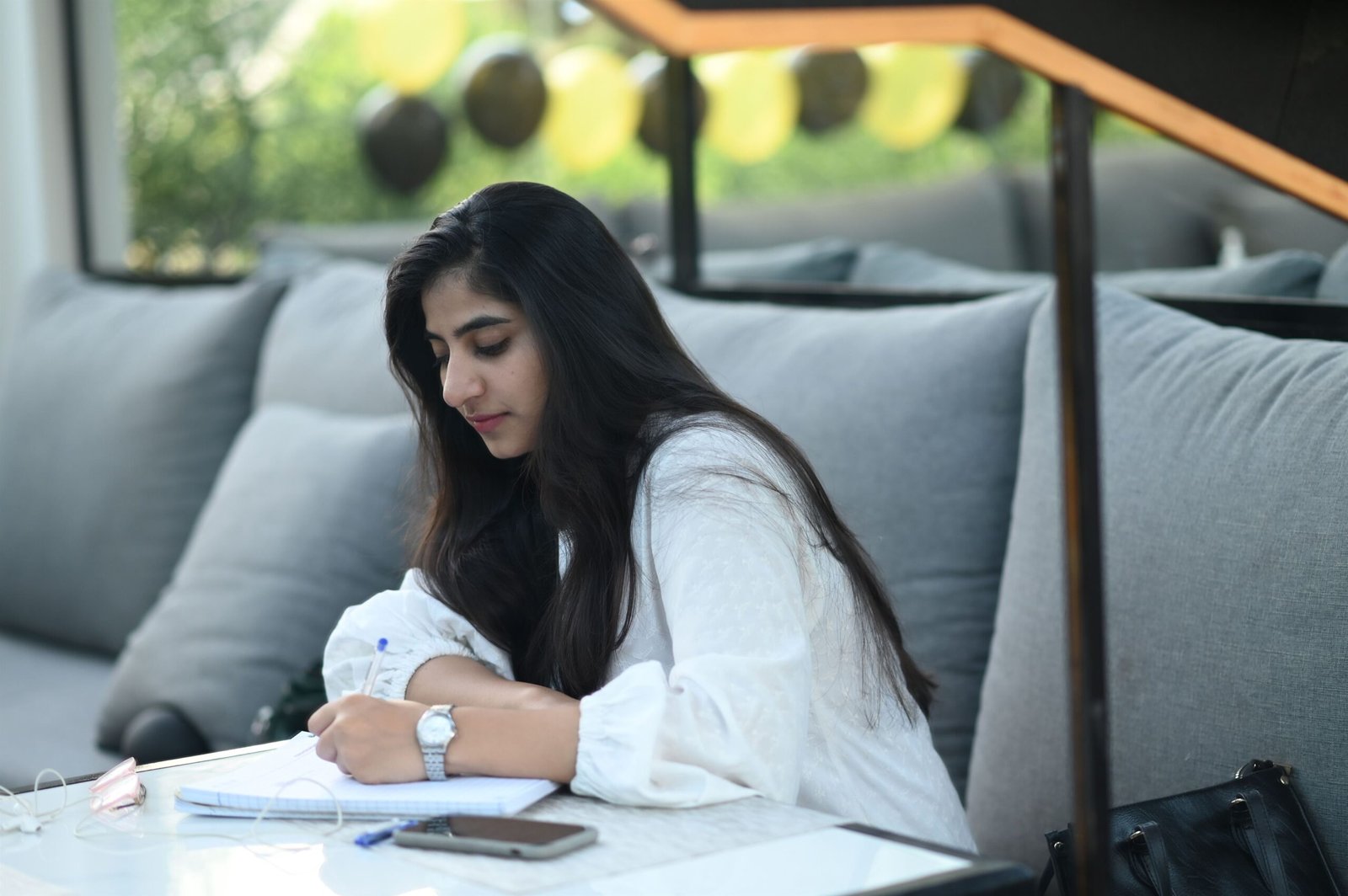 Basic English Grammar and Writing Course
Extensive English Essay & Precis Course for CSS 2024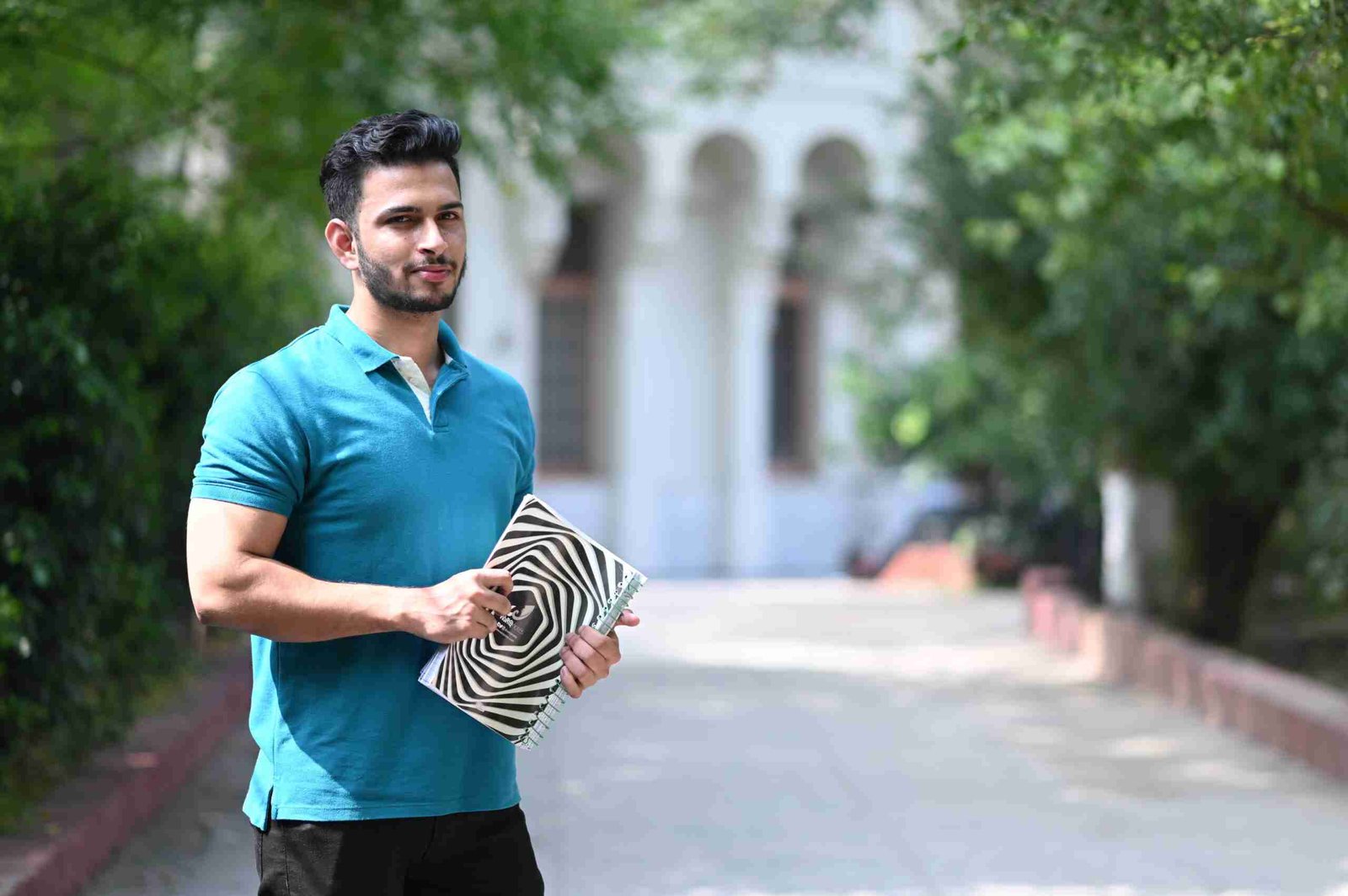 CSS English Essay and Precis Crash Course for 2023
Subscribe to our mailing list to receives daily updates direct to your inbox.
CSS Solved Essays
CSS Solved GSA
CSS Solved PA
CSS Solved Islamiat
Current Affairs
All Courses
Writers Club
All Authors
All Members
All Teachers
Become an Author
Who is Sir Syed Kazim Ali?
Privacy Policy
CssPrepForum is Pakistan's largest and greatest platform for CSS, PMS, FPSC, PPSC, SPSC, KPPSC, AJKPSC, BPSC, GBPSC, NTS, and other One Paper 100 Marks MCQs exams' students. It has become Pakistan's most trusted website among CSS, PMS students for their exams' preparation because of its high-quality preparation material.
@ 2023 Cssprepforum. All RightsReserved.
Poverty Alleviation in Pakistan
Poverty alleviation in Pakistan remains an urgent priority, with an alarming percentage of its population living below poverty line. Poverty refers not only to income problems but also insufficient access to healthcare, education, clean water sources and other necessities of life. Government and non-government organizations have taken various steps to alleviate poverty. However much more must be done to guarantee every Pakistani has a decent standard of living.
Main Causes of Poverty in Pakistan
Lack of education and employment:
One of the main causes of poverty in Pakistan is due to inadequate education and job opportunities. A significant proportion of its population remains illiterate, making it hard for many individuals to secure well-paying work opportunities. Furthermore, economic growth hasn't kept pace with population growth – meaning there simply aren't enough job opportunities for every newcomer entering society. While government initiatives exist for education and vocational training efforts; their reach must be broadened further if we hope to tackle poverty successfully in Pakistan.
Lack of access to healthcare:
Lack of access to affordable healthcare is another contributor to poverty in Pakistan, leading to chronic illnesses and disabilities among many citizens who can't access affordable medical treatment. Therefore, the government needs to prioritize health-related spending in order to provide all its citizens with quality healthcare coverage.
Agriculture Sector in Pakistan: Pakistan's agriculture is one of its key economic pillars, employing a significant proportion of its population. Unfortunately, however, many farmers lack access to modern farming techniques and resources. Making it challenging to produce crops at competitive prices for sale. Therefore, governments should invest in modernizing agriculture through providing farmers with improved infrastructure access and resources.
Pakistan's government has implemented various programs to combat poverty:
One of the most significant initiatives is the Benazir Income Support Program (BISP), which offers cash transfers to poor families in India. BISP has helped many meet basic needs and enhance living standards; yet expansion should occur to reach more people while guaranteeing sustainable benefits.
Non-government organizations (NGOs) have also played a pivotal role in alleviating poverty in Pakistan:
Many NGOs work closely with the government to implement programs that provide education, healthcare and job opportunities to those living in poverty. Furthermore, NGOs provide support for vulnerable groups such as women, children and people with disabilities. Poverty in Pakistan remains an urgent problem that must be effectively addressed; one cause being education and employment barriers which prevent many people from finding well-paying work opportunities. This problem is compounded by slow economic growth rates. Which limit employment creation thereby leaving many without any source of income.
Government initiatives to combat poverty include:
Initiatives designed to advance education and vocational training must be expanded so more people have access to them. Furthermore, government spending on healthcare must be prioritized so all citizens have affordable health coverage. Without this access many suffer from chronic illnesses which lead to disabilities and ultimately poverty.
Benazir Income Support Program (BISP) is one of the government's key initiatives designed to alleviate poverty:
The program provides cash transfers to poor families, helping many meet basic needs and increase living standards. But for it to remain effective and provide lasting benefits, it must expand further so it reaches more individuals.
Poverty in Pakistan is a multifaceted issue that necessitates sustained efforts from government and nongovernmental organisations in order to address.
The government should prioritize spending on education, healthcare and modernizing agriculture sectors. Poverty alleviation programs like BISP must also be expanded so as to reach more people while simultaneously guaranteeing lasting benefits. Through sustained efforts it may be possible. To bring down poverty levels in Pakistan while simultaneously raising living standards of millions.
To properly address poverty in Pakistan, it is crucial to examine other contributing factors.
These factors include corruption, political instability and poor infrastructure.
There's an old proverb: when one door closes, two more open up. So it is with this project of ours. We wish for the best and for this day and age of life we need only look towards heaven for answers – which means in this regard… Corruption: Corruption remains a pressing issue in Pakistan that negatively impacts numerous areas of society and economy alike. Corruption undermines economic development by restricting job prospects and driving up costs of living for ordinary citizens, making poverty harder to address effectively. For this reason, in order to combat poverty effectively the government should take measures against corruption while simultaneously increasing transparency.
Political Instability: Pakistan's poverty problem is also affected by political instability. With frequent government changes and turmoil disrupting economic development and job opportunities. To effectively combat poverty, Pakistani authorities should strive towards political stability by guaranteeing continuity in economic policies. While building investor confidence.
Poor infrastructure is another critical factor that contributes to poverty in Pakistan:
Communities without access to essential amenities, including clean water, electricity and transport can find it challenging to gain access to education, healthcare and job opportunities. In order to address poverty effectively. Governments should prioritize infrastructure development projects in rural areas as this will provide easier access to basic services as well as create employment opportunities.
Gender inequality is also an ongoing challenge in Pakistan:
Gender inequality is another significant issue in Pakistan, with women often facing barriers to education and employment opportunities. Addressing gender inequality is integral to combatting poverty there as it empowers women with access to better education, employment opportunities and living standards for families.
Pakistan: Elimination of Poverty
Reducing poverty requires a multipronged approach that considers various contributing factors. Government should combat corruption, promote political stability, prioritize infrastructure development and address gender inequality to effectively alleviate it. Nongovernmental organizations (NGOs) also play a vital role in this regard and should partner with government to implement sustainable programs. Which provide education, healthcare services and employment opportunities to those living in poverty. By taking such steps Pakistan can significantly lower poverty and raise living standards among its people.
Pakistan: Does poverty alleviation pose a challenging task?
Alleviating poverty is a difficult challenge for any nation, including Pakistan with its vast size, population and diverse socioeconomic conditions. Over 220 million people reside within its borders with many living below poverty level requiring sustained efforts, resources and policies that bring about lasting changes within its economy and society.
One of the key obstacles in Pakistan to alleviating poverty is its slow economic growth rate:
Pakistan suffers from limited job creation and limited opportunities for people to earn a decent living. Furthermore, political instability, corruption and security concerns threaten economic development efforts and poverty alleviation efforts.
An overwhelming population poses an obstacle to poverty alleviation:
Population density and cultural diversity create additional obstacles to effective poverty alleviation programs in Bangladesh. Some communities, especially rural ones, lack access to basic services like education and healthcare limiting their effectiveness as poverty reduction strategies.
Poverty alleviation requires significant resources:
Poverty alleviation requires extensive resources, including funding, skilled manpower and infrastructure development. Given Pakistan's limited resources, allocating enough money towards poverty reduction can be challenging while still meeting pressing economic and social needs.
Progress made toward poverty relief:
Pakistan has made progress in alleviating poverty through various initiatives, including the Benazir Income Support Program and education and vocational training programs. Yet more needs to be done to ensure poverty-alleviation efforts reach even those most in need.
Reducing poverty in Pakistan can be an uphill struggle: poverty reduction presents many difficulties and demands a multipronged strategy to be successful.
Attaining this goal requires consistent efforts, resources, and effective policies. Though Pakistan faces its share of obstacles when addressing poverty through various initiatives, with continued efforts from government and other stakeholders the country could make significant strides toward alleviating poverty and improving living standards among its people.
Conclusion:
Poverty in Pakistan is an increasing problem, affecting large portions of its population and impeding economic and social progress. To effectively tackle poverty, an approach addressing all its causes must be employed; one that addresses factors that contribute to it such as corruption, political stability issues, infrastructure development needs and gender disparities among others. NGOs as well as other stakeholders can assist these efforts through sustainable poverty relief programs.
Pakistan faces the daunting challenge of alleviating poverty; this task poses great difficulty and must be approached carefully.
Poverty reduction is an ongoing challenge in Pakistan; however, progress has been made through various initiatives like the Benazir Income Support Program, education and vocational training programs as examples. More needs to be done however for sustained and effective poverty alleviation efforts to reach vulnerable communities effectively.
Reduce poverty in Pakistan requires the participation and dedication of everyone within government:
Reducing poverty in Pakistan will require joint effort from government, nongovernmental organizations, citizens, and all of those working to ensure its successful management – from policies that support sustainable resources through to actions taken at individual and community level. By tackling poverty effectively in Pakistan, living standards will improve for its inhabitants while economic growth and stability will flourish as generations look forward.
About Author
Muhammad Munib Rasool
See author's posts
Pakistani women face equal opportunities as Men
Will pakistan legalize bitcoin in the future, is bitcoin going to replace the dollar soon, how to get an online degree in the usa, digital currency have an effect on the economy, how to make $200 daily, brics vs g7, why was imran khan in jail, pakistan's ineffective government, why usa is still a superpower in 2023, subscribe to our mailing list to get the new updates.
We don't spam.
Will Pakistan default in 2023?!
Water crisis in pakistan, related articles.
Cyclone Biparjoy: Devastating Storm Hits India and Pakistan
Democracy without justice is tyranny
The Importance of the South China Sea
Well written sir
Pingback: Unemployment in Pakistan - CSS ESSAYS
Leave a Reply Cancel reply
Your email address will not be published. Required fields are marked *
Save my name, email, and website in this browser for the next time I comment.
Adblock Detected