45 Narrative Writing Prompts for 7th Grade
Preteens and teenagers have a lot to say, but they don't always know just how to express their emotions or say what's on their mind.
By implementing narrative writing into your curriculum, you give your students an outlet to experiment with in a safe and structured environment.
Below, you will find a list of narrative writing prompts to help your 7th graders let out some of their thoughts and get them writing about something that matters to them.
Using This Guide
You can use this guide to help students come out of their shell, or keep it handy for when they have some down time in between activities.
Consider challenging your students to write using one prompt a day for an entire school week, and express to them the importance of thinking deeply about the things they think, feel, and remember.
The Writing Prompts
Write about a time when you felt proud of yourself.
Tell the story of how you met your best friend.
Write about a time when you felt left out of a group.
Do you consider yourself to be a good ally? Explain.
When was the last time you felt afraid? Write about what happened.
If you could have any superpower, what would it be? Why?
What is the thing you like most about yourself? What are some things you could do to improve this quality?
Talk about a time when you felt misunderstood by an adult or authority figure.
Explain what it means to be a good friend.
What do you think is your worst habit? What steps could you take to break this habit?
Write about a time when you realized you let someone down. How did you feel? How do you think they felt?
If you could be a part of any fictional family, which would you choose? Why?
What is your favorite way to spend time with your friends? Why?
Write the step-by-step process of preparing your favorite food.
Write about the last time you felt an adrenaline rush.
Do you think social media is good or bad for teenagers? Explain your answer.
What does school spirit mean to you? What are some ways you could show more school spirit?
Write about a time when you felt publicly embarrassed. How was the situation resolved?
What do you think it means to be successful in life? Use examples.
Write about a time when you got in trouble for something that you didn't do.
Describe the funniest thing you've ever seen.
Why is it important to keep trying even when something seems too hard?
How do you normally spend New Year's Eve?
How is middle school different from elementary school? How are they the same?
Write about the last time you apologized to someone. How did you both feel after?
Have you ever been a victim of racial profiling? How did it make you feel?
Talk about the last gift you received. Who was it from? Did you like it?
Have you ever felt like someone invaded your privacy? Write about what happened.
Is there a teacher who has made an impact on your education? What makes them special?
Have you ever visited another country? What was it like? If you haven't, where would you like to visit? Why?
What would you do if you woke up tomorrow and discovered you were invisible?
What is your favorite holiday? What makes it special?
If you found $200 on the ground, what would you do with it? Explain your answer.
Think of an important family photo. Write the story behind it.
If your best friend were a season, which would they be? Why?
How do you define failure? What are some steps you could take to ensure you succeed instead of failing?
Describe your idea of the perfect snow day.
Write about the last time you had a misunderstanding with someone. How was it resolved?
If you could make one new rule for your school, what would it be? Why?
Is there anything specific that makes you feel anxious? How do you face this thing?
If you could get rid of one school rule, what would it be? Why?
Do you think it's more important to explore space or to explore the oceans? Explain your answer.
Has anyone ever spoken over you or cut you off while you were saying something important? How did it make you feel?
Have you ever performed on stage? Write about your experience.
What is the scariest thing you've ever done?
Looking For More?
If you're looking for something specific and can't find it here, reach out and let us know. We'd love to help shape the minds of the future.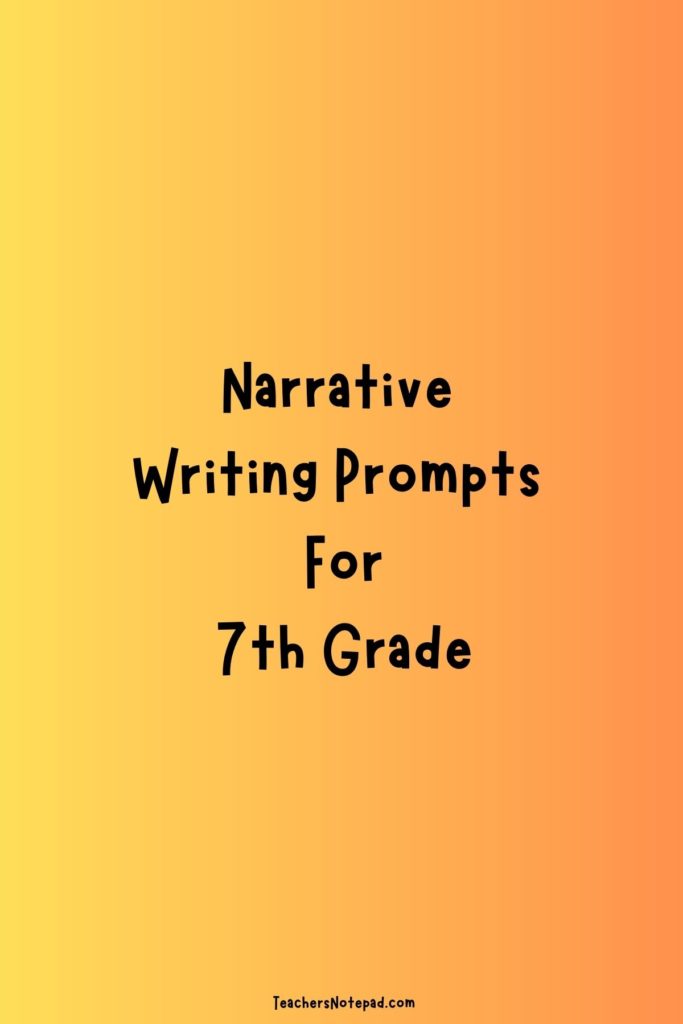 smartconnection.net
Sample paper on e-commerce
Problem solution essay example
Drinking Age - sample paper
Persuasive writing examples
Sample definition essay on health
Writing an essay using samples
Education essay template
Rhetorical analysis paper samples
An informative paper about K-12
Evaluative paper samples
Sample papers about life stories
Starting a paper on bullying
Writing about team leadership
Creating an essay on smoking
2000-word argumentative essay
Tips for law school students
Composing a piece about love
Synthesis paper on voting
Plagiarism checkers
Writing about violence & rap music
Writing a cause & effect essay
Parts of a persuasive essay
Role model definition paper samples
Custom writing services
Ideas for descriptive papers
Keeping to the right layout
Online Advertising - sample
Essay example on digital media
Writing a compare/contrast essay
Creating a process analysis essay
Descriptive essay topic sentence
Paper writing assistance online
Custom paper writing services
Options of top-class paper writing help
Composing a brilliant paper
Buying a brilliant paper without scam
Narrative writing basics
Visual text analysis essay
Writing a paper on pollution
Expository piece on environment
Crafting an opinion essay
Selecting a writing company
Reliable writing agencies
Creating a self-evaluation paper
Personal essay writing secrets
Writing a sociology paper
Starting an informative piece
Composing a 3-paragraph paper
Writing a piece on being famous
Creating a text response
Visual image analysis essays
Writing a literary analysis paper
Constructing a thesis
Problem solution ideas on sports
Argumentative prompts on global issues
Fresh ideas for 5th graders
Writing on gay marriage
Narrative essay writing prompts
Expository writing ideas
Questions for a biology paper
Compare/contrast essay topics
Discussing philosophy of fashion
Exploratory writing prompts
Ideas for an opinion essay
US history questions
Undergraduate illustration paper ideas
Paper topics on the Civil War
College paper topic ides to write about
Elementary School essay topics
Critical analysis paper topics
Paper ideas about national cuisine
7 years narrative paper subjects
Road safety essay topic ideas
Persuasive writing prompts
Potential titles on nutrition
Discursive paper topics
Topics for Romeo and Juliet
Expository essay writing ideas
25 Great Narrative Essay Writing Prompts For 7th Grade Students
Writing a narrative essay in 7th grade is not supposed to be difficult. At this level there is so much that students can be able to share about their lives and the things around them in the form of a narrative essay. We have listed herein some great narrative essay writing prompts that will come in handy for students in 7th grade.
Write a narrative essay on a day when you got lost
Describe in detail a meal that you really love
Imagine a situation where you could go back into time. What year would you go back to, and why?
Describe the weirdest thing you have ever seen
Write a narrative about an animal that you love so much
Describe something that you wish you had, but do not
Imagine what life would be like if you were blind. Write about the things that you would miss
Given the chance to improve one thing in your life, write about what you would improve
You have been allowed to choose a place in the world where you can visit at will. Describe your choice
If you were an inventor in the year 1900, what would you have chosen to invent?
Imagine you have been allowed to be anyone you can be for one day. Who would you be, and why?
Everyone has a hero. Describe your hero as articulately as you can
If you had a superpower, which one would it be? How would you use it?
Imagine you were invisible. Describe what you would do with such ability
Picture a situation where you are born into a palace. How would you live as a child and grow up to be a good leader?
If you have a hundred dollars between you and poverty, how would you spend it?
Describe a job or profession or career path that you would love to be in when you grow up
In your opinion, what is the most beautiful thing in the entire universe?
Given the chance, would you go to the moon? What would you hope to find?
Which school rules would you make up, and which ones would you abolish, if possible?
Write a story about the most challenging thing you have ever had to do
If you were to go on a talent show, what talent would you showcase?
Write about 10 things that you would not be able to live without
Describe 10 things in your life that you would easily give up
Describe an event in school that you are so happy about
Professional essay writers - are here to write your essay from scratch.
Other Sites
UsEssayWriters
PaperWritingPros
Essay service - EssayMill
Tips for essay writers from experts.
Useful Directions
Creating a strong literary essay
Literary criticism paper samples
2023 - © SmartConnection.net. All rights reserved.

About Michelle Waters
Curriculum Vitae
Tools I Use
Podcast Episodes
How To Be Our Podcast Guest
Member Login
Member Helpdesk
Support Portal
Resource Partners
Writing Partners
Certificate Verification
How To Contribute
by Michelle Boyd Waters, M.Ed.
13 Narrative Writing Prompts For Secondary Students
September 29, 2015 in Pedagogy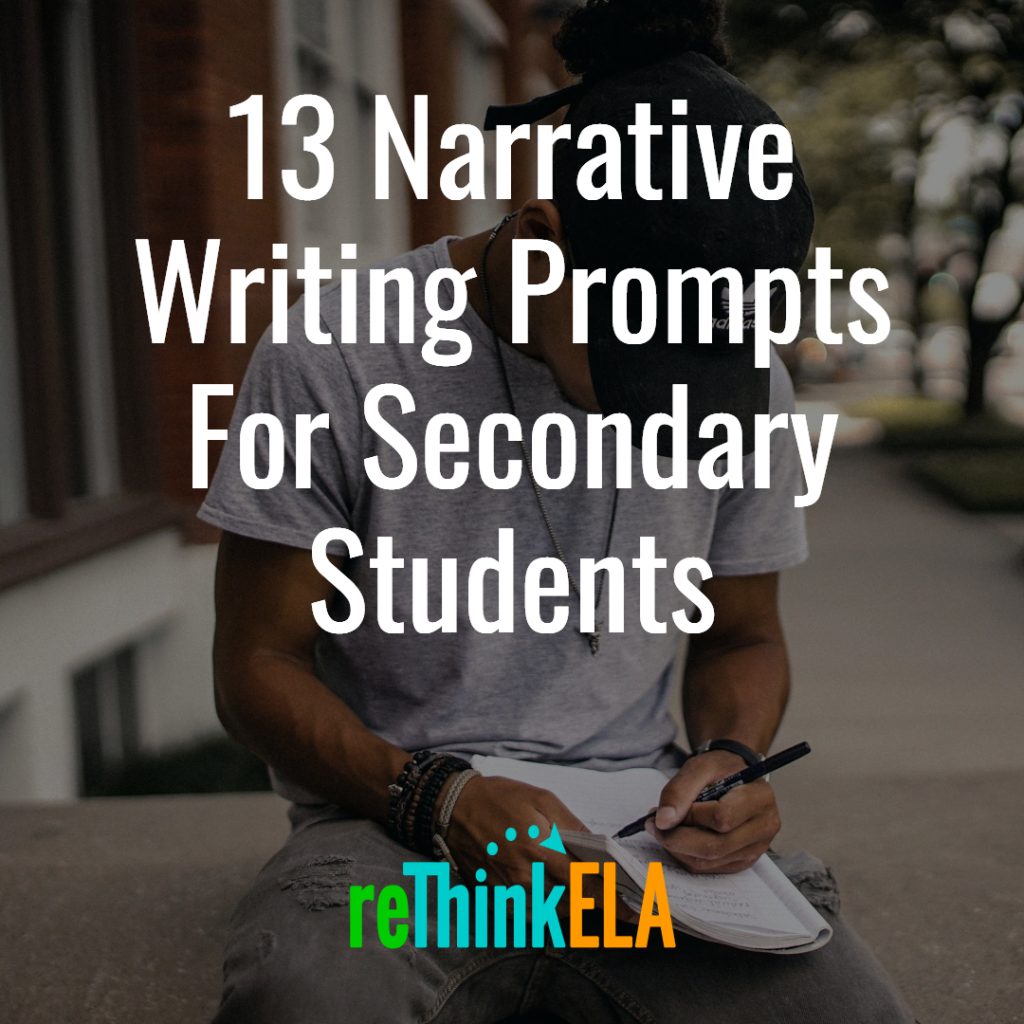 A few years ago, I tried to show a documentary about the Titanic sinking to a classroom full of 7th graders on the last day before a holiday. Big mistake! While the students are fascinated by the Titanic, they found the documentary incredibly boring. My team leader and I ended up having to show them a movie instead. A few days later, we started reading a story about the Titanic and the students loved it. They also told me that they loved the three-hour-long Titanic movie staring Kate Winslet and Leonard DiCaprio. I found the juxtaposition of their responses to the documenary verses the movie fascinating — and telling. so I asked them what the difference was between the two. Why was the documentary so boring, but the movie would hold their interest for three hours.
One student responded with gusto: "Because it's a loooove story!"
What she didn't know is that her response to the story has a basis in science: We are wired to enjoy stories .
Since most people have a built-in. scientifically-proven predilection for stories for dry facts, it's very important that students learn to tell a good yarn. The best way to learn how to tell good stories, much like learning how to ice skate without falling on your backside, is to practice.
So I am sharing below a few writing prompts you can give to your students, so they'll have plenty of opportunity to exercise their writing muscles.
Narrative writing prompts
Think about something that happened to you that you'll never forget. Write about what happened, who was involved and where it happened. Make sure you capture what makes that event hard to forget.
Think about a memorable event that happened when you were in elementary school. Write a story describing what happened, who was involved, and where it took place. Be sure to capture the importance of the event.
You are on your way home when zombies begin to take over your town. You've never believed in zombies, but now you see them with your own eyes. Write a science fiction story telling what the zombies do, what happens to everyone you know, and what you do about it. Make sure you create and describe characters, conflict, and the setting.
Pretend that your favorite character has stepped out of the pages of a book, or out of your television, and into real life. Write a story about what happens that day.
Weather affects people in different ways around the globe. Think about a time when the weather has had a significant impact on your life. Write a story sharing your experience.
Write about a time that you surprised someone. Write a story sharing how you planned the surprise, and what happened, being careful to build suspense so that the reader is surprised, too.
Think about a time when you embarked on a journey to reach a personal goal. Tell your story, being sure to include the challenges you faced, what might have prevented you from reaching your goal, and how you were transformed by the journey.
Think about a time when you stood up for what you believed in. Be sure to set share with your reader what the situation was like, what happened when you stood your ground, and what happened as a result.
Imagine that you wake up tomorrow morning and discover that you've been transported into your favorite novel or movie. Write a story telling what happens during the one day you live with those characters.
Imagine that you are the last person left on the earth. There is a knock at the door…
Choose a super power and then write a story about how you would change the world.
Think about a time when you didn't know what to say — until it was too late. Retell your story the way you wish it had happened.
Tell a story about your favorite person. Make sure you describe that person's character traits, and tell a story that illustrates why they are your favorite.
Need prompts in multiple writing modes for every day of the school year? Check out 180+ Days of Quickwrites !
Related topics: Narrative Writing , Quickwriting , Teaching Writing
About the author
Michelle Boyd Waters, M.Ed.
I am a secondary English Language Arts teacher, a University of Oklahoma student working on my doctorate in Instructional Leadership and Academic Curriculum with an concentration in English Education and co-Editor of the Oklahoma English Journal. I am constantly seeking ways to amplify students' voices and choices.
I'm excited for my 7th grader I know he will be experiencing and exploring new ideas new friends and of course new boundaries… writing and legible handwriting has been a struggle for him in grade school I really enjoyed reading through this website it makes writing seem less intimidating and giving confidence on having that successful paper/story ..I am hoping it will give him a new outlook on how fun as well as important writing can be. Thank you very much I am excited to share this site with him. Its perfect for discouraging writers as I once was going through school!!!
Comments are closed.
Writing Prompts for 7th Grade
Compassionate Eye Foundation/Robert Kent/Getty Images
Lesson Plans
Grading Students for Assessment
Becoming A Teacher
Assessments & Tests
Elementary Education
Special Education
Homeschooling
By seventh grade, students should be refining the core writing skills of brainstorming , researching, outlining, drafting, and revising. In order to hone these skills, seventh-grade students need regular practice writing a variety of essay styles, including narrative, persuasive, expository , and creative essays. The following essay prompts offer age-appropriate starting points to help seventh graders flex their writing muscles.
Narrative Essay Writing Prompts
Narrative essays share a personal experience to tell a story, usually to make a point rather than merely to entertain. These narrative essay prompts encourage students to describe and reflect on a story that's meaningful to them.
Embarrassing Pasts - As people get older, they are sometimes embarrassed by things they used to like, such as toys, television shows, or nicknames. Describe something that you used to enjoy that you now find embarrassing. Why is it embarrassing now?
Bonds of Hardship - Sometimes difficulties draw families closer. Describe something that your family endured together that strengthened your relationships.
There's No Place Like Home - What makes your hometown special? Explain this special quality.
New Kid in Town - Being new to a town or school can be challenging because you don't know anyone, or exciting because no one knows you and your past. Describe a time when you were the new kid.
Finders Keepers -  Write about a time when you lost (or found) something of value. How did that experience affect your opinion of the saying, "Finders keepers; losers weepers?"
Follow the Leader -  Describe a time when you were in a leadership role. How did it make you feel? What did you learn from the experience?
April Fools -  Write about the best prank you've ever played on someone (or had played on you). What made it so clever or funny?
Bon Appetit - Special meals can be powerful memory-makers. Write about a specific meal that stands out in your memory. What made it so unforgettable?
Bon Voyage - Family trips and vacations also create lasting memories. Write an essay detailing your favorite family vacation memory.
Batter Up -  Write about a valuable lesson that you learned while playing your favorite sport.
Best Friends Forever -  Describe your friendship with your BFF and what makes it so important to you.
The Real Me -  What is one thing you wish your parents, teachers, or coaches really understood or knew about you?
TV -  Explain what makes your favorite television show so enjoyable or relatable to you.
Persuasive Essay Writing Prompts
Persuasive essays use facts and reasoning to convince the reader to embrace the writer's opinion or take a course of action. These essay prompts empower seventh graders to write persuasively about an issue they genuinely care about.
Outdated Laws - What is one law or family or school rule that you think needs to be changed? Convince lawmakers, your parents, or school leaders to make the change.
Bad Ads - Advertising can have a powerful impact on consumers. What is a product that you've seen advertised that you don't think should be? Explain why the media should quit showing these ads.
Puppy Love - You want a pet, but your parents don't think you need one. What would you say to change their minds?
Lights, Camera - What is your favorite book of all time? Write an essay convincing a producer to make a movie about it.
Snooze Button - Studies have shown that tweens and teens need more sleep. Write a proposal for a later school start time.
Body Shop - Magazines can negatively impact their readers' body image by using edited images of models. Convince a teen magazine publisher that they should not use heavily-edited model images in their publication.
It Can't Be Over - The network is canceling your favorite television show. Write a paper convincing the station that they're making a mistake.
Curfews - Some malls have policies forbidding kids under 18 to be at the mall without adult supervision during certain times. Do you think this is fair or unfair? Defend your position.
Team Spirit - Should homeschooled students be allowed to play sports on public or private school teams? Why or why not?
Smartphones - All of your friends have the latest smartphone, but you only have a "dumb phone." Should your parents upgrade your phone, or are smartphones for middle school kids a bad idea?
Bullies - Some dogs, such as pit bulls or Dobermans, are labeled "bully breeds." Is this label deserved or undeserved?
Money Can't Buy You Love - People say that money can't buy happiness, but some studies have shown that people with higher incomes may be happier . Do you think this is true? Why or why not?
Ratings - There are age restrictions on movies and video games, ratings on television shows, and warning labels on music. Computers and smartphones offer parental controls. Do adults have too much control over what kids watch and listen to or do these restrictions serve a valuable purpose?
Expository Essay Writing Prompts
Expository essays describe a process or provide factual information. These prompts can serve as jumping-off points for the explanatory process. 
School's in Session - Would you rather attend public school, private school, or be homeschooled. Explain the benefits of your choice.
Admiration - Who do you admire from your life or history? Write an essay describing how their character or contributions to their community have earned your respect.
Global Community - If you could live anywhere in the world, where would you live? Write about your dream hometown and why you want to live there.
Peer Problems - Peer pressure and bullying can make life as a middle school student difficult. Describe a time you were pressured or bullied and how it affected you.
Order Up - A friend wants to learn how to make your favorite food. Detail the process, step-by-step, so your friend can recreate the dish.
Addictions - Many people are impacted by drug or alcohol addictions. Share facts about how the use of these substances negatively affects families or communities.
Serve Others - Community service is a valuable experience. Describe a time you volunteered. What did you do and how did it make you feel?
City or Country Mouse - Do you live in a big city or a small town? Explain why you do or don't like living there.
Aspirations - What do you want to be when you're an adult? Explain why you'd choose that career or what you'll do to prepare for it.
Point in Time - Sometimes people bury time capsules so future generations can learn about the past. What would you include to give an accurate snapshot of life in the current time?
Hobbyist - You're friend wants to take up your favorite hobby. Explain it to him.
SOS - A natural disaster has destroyed homes and businesses in a nearby city. Describe what you can do to help.
Wonder Twin Power - Some superheroes can fly or become invisible. If you could have any superpower, what would it be and why?
Creative Essay Writing Prompts
Creative essays are fictional stories. They use plot, character, and dialog to engage and entertain the reader. These prompts will get the creative juices flowing. 
Fan Fic -  Write a story about your favorite characters from a book, film, or television show.
Cats vs. Dogs - You have two pets of different species. Write a story from their point of view about a day at home alone.
Time Travel - You find a time machine in your backyard. What happens when you step inside?
Dream State - Think about a time when you woke in the middle of a vivid dream. What would have happened if the dream hadn't been interrupted?
New Door -  You've just discovered a door that you've never seen before. What happens when you walk through it?
Secret Keeper - You find out your best friend has kept a secret from you. What is the secret and why didn't your friend tell you?
Fridge Fun - Write a story from the perspective of an item in your refrigerator.
Desert Island - You've just discovered an uncharted island. What happens next?
Fly on the Wall - You see two people talking excitedly, but you can't hear what they're saying. Write a story about what they might be saying.
Special Delivery - You receive a battered package in the mail. Write a story about its journey from the sender to you.
A Mile in My Shoes - You find a pair of shoes in the thrift store and put them on. Suddenly you find yourself transported into someone else's life. Describe what happens.
Mission to Mars - Imagine that you're a pioneer to start a colony on Mars. Write about a typical day on your new planet.
Snow Days - You find yourself snowed in for a week with your family. There is no electricity or phone service. What do you do for fun?
Fun March Writing Prompts for Journaling
24 Journal Prompts for Creative Writing in the Elementary Classroom
Writing Prompts for Elementary School Students
Writing Prompts for 5th Grade
February Writing Prompts
November Writing and Journal Prompts
The 2021-22 Common Application Essay Prompts
Writing Prompt (Composition)
Tips for an Admissions Essay on an Influential Person
First Grade Writing Prompts
January Writing Prompts
Expository Essay Genre With Suggested Prompts
October Writing Prompts
Second Grade Writing Prompts
December Writing Prompts
Martin Luther King Jr. Writing Prompts
By clicking "Accept All Cookies", you agree to the storing of cookies on your device to enhance site navigation, analyze site usage, and assist in our marketing efforts.

Home » Blog » Writing » 100+ Creative and fun 7th grade writing prompts (2023)
100+ Creative and fun 7th grade writing prompts (2023)
Sharing is caring!
7th Grade Writing Prompts are an excellent tool for honing the writing skills of middle school students.
Whether you're a teacher, parent, or student, you'll find these prompts to be a valuable resource for tackling a variety of writing tasks, from creative writing prompts to expository writing prompts.
Not only do the 7th grade writing prompts make the writing process engaging, but they also help young writers explore their ideas in a structured yet flexible manner.
This extensive list includes a variety of prompts that touch upon students' interests, real-world issues, and academic subjects.
With categories like creative, argumentative, narrative, and more, these prompts offer regular practice that will help sharpen narrative writing skills and encourage personal expression.
So, grab your pen or keyboard, and let's dive into the world of 7th-grade writing!
Creative 7th Grade Writing Prompts
If you had a time machine, where and when would you go?
Imagine your pet could talk. What would it say about you?
Create a fairy tale featuring a brave seventh grader and a talking frog.
Write a diary entry from the perspective of your favorite book character.
What's the best way to make new friends in a small town?
If you could be any video game character for a day, who would you be and why?
Describe the weirdest thing you've ever seen in nature.
Your best friend has been abducted by aliens. Write the rescue story.
You discover a hidden door in your school. Where does it lead?
How would you spend a day on a desert island?
What is the best prank you've ever played or would like to play?
Your favorite food comes to life. What adventures do you go on?
Write a story where the main character finds out a family member is actually a spy.
If you could invent any gadget, what would it do?
Describe your dream home.
What's the best thing that could happen to you at school?
If you could have any superpower but only for five minutes a day, what would it be?
A day in the life of a coin.
What would you do if you were the last person on Earth?
Write a letter to your future self 10 years from now.
Argumentative 7th Grade Writing Prompts
Are school uniforms a good idea in public schools?
Should 7th graders be allowed to have social media accounts?
Does peer pressure have more positive or negative effects?
Should students have less homework?
Should middle school students have a say in school rules?
Is climate change the most important issue facing our generation?
Is it better to grow up in a big city or a small town?
Should students be required to participate in extracurricular activities?
Are video games good or bad for young people?
Is it more beneficial to read a book or watch its movie adaptation?
Do school grades accurately measure intelligence?
Should junk food be banned in schools?
Are online friendships as meaningful as real-life ones?
Are private schools better than public schools?
Should students be allowed to use cell phones during school hours?
Is a gap year after high school a good idea?
Should family traits be considered when adopting children?
Are team sports beneficial for 7th grade students?
Is there too much pressure on kids to go on a career path so early?
Do you agree that money can't buy happiness?
Creative 7th Grade Writing Prompts (Continued)
What would your life be like if you lived in a different country?
Create a new holiday and describe how people celebrate it.
What would happen if all the world's ice cream suddenly disappeared?
Write a story about an enchanted forest.
What are the good qualities of a good friend?
How would you survive a zombie apocalypse?
Describe the first time you met your best friend.
Your life is now a TV show. What's the plot?
Write a story about a mysterious phone service that grants wishes.
What if you woke up and you were the only person who could see color?
Imagine your hometown special event that brings everyone together.
What if your favorite board game became a real-life adventure?
Create a new planet and describe its inhabitants.
Write a poem about your favorite season.
What if you could taste music?
Your favorite characters from different stories meet. What happens?
Write about a magical item with unexpected consequences.
Imagine you have a twin you never knew about.
What would you do if you could be invisible for a day?
Describe a natural disaster from the perspective of an animal.
Narrative 7th Grade Writing Prompts
Write a narrative essay about an important time in your life.
Describe the last time you felt extremely happy.
Write a short story about meeting your role model.
Tell the story of your first day at middle school.
Narrate a story about your favorite book coming to life.
Write about personal experiences you've had with peer pressure.
Tell a story about a time you solved a problem in a creative way.
Narrate a day when everything went wrong.
Write a story about a mysterious gift that appeared at your door.
Tell the story of a time you had to be in a leadership role.
Write about the last year in the form of a recap.
Describe your most embarrassing moment at school.
Write about the first time you took on a big responsibility.
Narrate a story where you find a hidden treasure.
Write about a memorable interaction you had with a family member.
Tell a story about a difficult decision you had to make.
Narrate a day you will never forget.
Write about a time you felt misunderstood.
Tell the story of how you met your most interesting friend.
Write about an event that changed your life forever.
7th Grade Writing Ideas
Write a list of questions you would ask your favorite celebrity.
Create a menu for your dream restaurant.
Make a bucket list for the next 5 years.
Write a thank-you letter to a teacher who made a difference.
Write a review of your favorite TV show.
Create a character profile for a hero in your own short story.
Design a poster promoting kindness in school.
Create a playlist for different moods and write about why you chose each song.
Write a letter to the future leader of your country.
Describe your dream vacation.
Write an advertisement for a product you wish existed.
Create a new sport and describe how it's played.
Design a new app that would solve a problem in today's world.
Write a list of 10 things that make your school special.
Create a list of good things that happened to you this week.
Design your own board game.
Write a guide on how to be a good parent, from a kid's perspective.
Write a series of tweets from a historical event as if it were happening now.
Create a comic strip about your daily life.
Write your own epitaph.
7th Grade Writing Activities
Write a short script for a mini-play.
Create interactive worksheets for a book you recently read.
Craft a persuasive poster advocating for a change in school rules.
Write a parody of a popular song focusing on school life.
Design your own magazine focusing on students' interests.
Write a letter to your favorite author.
Create writing guides for different types of essays.
Develop a storyboard for a short film.
Write a collaborative story with a friend, taking turns to add sentences.
Craft an 'About Me' infographic.
Create a scrapbook filled with personal stories and memories.
Write a series of diary entries from someone living in a different time period.
Prepare a debate on whether middle school students should have less homework.
Create a 'Choose Your Own Adventure' story.
Design a questionnaire about your school and distribute it to your classmates to gather additional information.
Develop an advice column for new 7th graders.
Create a vision board for your future career path.
Compose a series of haikus related to each season.
Paragraph Writing Topics for Grade 7
Paragraph writing exercises are a great way for 7th graders to practice forming main points, utilizing correct punctuation, and developing their communication skills.
These topics are not just relevant but also engaging, tailored to the 7th-grade students' interests and daily experiences.
Teachers can use these prompts as part of their writing assignments or even for extended writing tasks.
So, get writing and let those creative juices flow!
Describe your first experience with snow.
What is your favorite family tradition and why?
Explain why honesty is important in friendships.
What would be the perfect school rule to introduce and why?
What qualities make a good leader in today's world?
Talk about your favorite extracurricular activities and why they are important to you.
Describe what your favorite season feels like.
Explain why recycling is important for climate change.
What is your favorite board game and why?
Describe your best friend's best qualities.
What is your favorite TV show and what makes it special?
How has a book or movie changed your perspective on life?
Write about an important lesson you learned from a family member.
Discuss an event in history that interests you the most.
Describe your most memorable holiday experience.
What are the essential qualities of a good parent?
Explain why you think it's important for kids to have chores.
Describe the last time you tried something for the first time.
What are your thoughts on the amount of homework given in school?
Explain the role of social media in the lives of 7th graders.
7th Grade Writing Prompts with Passages
Incorporating passages into your writing prompts not only gives context but also provides a basis for deeper analysis and creative thought.
These prompts can help 7th-grade students to engage more deeply with topics and improve their writing skills. Happy writing!
Passage : "And they lived happily ever after."
Passage : "Global temperatures have risen by 1.4 degrees Fahrenheit since 1880."
Passage : "Abraham Lincoln led the nation through its greatest moral, constitutional, and political crisis in the American Civil War."
Passage : "Two roads diverged in a wood, and I— I took the one less traveled by, And that has made all the difference."
Passage : "Hurricane wreaks havoc, leaving thousands homeless."
Passage : "I have a dream that one day this nation will rise up and live out the true meaning of its creed."
Passage : "I'm going to have a lot of fun with Dudley this summer…"
Passage : "Peer pressure can affect people of all ages and walks of life."
Passage : "Mona Lisa's smile has puzzled art lovers for centuries."
Passage : "Is Time Travel Possible? Scientists Say 'Maybe'."
Passage : "Honesty, integrity, and responsibility are key leadership traits."
Passage : "Extracurricular activities can significantly boost students' emotional and academic skills."
Passage : "Family shapes our values, beliefs, and fundamental sense of self."
Passage : "Friends are the family we choose."
Passage : "Small towns may lack the amenities of big cities, but they offer a sense of community that can't be found elsewhere."
Passage : "It's impossible to say how first the idea entered my brain; but once conceived, it haunted me day and night."
Passage : "Food is not just sustenance; it's an experience, a memory, a story."
Passage : "While private schools often have smaller class sizes, public schools offer a variety of extracurricular activities."
Passage : "Choosing a career is not just about income; it's about fulfilling your potential."
Passage : "A friend is someone who understands your past, believes in your future, and accepts you just the way you are."
Fun 7th grade writing prompts:
What do you enjoy doing in your free time
Do you enjoy singing in public?
Do you like public speaking?
What are some good qualities you inherit from your families?
What are your strengths?
What do you miss most about primary school?
What do you think is the hardest thing about growing up?
What are your weaknesses?
What do you want to be when you grow up?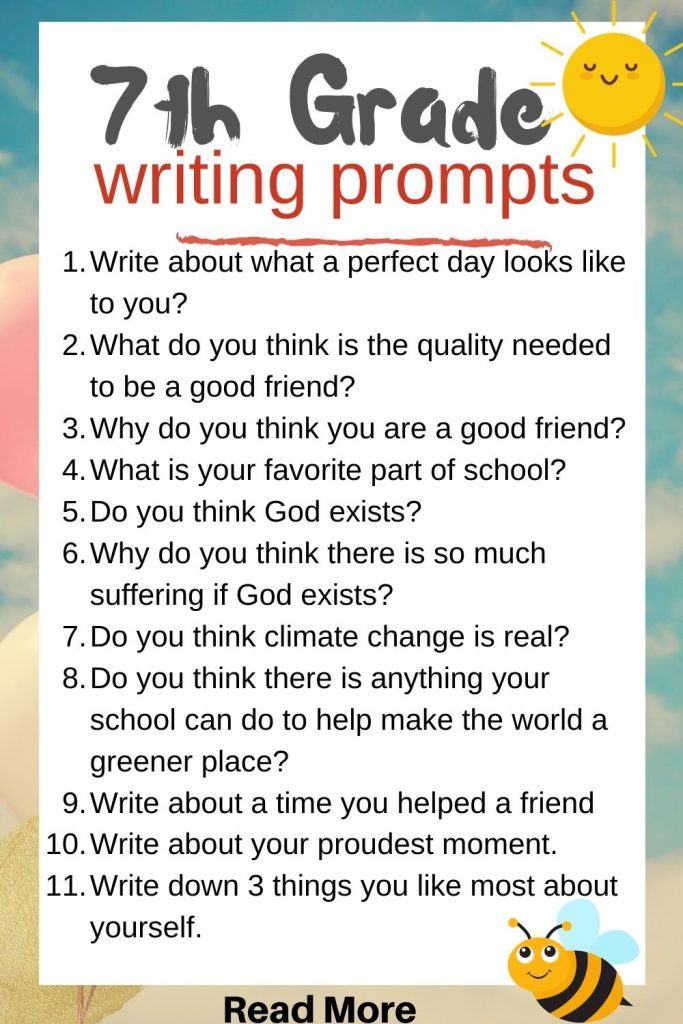 If you can meet anyone in this world, who would you like to meet?
What do you like most about going to school?
List down the things that make you happy
List down the things that make you sad?
What are your goals for the next 1 year?
Write about your best friend.
Write down a new skill you would like to learn this year?
What are you most grateful about in your life.
Write down 3 things that make you angry
What is the best advice someone ever gave you?
What is the funniest joke you heard recently?
What is the most difficult decision you had to make recently?
What are the household chores you don't mind doing?
What are the household chores you hate doing?
What do you like to do online?
what type of videos do you like to watch online?
Do you wish the internet never existed?
What do you like most about technology?
Do you think people are becoming more united or divided using technology?
If your pet can talk, what do you think it will say?
What do you feel most passionately about in your life?
What is the one thing that is bothering you right now?
Have you ever felt like giving up?
Have you ever felt alone?
Write about what a perfect day looks like to you?
What do you think is the quality needed to be a good friend?
Why do you think you are a good friend?
What is your favorite part of school?
Growth Mindset Questions For Kids : 
Why do you think there is so much suffering if God exists?
List down the things you would do to make the earth greener. For example, switch off the lights when not in use.
Do you think climate change is real?
Do you think there is anything your school can do to help make the world a greener place?
Write about a time you helped a friend out. How did it make you feel?
Write about your proudest moment.
If you can be the leader of your country, what will you change about your country?
If you are the principal if your school, how will you run the school differently?
Write down 3 things you would like to change about your classroom.
Write about a time you challenged yourself to do something hard. How did it make you feel?
What are the 3 things you are most grateful about in your life?
What are the 3 things you love most about your family?
Write down 3 things you like most about yourself.
Write down 3 things you should be doing less. For example, watching less TV.
Write a story about a boy who never gave up his dreams.
Write down the challenges you are facing right now that you feel you cannot share with anyone else.
Write down the things that make you feel anxious.
Write about a time you felt very happy
If you can have one wish for your birthday what would you wish for?
What are the qualities that make a good parent?
Do you think it's wrong to talk about someone behind their back?
Write down the time you felt betrayed.
Write about a time you stood up for your friend.
Write about a time you did something so difficult that no one expected you will succeed.
There you have it, a comprehensive list of 7th grade writing prompts, ideas, and activities. The list caters to a wide range of topics and styles, ensuring that all 7th-grade students can find something that suits them.
Whether you're looking for extended writing assignments or simple sentences to kick start your imagination, this list has it all.
Regular practice will certainly hone your narrative writing skills and expand your creative horizons. So, pick up your pen, start writing, and most importantly, have fun!
don't forget to check this out before you go
Was this helpful?
Good job! Please give your positive feedback
How could we improve this post? Please Help us.
Related posts: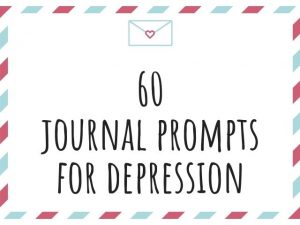 Parven founded Kids N Clicks after obtaining her MSc in Corporate Governance from the London School of Economics. She worked as a business studies and digital marketing lecturer. Internet Matters recognizes her profound knowledge of online safety, dubbing her an Internet safety expert. At Kids N Clicks, Parven keeps abreast of the newest apps. Drawing from her teaching background, she fervently promotes screen-free activities for students and encourages introspective thinking through journaling, games and writing prompts.
Leave a Comment Cancel reply
Grades 6-12
School Leaders
Win a $200 Amazon Gift Card in today's daily giveaway 🎁.
65 Engaging Personal Narrative Ideas for Kids and Teens
Tell a story to engage the reader.
Personal narrative essays are all about telling stories. Engage your reader with lots of descriptive language, and ensure you have a beginning, middle, and end. ( Get more tips about teaching narrative writing here. ) Try these personal narrative ideas to inspire kids and teens to tell meaningful stories from their own lives, no matter what they've experienced.
"Describe a Time When You …" Personal Narrative Ideas
Firsts and bests personal narrative ideas, general personal narrative essay ideas, college essay personal narrative ideas.
These personal narrative ideas urge students to dig into their past experiences and share them with their audience. Be sure to share the details, including what took place and how it made you feel, and anything you learned from the experience.
Describe a time when you:
Were scared
Overcame a big challenge
Learned an important life lesson
Had to make a difficult decision
Were proud of a friend or family member
Did something you didn't want to and ended up liking it
Met a celebrity or someone you really admire
Tried something new
Made a mistake and had to apologize and/or fix the mistake
Were in danger
Helped someone in need
Had a dream come true
Felt inspired
Had a really terrible day
Were a leader
Made someone else laugh
Did something you later regretted
Set a goal and achieved it
These essay topics explore the times you did something for the first time ever, or when you were the best version of yourself.
Write about meeting your best friend for the first time and how your relationship developed.
Tell about learning to ride a bike or drive a car.
Tell about your proudest moment.
What is your happiest memory?
What is your earliest memory?
Explain what it's like to move to a new town or start a new school.
What's the best (or worst!) vacation you've ever taken?
Tell the story of the time you got your first pet.
Describe your favorite field trip of all time.
Tell the story of your first day of kindergarten.
What's the best meal you've ever eaten?
Describe the best party or celebration you've ever attended.
Tell about the first time someone ever paid you for work (first job, chores for a neighbor, babysitting, etc.) and how it made you feel.
Describe the first time you spent a night away from home without your family.
What's the best gift you've ever been given?
Here are more personal narrative topics to inspire young writers.
Describe a performance or sporting event you took part in.
Explain the process of cooking and eating your favorite meal.
Write about a time when you or someone you know displayed courage.
Share the most embarrassing thing that ever happened to you.
Describe a time when you or someone you know experienced prejudice or oppression.
Explain a family tradition, how it developed, and its importance today.
What is your favorite holiday? How does your family celebrate it?
Describe your morning routine from the time you wake up until the moment the school bell rings to start the day.
Share what you do on a typical non-school day.
Tell about a time when you were injured. How did it happen?
Describe an argument you and a friend had and how you resolved it.
Tell about what you think your life will be like when you're 25 years old.
Explore a time when you felt you were treated unfairly.
What makes your family different from everyone else's family?
If you could relive any day in your life, what would it be? Would you want it to be the same or different?
These personal narrative essay topics all come from real 2022–2023 college applications. ( See more college essay prompts here. )
Discuss a time when reflection or introspection led to clarity or understanding of an issue that is important to you.
Share an example of how you have used your own critical-thinking skills on a specific subject, project, idea, or interest.
Using your personal, academic, or volunteer/work experiences, describe the topics or issues that you care about and why they are important to you.
Reflect on a personal experience where you intentionally expanded your cultural awareness.
When was the last time you questioned something you had thought to be true?
Reflect on a time when you or someone you observed had to make a choice about whether to act with integrity and honesty.
Describe an example of your leadership experience in which you have positively influenced others, helped resolve disputes, or contributed to group efforts over time.
Describe a time when you were challenged by a perspective that differed from your own. How did you respond?
Elaborate on an activity or experience you have had that made an impact on a community that is important to you.
Describe any meaningful travel experiences you've had.
Choose one of the communities to which you belong, and describe that community and your place within it.
What is the greatest compliment you have ever been given? Why was it meaningful to you?
What has been your best academic experience in the last two years, and what made it so good?
Describe a time when you've felt empowered or represented by an educator.
Describe how you have taken advantage of a significant educational opportunity or worked to overcome an educational barrier you have faced.
What are your favorite personal narrative ideas? Come share on the WeAreTeachers HELPLINE group on Facebook.
Plus, check out the big list of essay topics for high school (100+ ideas) ., you might also like.
What Is Narrative Writing, and How Do I Teach It in the Classroom?
It's more than just telling stories. Continue Reading
Copyright © 2023. All rights reserved. 5335 Gate Parkway, Jacksonville, FL 32256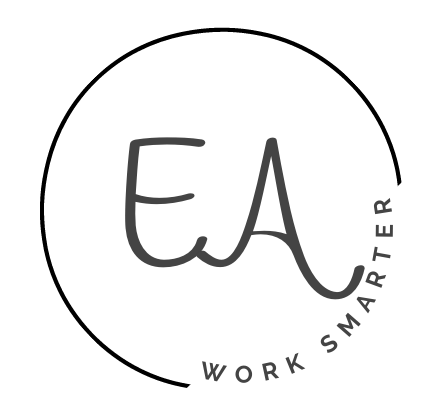 Elementary Assessments
51 Great Narrative Writing Prompts for Middle School
Prompt middle schoolers to write about their personal experiences using these high-interest narrative writing prompts for middle school.
Using these prompts, students will improve writing techniques plus strengthen self-expression.
Additionally, these narrative writing prompts for middle school significantly reduce writer's block resulting in students producing content more quickly.
So add a handful of these engaging narrative writing prompts for middle school to your teaching schedule this week.
Related: fun writing prompts for middle school
Narrative Writing Prompts for Middle School
1. Write about how you relate to one of the characters from your favorite book, movie, or TV show.
2. Retell a proud moment in your life.
3. Write about a time when you felt embarrassed.
4. Share a favorite vacation memory.
5. Discuss two regrets you have in life. If you could go back in time, what would you now do differently?
6. Compare and contrast your learning experiences in two different grade levels.
7. Retell of a time when you pushed forward to overcome a fear.
8. Share your experience participating in parent-teacher-student conferences. How did you feel? What successes and challenges did you face?
9. Write about a time when you felt unseen or left out of a group.
10. Describe a time when you were jealous of a friend. What were you jealous of, and how did you overcome the feeling?
11. Share a memory that involves you and your pet.
12. Write about learning how to do something new. Describe how you were feeling.
13. Discuss a time when you felt misunderstood by an adult.
14. Describe your favorite character from a read aloud, TV show, or movie.
15. Tell about a time when you got into trouble with a teacher but you were innocent.
16. Write about the good qualities of you and your family.
17. Describe your most incredible school memory.
18. Write about a time when you tried a new food.
19. Describe a time when you and your family had car trouble. What happened, and how was the issue resolved?
20. Write about any unique family traditions that you participate in during the holidays.
21. Describe how you normally spend New Year's Eve.
22. Tell about a time when you apologized to someone.
23. Describe your favorite type of music. Why do you like it so much? How does it make you feel?
24. Share what you like best and least about responding to narrative writing prompts for middle school.
25. Write about a time when you received a gift that you didn't like but accepted it with grace.
26. Share a time when a middle school teacher made learning fun.
27. Describe the type of career you envision yourself having when older.
28. Retell the events of a time when you felt lonely but took actions to make yourself feel less lonely.
29. Write a story about the adventures you'd take if you had a time machine.
30. Write about a time when you felt a strong emotion (e.g. jealousy, sadness, happiness, fear, etc.) Describe what caused you to feel this way.
31. Tell about a time when you experienced an unexpected outcome.
32. What is it like to feel different? When have you felt different?
33. Share something that you regret.
34. What's the worst memory you have so far about being in middle school?
35. Who inspires you and why?
36. Share a memory visiting another country.
37. Write about a time when you feel you were treated unfairly.
38. Imagine you could relive a memory. Which event would you repeat and why?
39. Tell about a time when you had a disagreement with a friend.
40. Write about a time you visited an interesting museum.
41. What's the meaning behind your last name?
42. Write about a time when your family received bad service at a restaurant.
43. Retell the key events of a natural disaster that you experienced. 
44. Write about a time when you judged someone by the way he looks but then found out that he's nothing like you thought.
45. What are some things that really bother you and why?
46. Share a memory being caught in a storm.
47. Write about a time when your family missed an important event.
48. Write a story about a time when you experienced another culture.
49. Write a story about an unforgettable experience.
50. Share a memory singing in a choir or performing in a band.
51. Tell the story behind an important family photograph.
Final Thoughts: Narrative Writing Prompts for Middle School
Now you have a quality collection of narrative writing prompts for middle school to use for various writing activities.
Related: books for teaching narrative writing
Abstract/Non-Verbal Reasoning Test
Academic Assessment Services (AAS) Scholarship Test (Year 7)
Brisbane State High School Selective Test (Sit in Grade 5)
Brisbane State High School Selective Test (Sit in Grade 6)
GATE Test (Gifted & Talented) Academic Selective Test - ASET in WA
IELTS General Training Writing
IGNITE Program South Australia Exam (a Selective Schools Test offered by ACER®)
NAPLAN Grade 5
Narrative Writing (Written Expression) Test
NSW Selective Schools Test (HSPT)
Numerical Reasoning Test
Persuasive / Argumentative Writing Test (with Topics & Real-Life Examples)
QLD Academies SMT Selective Grade 7 Entry
Reading Comprehension Test Practice (Grade 5, Grade 6, Grade 7)
Scholarship Tests (Year 7 – Level 1) offered by ACER®
Scholarship Tests (Year 7) Offered by Edutest®
SEAL/SEALP (Select Entry Accelerated Learning Program) Exams Offered by ACER®
Select Entry Accelerated Learning Programs (SEAL/SEALP) Offered by Edutest®
Test Practice Questions - Free Trial
The ADF Aptitude Test (Defence Force YOU Session)
Verbal Reasoning Tests
Victorian Selective Schools Test
ONLINE COURSES
TEST PAPERS
WRITING PROGRAMS
SITE MEMBERSHIP
WRITING CLUB
BLOG & ARTICLES
FREE VIDEOS
WRITING PROMPTS
SAMPLE ESSAYS
MASTERCLASS VIDEOS
Get Started
NAPLAN - Grade 7 - Narrative Writing
Writing prompts for NAPLAN Grade 7 for practice. This area contains prompts under the narrative writing genre.
QUESTION 001 - The Discovery Write a narrative (story) based on the idea of "A discovery". Your story may be about a new scientific discovery. It may be the discovery of a hidden secret or a hidden place. It may be the discovery of traits in someone who you thought you knew well. Put thought into how you will: …
QUESTION 002 - A Mix-Up Write a narrative (story) based…
QUESTION 003 – A Journey Write a narrative (story) based…
QUESTION 004 – A reunion Write a narrative (story) based…
QUESTION 005 - Home Write at narrative (story) base…
QUESTION 006 - A Lesson Write a narrative (story) based…
QUESTION 007 - Having doubts Write a narrative (story) based…
QUESTION 008 - A new beginning Write a narrative (story) based…
QUESTION 009 - Something unusual Write a narrative (story) based…

Have A Question?
Jump to navigation
Inside Writing
Teacher's Guides
Student Models
Writing Topics
Minilessons
Shopping Cart
Inside Grammar
Grammar Adventures
CCSS Correlations
Infographics
How do I use writing topics in my classroom?

Do you want to inspire your students to write great narratives, essays, and reports? Check out these grade-specific writing topics organized by mode (explanatory, creative, and so on). Or search for writing topics that relate to a theme, such as "life" or "animals" or "family."
Jump to . . .
Explanatory writing.
A day in the rainforest
After-school games
An important person I know about
At the library
Foods I don't like
Friendly places
Games I play with friends
Games we play at recess
Good things in my neighborhood
How plants grow
How to make my favorite dessert
How to make new friends
I like spring because . . .
I like to make . . .
I'd like to see . . .
Insects, insects everywhere
Learning to ride a bike
My favorite food
My favorite pet
My favorite season
My mom's/dad's hobby
My new friend
My shopping list
Our clubhouse
The biggest bubble-gum bubble
The funniest zoo animal
This person makes me laugh
What I know about . . .
What I know about an animal
What I know about dinosaurs
What I know about stars
What I know about the ocean
What I like about math
What makes me laugh?
What will I share?
Who I will be in the future
Who's at the zoo?
Why I like to read
Why I love to sing
Words I think are funny
Persuasive Writing
Don't litter!
Things that would make my neighborhood better
Narrative Writing
A day at the beach
A special birthday
Buying something with my own money
Cooking dinner with Mom/Dad
Eating lunch with my friends
Going grocery shopping
Going to the circus
I rode on a . . .
I'm happy when . . .
Losing my teeth
My adventure
My trip to . . .
Noisy times and quiet times
Playing a game with Grandma/Grandpa
Playing with pets
Something funny that happened to me
The biggest thing I ever saw
The last time I cried
When _ was born
Response to Literature
A book I just read
Some of my favorite books
Creative Writing
A story about a holiday
A trip on a rocket ship
Dear George Washington
Seeing the world through the eyes of . . .
Sometimes I wish . . .
What if I met a . . .
What if I were 10 years old?
What if I were someone else?
What if toys could talk?
What's under my bed?
Research Writing
I wonder why . . .
Something I don't understand
A bicycle I'd like to have
A day in the desert
A great place to go
A great treehouse
A place I like to visit
A sport I'm good at
A trip on a monorail
Activities for indoor fun
Activities for outdoor fun
Amazing facts I know
An amazing animal
Dancing to the music
Having fun at school
Helping out around the house
Magic tricks I can do
Making my favorite food
My favorite baby-sitter
My favorite board game
My favorite teacher
My homework place
Our classroom pet
Some things I like about the museum
The best house pets
The weirdest house pets
Things that are hard to believe
Things to do in the snow
Unusual fruits and vegetables
Water balloons!
What I like about where I live
What makes me special
Who is beautiful?
Let's help the environment by . . .
Things I'd like to change
A cozy spot at home
A funny time in my family
A great day with a friend
A helpful person I have met
A person who means the world to me
A walk in the woods
Funny things my pet has done
My best birthday
My favorite family story
Putting on a play
Swimming at the pool or lake
When everything goes wrong
Book characters I'd like to meet
A dark hallway
Donuts for dinner
Something I wish would happen
What if there were no electricity
All about an amazing animal
Business Writing
A cartoon character that I like
A song that means a lot to me
A special photograph
A special, secret place
A trip in a submarine
An important time in history
Building a fort
Creatures that live in the ocean
Creepy, crawly things
Dirt bikes and skateboards
Do I want to be famous?
Doing homework
Going to the dentist
Gone fishing!
How to stop hiccups
How we divide the chores at our house
I don't understand why . . .
I'd like to invent a machine that . . .
If I started my own business, I'd . . .
Instructions for a pet sitter of my pet
Let's help the animals by . . .
Looking at the globe
My favorite clothes
My favorite form of exercise
Pizza is . . .
Staying at a friend's house
The first day of school is the worst/best because . . .
The rules we follow
Things I see when I take a walk
What I use a computer for
What if I were the teacher?
What is important to me?
What it's like to use a wheelchair
What my dreams feel like
When I see nature, I . . .
Why I like/dislike playing team sports
Why my mom and dad are the greatest
My school really needs . . .
A day in the life of my pet
A visit to a friend's school
An excellent birthday party
Discovering a new friend
Getting my first pair of glasses
Grandma's attic
I'll never eat another . . .
My best day
My first school memories
My most embarrassing moment
Rings on her fingers
Talk about being scared!
When I did something amazing
When I was upside down
When the big storm hit
If I wrote like the author of . . .
A really spooky story
Summer games
What if we suddenly had to move?
A game that meant a lot to my childhood
A school field trip
A toy I've held onto all these years
A trip to a space station
A typical lunch hour
Can farmers grow enough food for everyone?
Here's what a new student needs to know
How I can change the way I look
How I picture myself four years from now
How I would define the word . . .
I would have liked to have lived during this time.
I'm principal for the day. Here is my schedule.
I've done something that no one else has done
If I could be someone else, I would be . . .
My bedroom from top to bottom
My favorite place
My idea of a fun weekend
My life as a . . .
My participation in an activity outside of school
One thing I want to do by the time I leave 8th grade
Overcoming health problems
The wildest hairstyle I have ever seen
What a family member taught me
What a house of the future might look like
What I broke or lost that belongs to someone else
A big hazard on the road
A big problem in education is . . .
A cool store
A dedicated teacher or coach
Dear Senator
Discover nature
Finally, a good assembly
How could TV be better?
Let's save _ in our schools
My best class ever
My favorite neighbor
My favorite singer(s)
Rights that kids in my grade should have
The worst food I ever ate
This really bugs me
What's good about hard work?
Why I deserve a larger allowance
Why parents should be honest with their kids
Why school fund-raisers are important
Why weekends need to be longer
A memorable bus ride
A narrow escape from trouble
A time that was just not fair
A visit to a relative's house
If I lived back in history
If only I would have listened!
My first concert
My first friend
Summer in a cabin by a lake
The most fun I've had recently
We couldn't stop laughing!
We got caught!
When I was lost
A great book made into a great movie
My favorite character from a book
What if a book came to life?
What this story means to me
How _ came to be.
Life among the cloud people
Long ago and far away
Meeting myself in the future
Traveling west in a wagon train
When the dinosaurs returned
A job I'd really like to have
All about an amazing place
The most fascinating things I learned
The tallest, the deepest, the longest, the biggest
When I conducted an experiment
When science took a big leap forward
Personal Writing
The book that got me hooked on reading
A day I will always remember
A friend who moved away
A great scientific breakthrough
A person who changed history
A personal habit I'd like to change
A project I am working on
A typical evening at home
A visit with the doctor or dentist
An invention that transformed the world
Causes of a huge change in the world
Coping with brothers and sisters
Hanging out
How a vehicle works
How do people cope with constant pain?
How I express myself artistically
How it would feel to walk in space
I admit it: I enjoy professional wrestling.
I take some things too seriously
If I were a superhero, I'd be . . .
Is pollution a necessary evil?
Is this love?
Morning madness
My craziest experience in a restaurant or shopping mall
My dream car
My first crush
My first encounter with a bully
My muscles were so sore after . . .
My Web site
Self-esteem
Something this school really needs is . . .
Sometimes, adults seem . . .
The environment: problem and solution
The hardest thing I have ever done
The idea hit me like a tornado.
The next wave of social media
The toys I'll never give up
Tools I will need in my intended profession
We all make mistakes
What animals can teach people
What different colors mean to me
What do Americans do well?
What do I do to break routine?
What do I worry about?
What if school sports were dropped?
What invention would I like to see in my lifetime?
What it's like where I work
Who knows me best?
Why are crime dramas so popular?
Why are some people so cruel?
"Obstacles are what you see when you take your eyes off the goal."
A change that would improve school life
Foods I love, foods I hate
I couldn't believe that Mom/Dad volunteered me for that job
It's a rule, so it's right . . . right?
Let's hear it for my favorite senior citizen
Let's push alternate forms of energy
Putting my foot in my mouth
The government should . . .
What most drives me crazy is . . .
Why appearance is not so important
Why I deserve the job
_ is like a boomerang
A funny thing happened when . . .
A meaningful gift I've given or received
A time when I got in trouble
An unforgettable dream
Looking at pictures of family and friends
My brother or sister made me so mad
My worst vacation
What I regret most
When I faced my fears
When I learned something difficult
When I traveled to . . .
A remarkable artist
An all-new album from an important artist
An amazing work of art
Meet the characters of . . .
The music that moves me most
The theme of my favorite story is . . .
Alone on a desert island